One needs to only to look at Park City's pended sales (see full report) to understand the magnitude of the increase in our real estate market. Comparing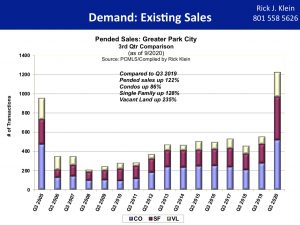 Quarter 3 in 2019 to Quarter 3 in 2020, sales were up 85% and sales volume increased by 125%. Park City, like many other resort communities, is clearly a beneficiary of the COVID-19 induced flight from large cities.
When you look at the "absorption rate", it is clear to see that the high demand is outpacing our inventory of homes. What does this mean for buyers and sellers in Park City? There is a high likelihood of multiple offers and competitive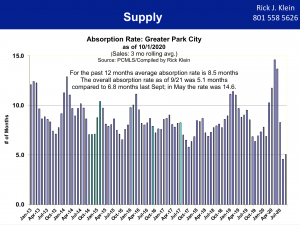 bidding for homes that are priced right and beautifully presented.
Interestingly, home prices have not skyrocketed. There is still buyer resistance to homes with unusual floor plans, and homes that are overpriced, poorly maintained, and/or dated.
The bottom line is that professional representation is more important than ever. We are starting to see off-market properties trading before they hit the Park City MLS and other online websites. In a multiple offer situation, your offer has a much higher chance of being accepted if you are represented by an experienced real estate agent with a strong reputation. If you are a seller, how will you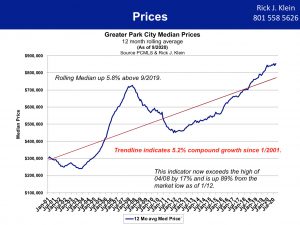 know how to price your home? If you price it too high, the listing will get stale and buyers will wonder why it hasn't sold. If you price it too low, you risk leaving money on the table. There is a difference in results based on who you decide to work with.
I have a plethora of charts and data on Park City's real estate market for those who want to dig deep. Please get in touch with me and I'm happy to share.
You might also like my blog about Buying the Right Home in Park City's Real Estate Frenzy.