We own a condo in Old Town and this is the second direct mail letter we've received from a potential buyer. In a buyer's market, this direct mail strategy could be effective in buying a home at below market value. But in today's strong seller market? Not a chance. Here are the issues with this strategy and this real estate prospecting letter in particular: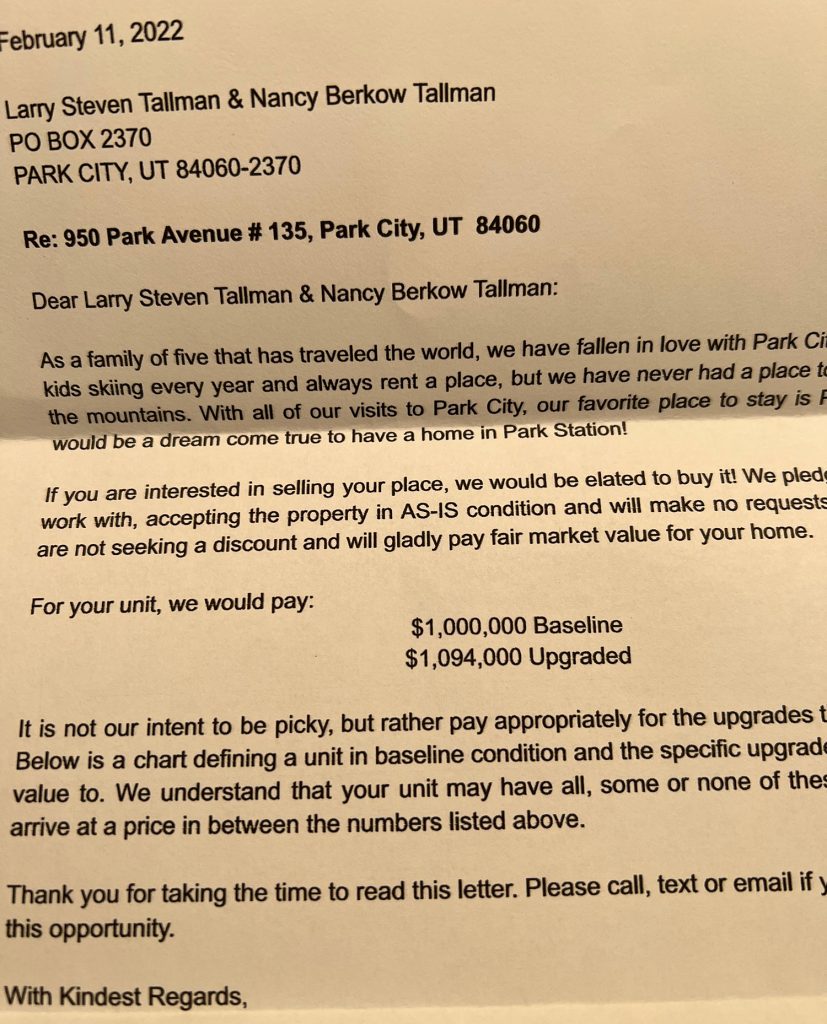 If my property is not on the market, I am not a motivated seller.
If I am not a motivated seller, then the fact that the author of this letter is providing a "market value" price, even though he has not seen my condo, is puzzling.
The fact that the author is offering to buy my condo "as is" is a joke. Everyone knows that in a condominium, the HOA is responsible for all the expensive exterior items.
Even though Utah is a non-disclosure state and sale prices are not made public, this non-agent thinks he knows the value of my condo (with and without "upgrades"!).
This author's value of my condo is 20% below market value. As a seller, does it make sense for me to lose 20% in order to save a 6% commission?
The author's attempt to "personalize" this letter by discussing his family is a total backfire. My condo is 1100 square feet. Why would I believe it's the perfect location for his family of five?
The author of this letter does not mention how he will be paying for the property, nor does he mention if he is a qualified buyer.
If you are a property owner, do not fall for one of these letters! With prices escalating very quickly in this market, you need a professional opinion to determine the value of your home. There is no shortage of buyers for your home. On the contrary, there is a shortage of homes for buyers!
If you are a buyer looking for a specific type of property, get a buyer's agent to advocate on your behalf. We know how to write these letters so they are effective. We know how to use our network to find off-market properties and those "coming soon." We understand how to craft attractive offers in this extreme sellers' market so that our buyers win.