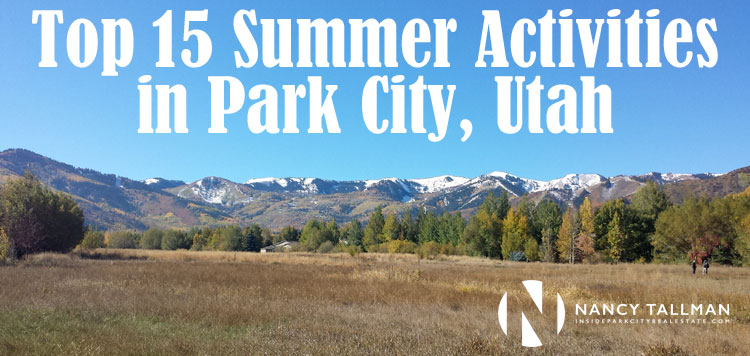 During the summer, there is so much to do in Park City, it's great that the sunset holds off until after 9pm. In the blink of an eye, your social dance card will be full. The savvy Parkite thinks strategically, best to map out your activities in order to adequately budget precious resources, like time and energy. Before you know it, you'll be shoulders deep in wildflowers on the side of Iron Mountain thinking, why didn't I charge my camera?
Farmer's Market: June 3 to October 28

The ONLY place to buy tomatoes, farmers come from around the state to sell their goods. There's also live music, delicious limeade and samples-a-plenty of Volker's famous bread. Inside Park City Real Estate is a proud sponsor of the Wednesday Farmer's Market.

Fox School of Wine Weekend Wine Series: June 6 to September 5


Wine classes run every Saturday from 6pm-7pm. Test the knowledge of local legend Mistress Fox and learn all kinds of helpful tasting tips having to do with wine. A perfect pre-dinner event. Reservations are recommended.

Park Silly Sunday Market: June 7 to September 27

If you missed the farmer's market, some farmers will return to Sunday's event on Main Street. Voted one of the top 50 Farmers Markets in the country by Cooking Light Magazine, the "Silly Market" features food, local libations, children's activities, and promotes environmental sustainability.

Savor the Summit: June 20


Known as Park City's largest outdoor dinner party, Savor the Summit reservations are almost sold out. Besides the delicious food and atmosphere, it's worth seeing the giant table set up down the middle of Main St.

Flying Ace All-Stars Freestyle: June 28 to September 6


Every summer weekend (except July 4th) a choreographed spectacle of Olympians and professional skiers and snowboarders launch through the air up to 60 feet before landing in a pool below. Fun for all ages, this is a show not to be missed!

Sundance Outdoor Film Screenings: July 1, 10, 31 and August 15


Bring your own popcorn and bundle up. Sundance Institute present four outdoor films in City Park starting at dusk/9pm, all free of charge. Check the website for details; this is one of the sweetest treats of summer.

Park City 4th of July Parade & Celebration: July 4


The 4th of July festivities include a 5k fun run, a pancake breakfast, rugby tournament, parade, free concert, fireworks and kids' activities. Plan your parade viewing early as the route is absolutely packed each and every year.

Park City Food and Wine Classic: July 8 to 12


One of the classic summer activities in Park City, master winemakers and culinary greats educate and illuminate attendees who choose to wine, dine and play in and around Park City.

Cole Sport Back Alley Bash and KPCW's 35th Birthday Party: July 24


A local's event that is open to everybody, the annual Back Alley Bash has been around for decades. Hang around the town lift plaza and enjoy live music, BBQ, and celebrating the 35th Birthday of the local radio station.

Park City Kimball Arts Festival: July 31 to August 2

This year marks the 46th annual Park City Arts Festival, a juried art show that welcomes artists from around the country. The three-day festival supports the diverse programming of the Kimball Art Center.

Tour of Utah: August 3 to 9


Whether you are a seasoned cyclist or you just like to see the pack of bikes zoom past, there is no shortage of excitement and drama in this week-long race that goes throughout Northern Utah. Park City is the start and finish venue for the final stage of the race – stage 7 – on August 9th.

Mountain Town Music: All Summer Long

Throughout Park City and the surrounding areas, Mountain Town Music presents an incredible number of live music shows a week, mostly free and open to the public. Check their website for a complete lineup.

Best Local Hike

With so many miles of trail in Park City, it's tough to choose a favorite. But we'll tell you what we're into lately. Early and late season when it's not so hot and dusty, the PC Hill is a classic. Somewhat steep, a fair distance but not too far, and incredible views of the whole town. Mid-summer, we like the shade of Armstrong, cutting it off at the brand new Dawn's trail for a 3.3 mile loop back to Silver Star for lunch. The best part is that bikers are only allowed uphill on Armstrong and not at all on Dawn's, so you won't get bombarded.

Best Mountain Bike Ride


Early season, we really like the Prospector Area trails. Enough of a hill to get some cardio, enough trees to get some shade, but low enough to dry out early on. Later in the season, we have to stick with the Park City classic: Mid Mountain Trail has many entrance and exit points for a plethora of loop options based on your group's time and skills.

SUP on the Jordanelle


The reservoir is so peaceful in the morning, before the wind and boating action picks up. Try picking up a paddle and a stand up paddle board. It's one of the fastest growing outdoor activities, and for good reason. Incredible views await you and deer look on with envy, munching grass.
There you have them: our top 15 Park City activities that will keep you busy this summer. Be prepared with plenty of time and sunscreen and get ready to enjoy one of the best seasons of the year!