When I first moved to Park City nearly two decades ago, it was in the middle of winter with two young children. Coming from California, I struggled with what to do with my two littles when I couldn't just walk out my front door and stroll with them to the beach. It wasn't until summer finally rolled around that I really found my groove in Park City.
The wait for clear, warm days can sometimes seem long as the snow melts and mud season lingers. That is part of what makes summer in Park City so special. Many years (as in this one) spring seems to roll on forever. Rain, clouds and chilly morning snow showers that melt by noon give way to the occasional 70-degree sunny day.
But then, typically around Memorial Day, the weather becomes so glorious you'll never want to leave. The lack of humidity, the abundance of sunny days and the plethora of activities will make you want to put down your phone, be present and simply bask in the beauty. You know that mountain scene you've been staring at on your screen saver all winter? It's like that, but in real life.
So, whether you live in Park City or are visiting this summer, we've got you covered with some top activities to do with children in tow. If we've missed something, let us know in the comments.
Top 15 Park City Summer Activities with Kids
1. Summer Concerts with a View
Outdoor summer concerts are a longstanding Park City tradition. There's nothing like packing a picnic, blanket and low-back chair while enjoying a live performance with the Wasatch and Uinta Mountains surrounding you. Check out summer concert lineups and rules for these venues: Deer Valley Community Concert Series, Deer Valley Music Festival, Canyons Village Concert Series, Silver Star Cafe, High Star Ranch, Park Silly Market, Park City Library Patio and the Newpark Amphitheater among others.
2. Watch Athletes Fly High
In an incredible show of talent, this awe-inspiring spectacle features Olympic and National Team skiers and snowboarders as they soar up to 60 feet in the air, landing in the pool. This family-friendly Flying Ace All Stars show takes place every Friday and Saturday from mid-June through Labor Day.
3. Coast Down the Mountain in Style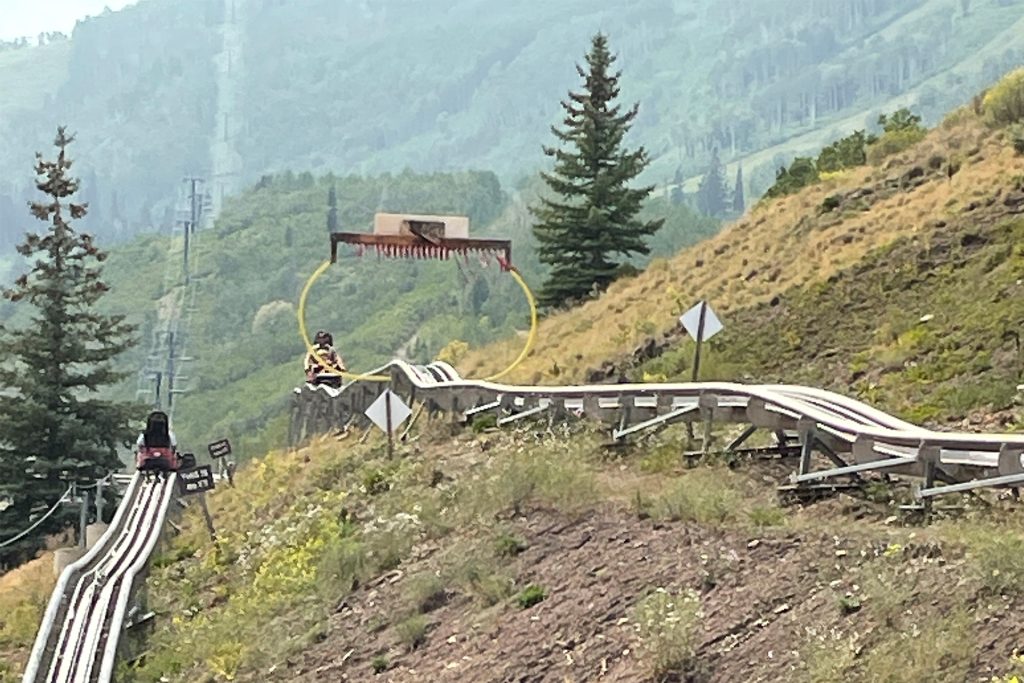 Try something safe and exciting with your family at Park City Mountain as you wind down the slopes on the alpine slide, or take it up a notch on the mountain coaster. If a zipline is more your family's speed, PCMR has that, too. There are also other options through the Utah Olympic Park, Flying Eagle Zipline, Zipline Utah and Screaming Falcon.
4. Get Out Your Paddles
From SUPs to Kayaks, there are several reservoirs in the Park City area to enjoy a paddle with kids. This is a great way to beat the heat on those hot July and August days. Look to one of the local outfitters to get you set up or rent equipment through Jordanelle Reservoir, REI or Park City SUP.
5. Park it at a Park
Although Park City gets its namesake from the old mining days, it certainly is fitting now that it's a playground for all ages! There are plenty of traditional parks in Park City for kids who want to swing, slide and climb. A few favorites with playground equipment include Willow Creek, Matt Knoop, Trailside and Creekside Parks.
6. Explore the Museums
There's nothing like a break with some cool indoor air to break up all of these outdoor activities. While you're at it, take the time to learn something new at one of Park City's two museums. The Park City Museum on Main Street preserves the fascinating history of the town, while the Alf Engen Ski Museum is all about ski and Olympic legacy. You can also take your history lesson to the next level as you learn about some of Park City's historic buildings.
7. Take the Most Incredible Tube Ride, Without Snow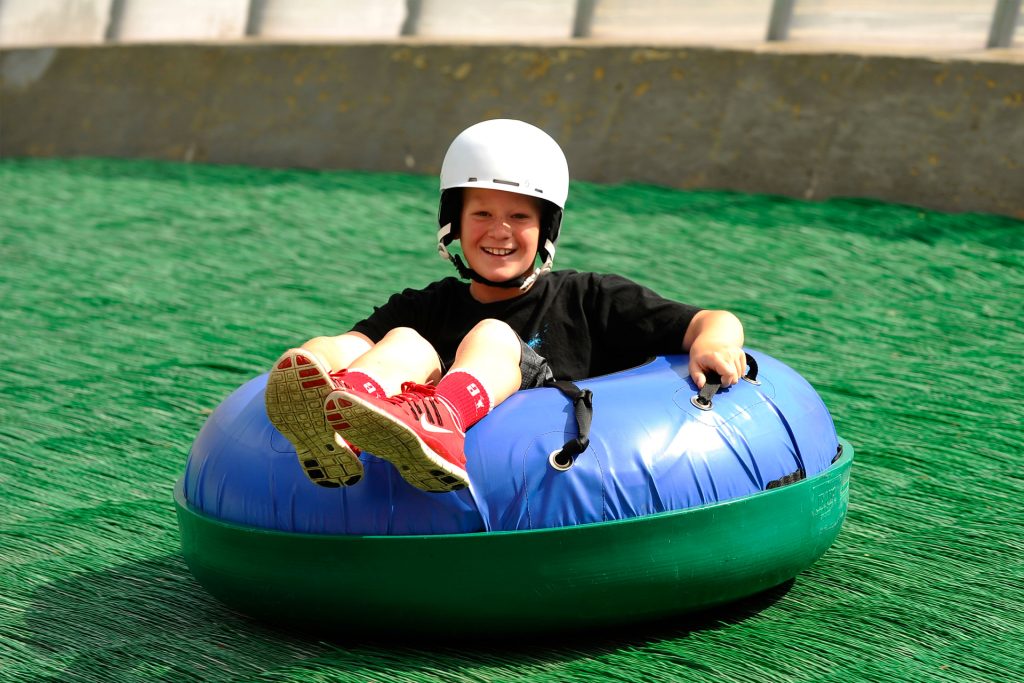 "Extreme Tubing" is not like anything you've ever experienced. Take a ride down the nordic ski jump at up to 5 MPH and land safely in a pool. This activity is for ages 10 and up and is generally available from late May through September, but be sure to check the Oly Park's website for details.
8. Swim in a Geothermal Pool Inside a Crater
Say what?! That's right, a geothermal hot spring is "hidden within a 55-foot tall, beehive-shaped limestone rock. […] the hole at the top of the dome lets in sunlight and fresh air". The water temperatures are between 90 and 96, so this is probably best for a cooler summer day or for those who are too timid for the cooler reservoir temperatures.
9. Have a Perfect Picnic
Grab a blanket and sit down to a wonderful lunch with your family without lifting a finger to cook. Park City has some excellent picnic spots and many carryout food options that travel well. The bonus? We tend to have fewer mosquitos than many other areas.
10. Visit a State Park
Utah has some amazing State Parks and the Park City area is home to some of the best: Jordanelle, Rockport, Deer Creek, Echo and Wasatch Mountain State Parks. There are a variety of things to do at each of these parks in the summer with kids – from boating and fishing to floating obstacle parks and informational visitor centers – so be sure to check each website for details.
11. Hit the Trails
Of course, one of the most notable features Park City boasts is trails. There are hundreds of miles of trails in the Park City area alone, and even more, if you extend out to Heber, The Uintas and the Guardsman's Pass area. Depending on your family's age and abilities you could get out for a half-mile walk or a half-day of mountain biking. Mountain Trails is a great resource, and newer apps like Trail Forks can also help you navigate what is the best trail adventure for your group.
12. Become Cowboys and Cowgirls for a Day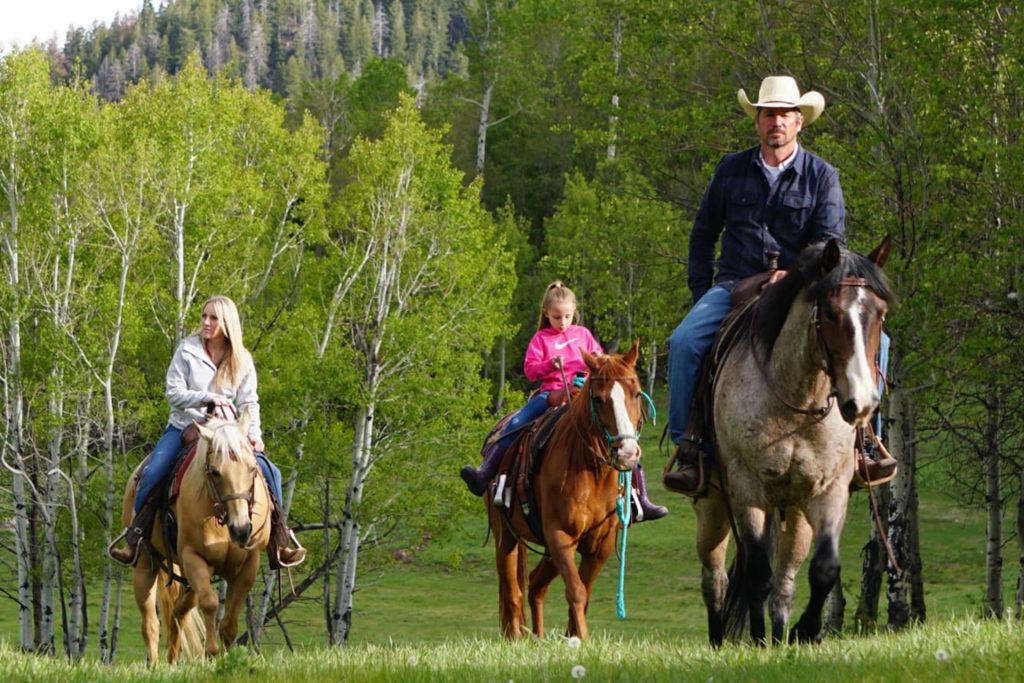 There are many beautiful trails in Park City and the surrounding areas for a guided horseback ride with your family. Outfitters in town include Red Pine Adventures and Destination Sports. Just outside of town you'll find plenty more open space and outfitters like Rocky Mountain Outfitters, Blue Sky Ranch and Wind in Your Hair.
13. Learn About Conservation, Water and Wildlife
The Swaner Preserve (one of their summer camps is pictured above) inspires environmental stewardship for the young and old. 1,200 acres of wetlands and streams were forever preserved here as open space. It serves as an important habitat for many plant and animal species including elk, frogs, cranes, deer, moose, beaver, fox, coyote, eagles, hawks and so much more. Their many programs and exhibits will have your little naturalists' wheels spinning.
14. Get into the Action at Woodward
With indoor and outdoor facilities, Woodward Park City is a great place to play and progress your skills in downhill mountain biking, freeride, dirt jumps, acrobatics, trampoline, parkour, scooters, skateboards and more. They even have special hours indoors just for kids ages 1 to 6 so they can run, jump and get their wiggles out without the hazard of being bowled over by a bigger kid.
15. Catch Some Whitewater
Ready to ride the river as a family? There are two main options for river floats in the Park City area: the Provo and the Weber Rivers. There are plenty of outfitters who provide guided river rafting tours. There are also some places to rent your own rafts, kayaks or tubes if you don't need a guide. The whitewater flows in this area greatly vary by season and snowmelt, so be sure you know what you're getting into and be safe out there.