Park City Shaman Anne Sargent Shares the Benefits of Home Energy Cleansing
Last week, I wrote about Soul Elements, my go-to resource for energy wellness in the Park City area. This week, I want to tell you about my experience with founder Anne Sargent. When I moved into my new home in Kamas, I hired Anne to clear the energy. She involved me, my daughter, and my dog. It was a great experience for all of us and I was excited to learn my home had good energy.
Anne has been clearing homes of bad juju for the past several years. A Level 5 shaman, reiki master and spirit guide, she knows a thing or two about energy alignment and how disconnections can leave us feeling out of whack. Here, Sargent answers my questions about energy wellness—and sheds some light on best practices for bringing home abundance and love.
For those of us who are less tuned in, What is home energy clearing?
Anne Sargent: Your home should be your safe haven—the place where you feel relaxed, happy and at peace. But when bad energy is lingering around, your home can become a place of hostility that can negatively impact every aspect of your life. That's why house cleansing is an important part of your overall well-being.
On average, we spend 62 percent of our waking time at home. As living, breathing, growing beings made up of matter and energy—both electrical (impulses and signals) and chemical (reactions)—we need to make sure that our environments are free of energy 'dis-ease' which can inhibit our ability to feel hope, abundance, self-worth and love.
But when we tap into energy wellness, and connect with our environments, we are enabled to live a life of purpose and passion. Sometimes a guide is just what you need to help you bring your life back into energetic balance. I offer ways to help you reclaim and rekindle your energy wellness while shedding what no longer serves.
How can you tell if your home has bad energy?
AS: ​​If you've just moved into a new space, you should cleanse your home of any negative energies that might still be there from the previous owners. Or, if you've just gone through a breakup, had a big life transition, or you're just in a funk, clearing bad energy from your home can help. When I say 'dis-ease,' the hyphen is intentional. Sometimes a mere feeling of uneasiness can lead me to the root cause of a home's heaviness.
Oftentimes it's a dense feeling that my clients have, or they have noticed that certain projects are stalled or stuck. Other times it's about me clearing the space and guiding them into a lightness that they didn't know they needed until it was there.
What does home cleansing entail exactly?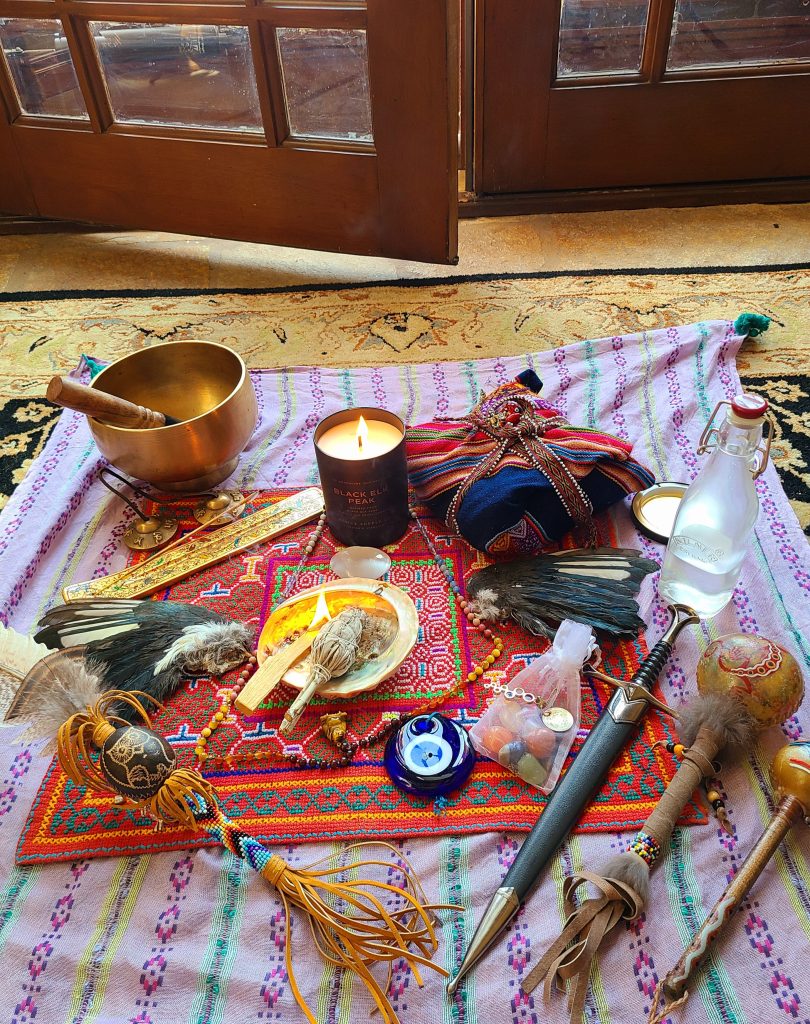 AS: There are many cross-cultural methodologies. My process is a blend of ecstatic experience and Ayurvedic practices. First and foremost, it's about setting a new intention for your home. I will walk through the home and, depending on the assessment, will suggest different paths. Sometimes I will suggest the burning of dried herbs.
For example, palo santo is a type of fragrant wood that's native to South America and can be burned as incense. It's a vigorous energy cleanser. If you have asthma or are sensitive to smoke, strategically placed healing crystals can do the trick. Crystals are gifts from the earth that carry various beneficial vibrational properties.
The sound of drums, gongs and even clapping hands can help break up negative energy, too. For an at-home sound ritual, I will start at your front door and move clockwise through the inner perimeter of your home, playing an instrument (or clapping) toward the walls, until I've made a full loop.
I also highly recommend clearing out your clutter. Keeping a clean, clutter-free home means negative energy won't have a place to congregate. Last but not least, open your windows! Allowing fresh air in also lets negative energy out.
Your website also talks about 'rewilding'. Why is this an important practice for humans?
AS: Rewilding means strengthening our connections to nature. When we close our doors and pull down our shades, we are isolating ourselves from everything in the cosmos. But when we bring nature into our homes so that we can harmoniously live with it inside of our shelters, that is a form of 'rewilding.'
For example, when we allow natural sunlight into our home every day, and clean our windows in the wintertime so that we can look out of them, the light cleanses our body. Bringing living plants and fresh flowers into the home is another great way to rewild. Trees are our main anchor points to nature. We exchange breath—the trees need us as much as we need them. When we connect with trees in the forest, our cells expand and we feel better!
Rewilding at home is about understanding that we are organic beings with pulses and rhythms who need connections to nature. Here in Park City, we run, ski and kayak—and we feel great. But it's also about practicing smaller daily rituals like taking your morning cup of coffee on the front porch, walking with bare feet, and watching the sunrise. When we spend intentional time outside and then come back into our homes, we are bringing that frequency inside with us.
Homes are most people's largest investment. How does home cleansing impact value?
AS: People quantify value differently. For some, it's about quality of life. If you are awake to a greater sense of well-being, authenticity, empowerment and energetic freedom, then your life and heart are full. But I have also been witness to the tangible benefits of house clearing. Much like how you would hire a stager to make a home that's for sale more appealing in terms of its visual style, a house cleanser can adjust the home's energetic frequency so that, when potential buyers come through, it feels as inviting as it looks.
There can be a lot of anxiety associated with selling a home: over money, moving on and the grieving that goes along with leaving a home that sheltered you through milestones and memories. If you work with a guide to set intentions for the home—support, harmony, possibility and hope—we can call the right buyer to bring their lightness and density to the space through joyful, new moments and memories.