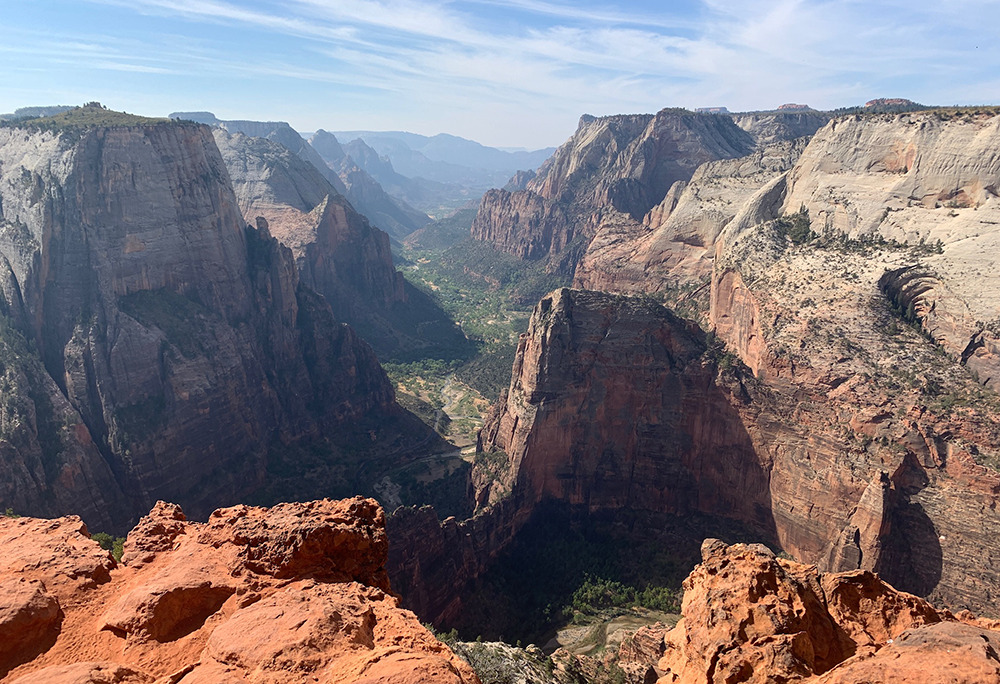 This time of year, while Park City is in its "shoulder season" (half way between fall and winter), it's prime time in Southern Utah! Last weekend, I took advantage of my second home in Hurricane for a "Girl's Trip" to Zion National Park.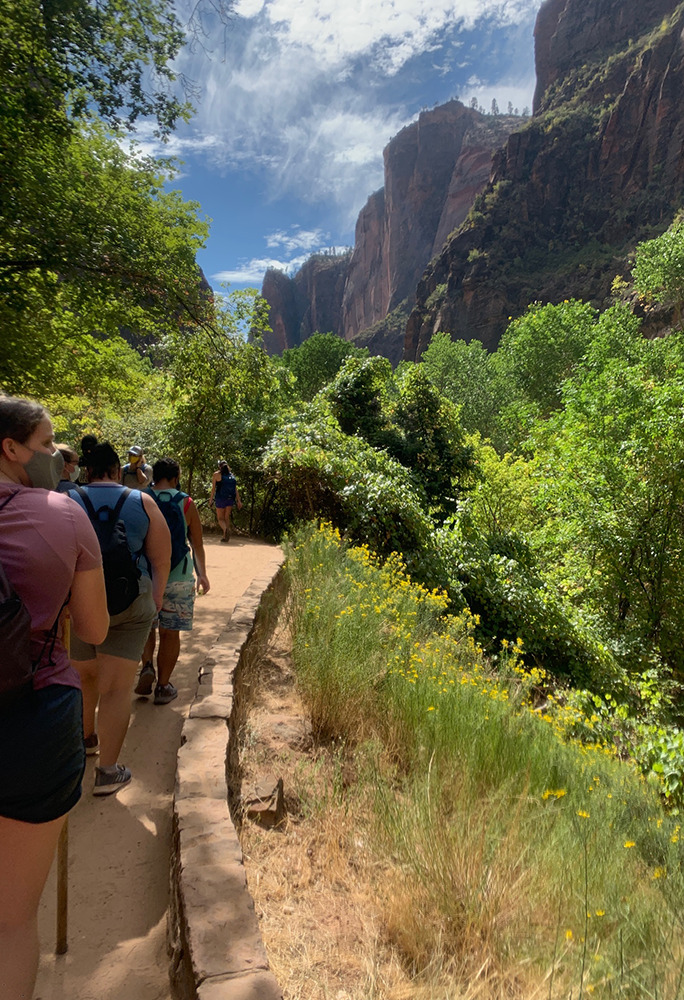 As I write this blog in October, 2020, the park is more crowded than normal for this time of year. Due to COVID-19, the free shuttle is not running according to its previous schedule. Now, you have to go on the recreation.gov site to reserve tickets in advance. This has really thrown a wrench into any last minute hiking plans as the shuttle is sold out months ahead. You can get tickets 24 hours in advance, but this is not a secure option either. What do you do if you drive all the way down to Southern Utah and you want to hike some of the park's iconic trails?
Our work around was to book a private shuttle, which picked us up at Zion Guru in Springdale and took us to The Narrows trailhead at the Temple of Sinawava stop. Yes, this costs more than the $1.00 for the National Park Service Shuttle, but it is also a sure way to get into and out of the park. We also rented the special wood pole and neoprene booties for the hike at Zion Guru. After hiking The Narrows twice this summer, I would not do it without these two items.
My step-daughter and daughter-in-law flew into Las Vegas on a Thursday and arrived in Hurricane by afternoon. We picked up our equipment a few hours later from Zion Guru (open 8am-8pm) and had a marvelous dinner at one of my favorite spots, Whiptail Grill. Described on google as "an unassuming Mexican cantina in a converted gas station turning out imaginative entrees & desserts", the Whiptail Grill is your perfect COVID-19 dining spot, as there is plentiful outdoor seating.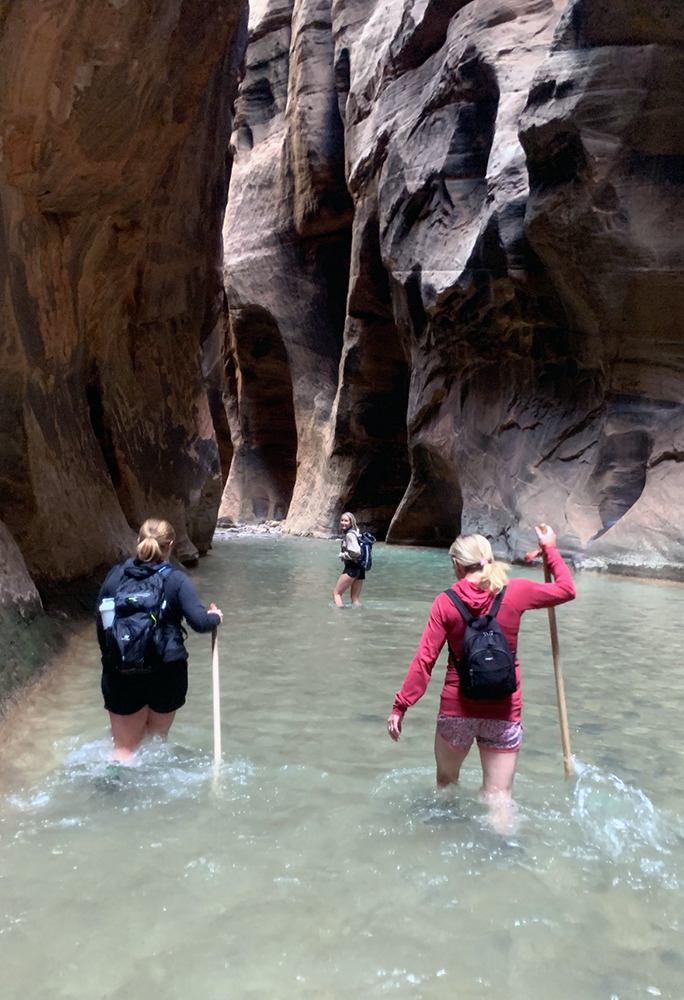 Early Friday morning, we hiked The Narrows. This had been a bucket list item of mine for years and I did it for the first time in August. My family really wanted to do this hike, so I did it again. I can tell you the water was much warmer in August and if you get cold easily, opt to do this hike in warm weather or be sure to wear lots of layers (more layers than I wore).
After our hike, we headed back to our home base in Hurricane, where we all ordered online from another favorite restaurant, Viva Chicken. I always make sure I get my fix of Viva Chicken whenever I head down south. The Peruvian style rotisserie chicken and amazing side dishes make my heart sing. You can order online and by the time you drive there, your food is ready for pick up.
On Saturday, because we came up empty handed on shuttle tickets, we decided to do the Observation Point hike from the Mt. Carmel side of the canyon. We drove through the entire park and the historic Mt. Carmel tunnel, turned left towards Zion Ponderosa Resort, and somehow found the trailhead. This 3.3 mile out and back (6.6 miles total) was a great hike. There were vistas, trees, some rolling hills and the huge payoff at the end, the view of Zion National Park including Angel's Landing.
After hiking, we were all hungry and stumbled completely by accident on what is sure to be a new favorite restaurant of mine, Cordwood, at Zion Mountain Ranch. I could not believe we found a farm to table restaurant pretty much in the middle of nowhere. The tomatoes and beets from my tomato soup and beet salad were grown on site, and my bison burger was from the ranch.
After some shopping in Springdale, we made it back to Hurricane just in time to change for dinner at the Stagecoach Grill in LaVerkin. This is another spot I frequent when in town as I love their Creekstone Farm organic beef. This is a locally owned restaurant where most items are made from scratch and it's consistently good. Local's tip—bring your own wine as their list is shall we say, not extensive.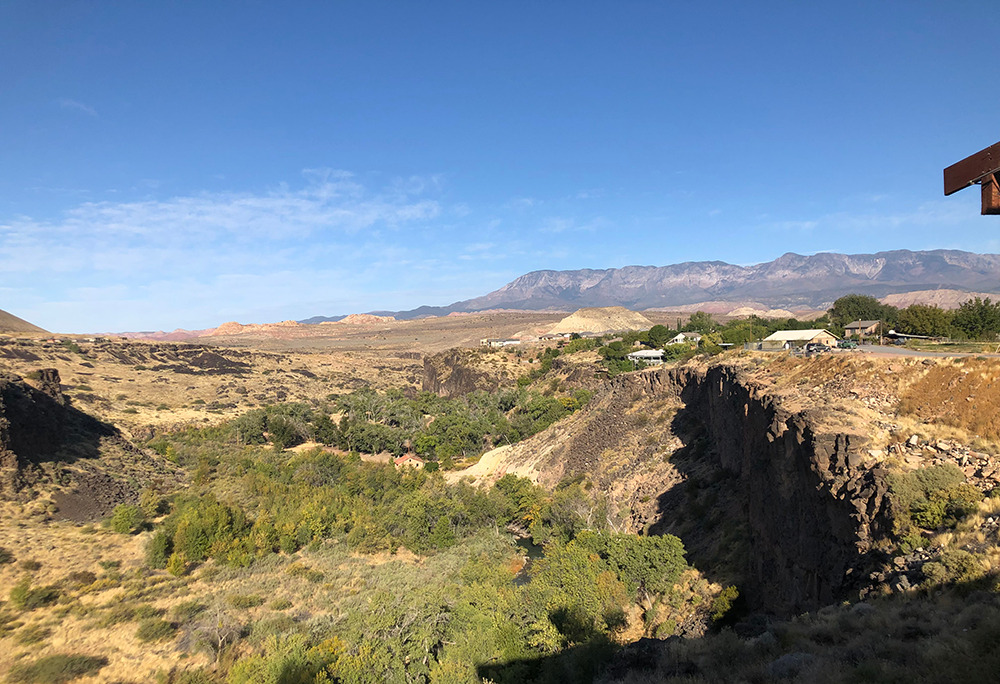 On my family's last morning in town, I had to take my family to one of the places that made me want to own a home in Hurricane, River Rock Roasters in LaVerkin. The coffee and fresh baked goods are top notch. I love the little gluten-free quiches baked in corn tortillas. But the best part of this little operation is the outdoor seating overlooking the Virgin River Gorge. This place is crowded at all times of the day, but the line moves fast and it's totally worth it.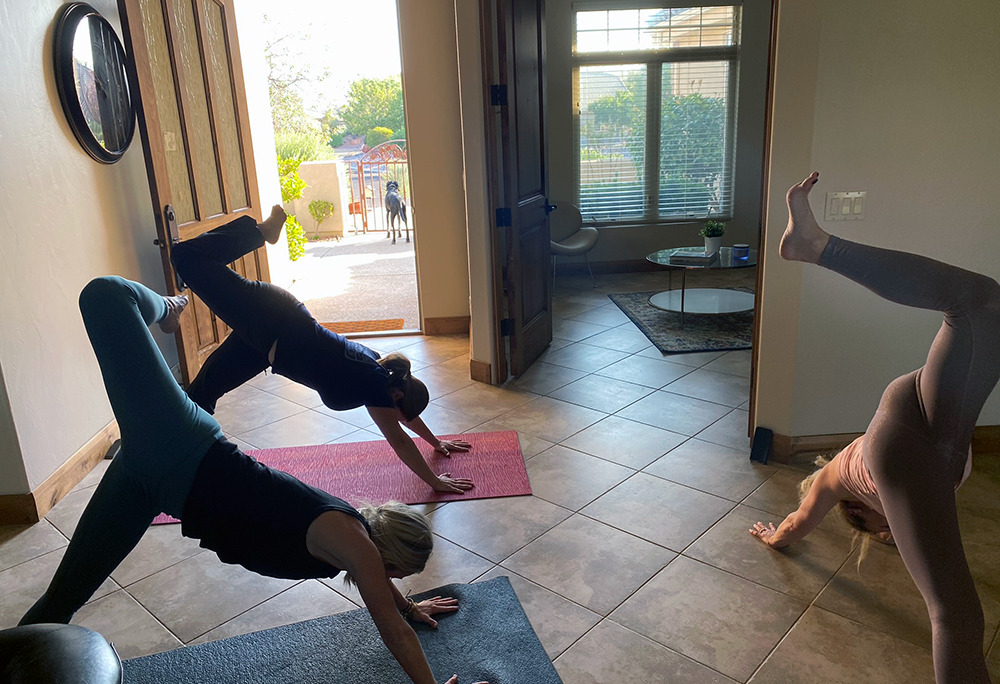 We topped off our girl's trip with a private yoga class taught by yours truly. When I am in Southern Utah, I usually practice yoga at Zen Spa or Be Hot yoga in St. George. Zen Spa is a small, local studio. Be Hot is a bigger operation with a store and coffee shop attached.
I hope you find this itinerary inspiring for your next trip to Hurricane/Springdale/Zion National Park. I travel there several times each year and am happy to advise you on all of my favorite things to do while down there! I love that it's just over 4 hours from Park City and I can get there on one tank of gas.
What are some of your favorite things to do in the Zion National Park area?