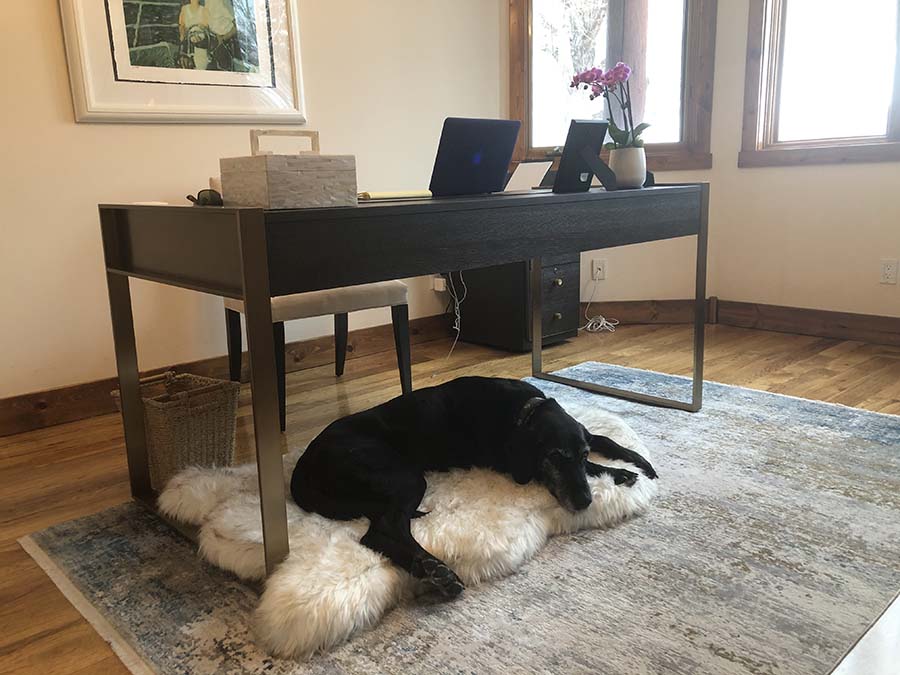 If you think the words 'real estate' and 'pandemic' don't belong together, know that there is more to this story than meets the eye.
I had (virtual) interviews with 13 luxury real estate agents around the United States and Costa Rica to learn how the COVID-19 coronavirus outbreak has impacted the real estate industry in their markets. Thank you to each agent who participated! Here are the latest trends, along with my own thoughts about Park City. Remember, our real estate market and economy are changing each week. These are trends reported to me as of this week.
REALTORS in each city (see bottom for a list) are on "shelter in place" orders. All are considered "essential businesses" except in Costa Rica, where REALTORS are considered non-essential.
Adapting to Virtual
The luxury REALTORS interviewed have all adapted their businesses to virtual platforms. Some are still willing and able to do live showings; however, the buyers are being carefully screened with questions such as these, shared by Judy LeMarr from Scottsdale:
Is the buyer healthy?
Has the buyer seen the property online?
Is the buyer pre-approved for financing or does the buyer have proof of funds?
Karen Harberg from Houston is also screening buyers prior to showings. Heather Shields, of Portland, Maine shared that she works virtually with buyers to narrow down homes to tour online. Through the virtual walk throughs, the homes are narrowed down to the buyer's first choice. She then arranges a live tour using protective gloves and foot covering. The buyers and agent are not allowed to touch anything in the home. The same protective measures are taken with inspectors and appraisers.
Katie Williams from Denver said she's not even scheduling showings at her listings unless the buyer is pre-approved and has proof of funds. Closings take place utilizing as much social distancing as possible. I have personally had 4 closings since the COVID-19 quarantine. I did two final walk throughs using FaceTime and all 4 of my clients lived out-of-state and signed remotely.
My Thought: The days of open houses and unqualified strangers walking freely through homes are over for now. If you are in the market to purchase a home, understand you are not going to be touring 50 homes with your agent. You are going to go through a rigorous process of elimination online first and you must have your financing in place. For sellers, this could be a blessing in disguise. You won't need to keep your house perfectly clean in the event someone wants to schedule a last minute showing and you won't need to leave your home for multiple showings.
Real Estate Marketing During a Pandemic
All the REALTORS who participated in this survey shared they are spending time talking with past clients, but they are not necessarily talking about real estate. They are also doing their part to share helpful community information, like which restaurants are available for take-out food. Mckinzie Casey in Denver said that she is posting on social media daily with advice on community matters instead of real estate. Scott Cutter in Costa Rica said his brokerage is focusing on charity right now in order to make a difference in his community.
Jim Walberg from San Francisco told me he was "doubling down" on marketing. However, his messaging has changed to one of "trusted advisor during difficult times" instead of promoting listings. Other agents said they were waiting.
Costa Rica's Scott Cutter said:
"We are encouraging our agents and brokers to reach out on personal levels, NO REAL ESTATE talk, just asking how people are doing, reconnecting and building their sphere of influence with positive messaging. Many people they reach out to end up ASKING or coming back to them about market questions, but we are making it a focus to NOT send out marketing about real estate or initiate until we have some end in sight."
Heather Shields, in Portland, ME shared:
"Our market has taken a hit — we've seen sellers who have withdrawn their homes in order to wait this out and we've seen people hesitate to list their homes amid fears of people in their homes. That said, we've seen agents FaceTime their clients and the client writes an offer sight unseen. We are in unchartered territory."
Mckinzie Casey of Denver said:
"Our showings are down 50% market wide, and down 90% for homes priced over $1M on some days.  Week two was the worst but we have actually seen an uptick in absorption rate on week three. I think people are simply adapting to the current normal and figuring out ways to tour safely.  Buyers are also appreciating the minimal competition."
Lisa Rooks Morris, of Sarasota, FL echoed that showings are down and some buyers are getting cold feet, but most were moving forward. I have been posting weekly Park City single family home sales statistics on social media. Like Denver, our pended sales actually went up in week three and inventory was down because so many listings came off the market.
Katie Williams, also of Denver shared that she has been able to keep all of her sellers on the market. A few cancellations were due to job loss. In contrast, Debbie Fisher from Charleston, SC said her market has slowed, but clients are still buying and selling homes and rarely pulling their listings off of the market.
My Thought: In a challenging market like this one, the skill level of the agent you are working with matters.
Resort Markets in a Global Crisis
The resort markets have been particularly hard hit. Johnny Mac McElree, from the Big Island in Hawaii, said he's taking his listings off the MLS until he has "someone to show them to."
"The biggest trend I see among potential buyers is a "wait & see" attitude. Many Buyers believe that prices will fall, and are waiting for that to occur. The conditions in Hawaii (especially in resort real estate, which is my area of concentration) are extreme. I deal mostly in second homes, and most of those Buyers are sitting on their hands. Arrivals in Hawaii have plummeted from 30,000 per day to around 1000 for the entire state. The vast majority of those arrivals are Hawaii residents returning from the mainland. They are subject to a 14 day quarantine upon arrival, and are ordered to stay inside their home. The only exception is to leave to get medicine. The "stay at home" order also includes the provision that all food must be delivered in the 14 day period, for both returning residents and visitors. I live and work in a resort that contains 1600 hotel rooms and over 800 timeshares. Both hotels are closed, and when riding my bike in the mornings, there are less than 20 cars parked in the timeshare developments. The average number of people who are arriving on the Big Island per day as visitors is a grand total of around 20."
Costa Rica's Scott Cutter shared:
"There is very little seller movement here yet as this has been a cash market for the last 20 years so the lack of debt service slows decision making as you do not have that monthly payment weighing. We are seeing a surprising amount of inquiries, likely due to people being closed up in their homes and dreaming of paradise and some potential deals. We have had some closings that were in the works prior to the crisis and have a few deals we are still negotiating on some 'firesafe' options, but most everything is on standby as we are a second home market."
When I asked each agent about real estate trends, Heather Shields from Portland, ME said:
"I think we'll see an exodus from the city and into the more rural areas. Social distancing for those in condos and apartment buildings is extremely difficult — people are in search of space and outdoor escapes". 
Greenwich, CT agent Krissy Blake said that New Yorkers (people in densely populated areas) are looking for a home with a yard and space. This could be excellent news for those of us in the resort markets, once people are allowed to travel. In fact, my colleague, Michael Swan, who is on the Promontory Club sales team, told me his phone is ringing off the hook with people who can't wait to tour property and buy a home in a location with fresh air, trees and more space.
My Thought: Will we see more people shifting from cities to resort or rural markets? This did happen after 9/11.
Maintaining Connections
Jim Walberg is working on maintaining his connections with his buyers who are on the sidelines waiting. He thinks "If there are a glut of listings all at the same time, this could put negative pressure on prices. It really depends on how many buyers materialize."
Laurel Simmons, from Salt Lake City, said, "I myself am looking much more outside of the box and listening more."
I couldn't agree with her more. The market conditions are changing each week and it's important to stay engaged with the facts. As REALTORS, we will need to look outside the traditional means of selling homes to continue to help people during these times of quarantine and social distancing.
Thank You to These Contributors
Thank you to the agents who contributed to this blog. They are all top agents who I have met and stay in touch with.
Krissy Blake, Sotheby's International Realty, Greenwich, CT
Regina Cartright, Jameson Sotheby's International Realty, Chicago, IL
Mckinzie Casey, LIV Sotheby's International Realty, Denver, CO
Scott Cutter, 2Costa Rica Real Estate, Manuel Antonio, Costa Rica
Debbie Fisher, Handsome Properties, Charleston, SC
Karen Harberg, Martha Turner Sotheby's International Realty, Houston, TX
Judy LeMarr, Golden Gate & Russ Lyon Sotheby's International Realty, San Francisco, CA & Scottsadale, AZ
Johnny Mac McElree, Hawaii Luxury Listings, Kamuela, HI
Lisa Rooks Morris, Premier Sotheby's International Realty, Sarasota, FL
Heather Shields, Legacy Properties, Sotheby's International Realty, Portland, ME
Laurel Simmons, Summit Sotheby's International Realty, Salt Lake City, UT
Jim Walberg, Compass, San Francisco, CA
Katie Williams, LIV Sotheby's International Realty, Denver, CO