Freestyle International Ski (FIS) World Cup
The world-class skiing never stops in Park City. Have you ever skied Deer Valley and gone up Carpenter lift and noticed the giant aerials kicker being built? Or perhaps you've skied down Little Stick and stood atop that moguls hill thinking of Olympic greatness.
In many ways, the 2002 Olympics seem like yesterday, even as Utah continues to eye the 2030 Olympic bid. Next week, we'll have the opportunity to witness greatness yet again as Deer Valley Resort hosts some of the world's most elite skiers at the 2023 Intermountain Healthcare Freestyle International Ski World Cup.
That's a mouthful, but the FIS World Cup is not to be missed. This evening event spans three days next weekend and includes Aerials, Moguls and Dual Moguls under the bright lights. Pack your hand and boot heaters and head up the hill for a night (or three) to remember.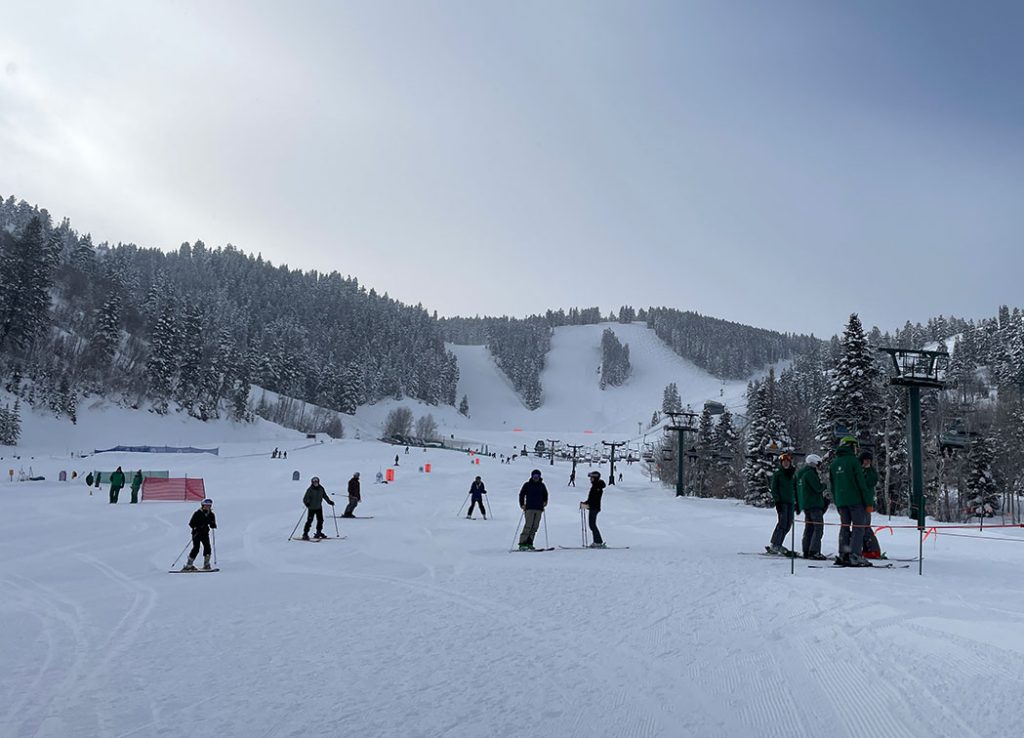 Schedule of Events
Thursday, February 2, 2023: MOGULS
Qualifiers begin at 2:25 p.m. for women followed by men at 4:45 p.m.
Finals for both men and women begin at 7:30 p.m.
Awards at 8:50 p.m.
Friday, February 3, 2023: AERIALS
Qualifiers begin at 3:30 p.m. for women followed by men at 5:35 p.m.
Finals for both men and women begin at 7:30 p.m.
Awards at 8:40 pm.
Saturday, February 4, 2023: DUAL MOGULS
Preliminary rounds begin at 4:15 p.m.
Finals at 7:30 p.m.
Awards at 8:55 p.m.
Enhance Your Experience
Access to the world cup is free for the public, but there are several opportunities to make your experience even more special. With sundown temps in Park City in February, I highly recommend some of these options to get some breaks from the cold. There are two options. Space is limited. To book, visit this website.
Freestyle Feast – $200
This package gets you access to the VIP tent, dinner and drink tickets, a logoed gift and access to an exclusive viewing area.
Champion Package for Two – $4,000
For the ultimate experience, two people get access to the Welcome Reception as well as a three-day lift ticket. They will also get access to the VIP tent and exclusive viewing area each night, a course tour, an athlete "meet and greet" and a VIP gift bag.
Athletes to Watch
It's always fun to watch U.S. athletes who are from Utah. Many others train with Utah-based clubs. Here is a list from the USSA of Utah-based team members to keep an eye out for. Be sure to cheer extra hard for these guys and gals!
Men's Aerials
Derek Kreuger is from Cleveland, Ohio, but has trained with Park City Ski & Snowboard.
Women's Aerials
All of the following women train with Park City Ski & Snowboard. Their home towns are listed below.
Karenna Elliott (Cincinnati, Ohio)
Kaila Kuhn (Boyne City, Michigan)
Dani Loeb (Pintlala, Alabama)
Megan Smallhouse (Reno, Nevada)
Tasia Tanner (Park City, Utah!!)
Winter Vinecki (Gaylord, Michigan)
Men's Moguls
Both of these gentlemen are from Park City, Utah and trained with the Wasatch Freestyle Foundation. I've known them and their families since they were tots.