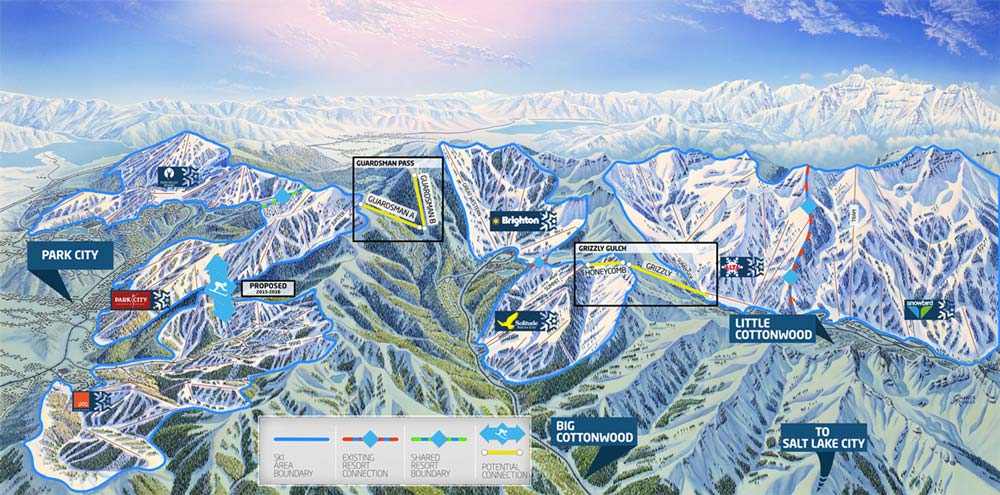 18,000 Acres, 100+ lifts, 7 Resorts, 1 Pass.
The purchase of Park City Mountain Resort by Vail overshadowed Ski Utah's announcement last fall about the "ONE Wasatch" concept. With the addition of just a few connecting lifts, seven Utah resorts can be connected into the largest contiguous ski experience in North America.
The geography of the Wasatch Mountains creates the world famous Utah powder. Yet, even the casual observer who looks at a map can see the existing Wasatch Mountain ski resorts are extremely close to one another as the crow flies. This unique proximity begs the question: What if you could ski between the seven resorts, and do so on one pass?
According to Ski Utah, connecting seven Utah ski resorts is possible with just a few steps:
Connect Little and Big Cottonwood canyons
Connect Big Cottonwood Canyon to Park City
Connect Park City to Canyons Resort
Drop the rope between Deer Valley and Park City
Dropping the rope between Deer Valley and Park City Mountain Resort seems easy enough and Vail has already announced it plans to connect Park City to Canyons Resort next season. Although the logistics seem simple enough, ONE Wasatch is currently just a concept and there is no timeline for implementation.
Why bother to link the resorts? Increased skier days in Utah. (Yes we are still behind Colorado and Vermont with respect to skier days). Skiers will certainly want to spend more time exploring each side of the Wasatch mountains and the distinct personalities and cultures of each ski resort.
Imagine waking up at Snowbird and ending your day at Deer Valley, visiting seven resorts along the way and getting the full scope of Utah's unique geography and varied resort cultures. It's a concept fully supported by all of the ski areas in the central Wasatch and is possible only here in Utah, home of The Greatest Snow on Earth.
For more information, visit onewasatch.com.