Like many mass gatherings this year, the 2020 Kimball Arts Festival has been canceled due to COVID-19 concerns.
I know that I'm not the only one who at once understands the decision but is disappointed at the thought of missing one of my favorite Park City events of the summer. The announcement came less than a year after the renowned festival was named the #2 Best Art Fair in the country, securing the #1 spot in the region.
In the meantime, what are some ways you can experience art in the Park City area? It's not difficult. Park City is an art hub, as I've written about before.
In addition, the Kimball Art Center tops a list of amazing Park City nonprofits. In the press release announcing the cancelation, Board Chair Dan Lemaitre said:
We're looking at a variety of creative programming, including an online platform, to support artists and contribute to Park City's economic recovery.
If you want to purchase or view fine art, the Main Street area is going to be your ticket. Don't forget your mask per the county requirement, and visit one of these open art galleries, from Lower Main to Upper Main: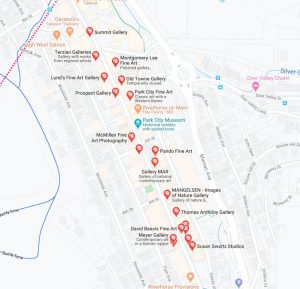 Rich Haines Galleries
Summit Gallery
Terzian Galleries
Montgomery-Lee Fine Art
Lund's Fine Art Gallery
Old Towne Gallery
Park City Fine Art
McMillen Fine Art Photography
Artworks
Pando Fine Art
Gallery MAR
Mangelsen Images of Nature Gallery
Earthlight Galleries
Thomas Anthony Gallery
David Beavis Fine Art
Veraya Import Gallery
Meyer Gallery
Susan Swartz Studios

…and off Main in the Iron Horse and Prospector Districts, you'll find:

Julie Nester Gallery
Kimball Arts Center
Last Friday Gallery Strolls are a Go
Great news: one of the best free activities Park City has to offer, the Last Friday Gallery Stroll, is back in action. Hosted by the Park City Gallery Association, this is a great chance to see the galleries throughout town via a fun, socially distanced event. The stroll runs from 6:00 p.m. to 9:00 p.m. and includes nineteen galleries. More information including a map can be found at the Gallery Association website.