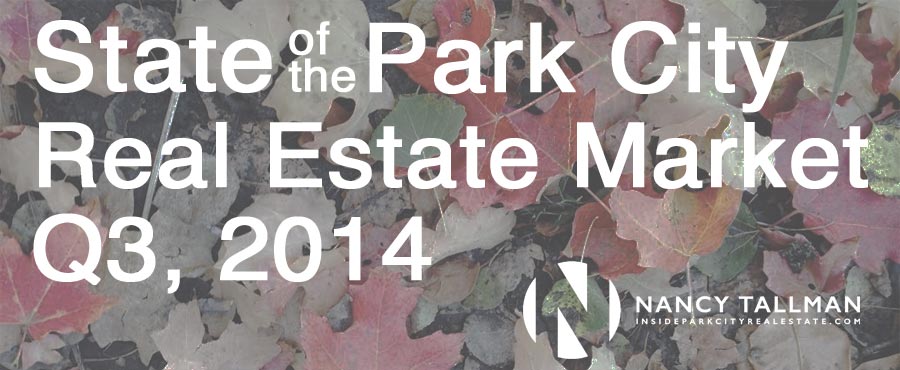 The Park City Board of Realtors just released its Quarter 3, 2014 data. I've studied the Press Release (my name is on it as President-elect) and I have attended two separate analyses of the information presented. You can view it here. Below is my analysis of the data and the Park City real estate market for the third quarter of 2014.
Key Indicators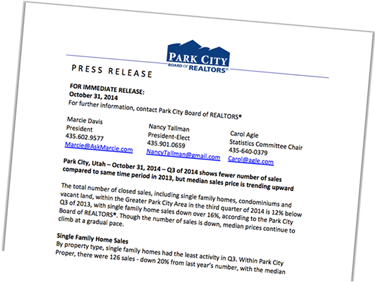 This data compares Q3 in 2014 to Q3 in 2013:
Sales of single-family homes are down 12% overall, 20% in Park City 84060 and 14% in 84098.
The overall single-family home median price is up 2.1% (but has been stable since January, 2011)
The median single-family home price in 84060 is $1.3 million and up 4%.
The median single-family home price in 84098 is $767,000 and up 4.2%.
A lower inventory usually means higher prices, but the overall median price has been stable for over 3 years!
I have been studying Quarter 3, 2014 reports from other "sister" markets around the country. They are all seeing the same phenomena of record low inventories, but these markets are beginning to see greater increases in sale price.
"As the third quarter of 2014 came to a close, total sales across all areas were down by an average of 11% from the same period in 2013. Is it an indicator of a slowing market? Not likely. The health of any market is not determined by the past but the present and future."—Rob McGarry, South Bay Brokers, Manhattan Beach, California
A Segmented Market
Part of the reason for Park City real estate's stable overall median sale price in light of record low inventories is that our market is highly segmented. Some neighborhoods are seeing flat or decreasing prices, while others are seeing enormous appreciation.
"Prices have stabilized and are improving slowly for our overall market. However, price appreciation is highly dependent upon property type and area."—Rick J. Klein, Wells Fargo Private Banking, Park City, Utah
The median price in Silver Springs rose to $767,000, Pinebrook increased to $715,000 and Trailside increased by $90,000 to $600,000. It is no surprise that these markets all have record low inventories. The average inventory for Park City's single-family homes and condos is 7.1 months. In Silver Springs, that number is 0.78, Trailside is 3.25, Kimball Junction is 3.43 and Sun Peak is 3.72. Expect to see appreciation in all of these neighborhoods in the coming months.
The condominium market also has its hot spots. Silver Springs has 2.0 months of inventory, Jordanelle has 3.6 months, Pinebrook has 3.79 months, Kimball Junction has 3.83 months, and Jeremy Ranch has 5.14 months. What do all of these neighborhoods, excluding Silver Springs, have in common? These neighborhoods all are composed of affordable and newer condominiums, which are very much in demand.
The "Vail" Effect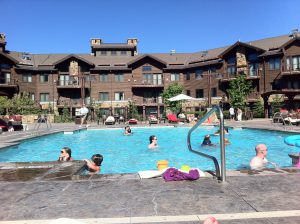 Vail announced its purchase of Park City Mountain Resort on 9/12/14. A study of pended properties between 9/12/14 through 10/31/14 compared with the same time period the previous year revealed a 43% increase overall, with a 71% increase in condominium purchases. There is definitely a Vail effect and as Vail invests into improvements at the resort and surrounding neighborhood, expect to see a further impact on the real estate market.
Advice if You're Considering Listing
Current buyers have become so anxious to find the right property that many only pay attention to the new listings as they come out. This means that coming out with the right listing price when you first come to market is critical.   
"I think to most sellers, the idea that a $1 million asking price would result in a sale price of $990,000 is counter intuitive to the level of negotiation that has always been associated with real estate. Now more than ever, asking prices must be realistic and carefully chosen to maximize the value of the property."—Stan Ponte, Sotheby's International Realty, New York City
Advice if You're Looking to Buy
It is critical to work with an agent who understands the diverse Park City neighborhoods and who has connections with other listing agents so that a hot property can be previewed before it even hits the market. There may also be deals lurking on the active list, especially those properties that have not sold within the expected timeframe of their neighborhood.
"The properties stagnating on the active list likely came out with prices supported more by wishful thinking than data. After a few weeks, many of those sellers are not sure what to do. An opportunistic buyer can likely get a deal."—Rob McGarry, South Bay Brokers, Manhattan Beach, California
The Park City Real Estate market is complex. There are excellent opportunities to invest in that perfect dream home, vacation home or investment vehicle. It's critical to obtain expert advice when navigating our marketplace.