Get the who, what, why, where, when and how of the Velvære opportunity, complete with photo renderings.
In November, I spent 5 days at Miraval Resort & Spa in Tucson. People travel from all over the world to spend a few days with access to nature, spa treatments, gym classes, and mindfulness practices like yoga and meditation. Imagine my delight to find that there will be a community in Park City where people can live full time that will embody the same vision as one of the world's foremost spas & resorts.
What
Velvære is an immersive, wellness-based community spread across 60 ski-in/ski-out acres adjacent to world-renowned Deer Valley Resort® offering 12 cabins, 68 residences + 35 curated custom estates. Velvære is envisioned to be a "transformative hyper wellness experience." Each home is designed to be a personal wellness retreat.
Velvære Estates
Velvære Residences
Velvære Cabins
Who
Developed by Magleby Development, one of Utah's premier luxury home builders, the architecture is a collaboration between New York City based INC, a firm specializing in implementing environmental practices, and Park City based Think Architecture, with experience designing successful local resorts such as Stein Ericksen Residences, Hotel Park City, and Silver Star.
Delos, a wellness home solution partner, is advising the developers on the best-in-class wellness solutions such as advanced air purification, water filtration, circadian lighting and enhanced sleep solutions. All homes will feature solar and backup batteries. Floor plans will include an emphasis on multifunctional wellness spaces, where one can do yoga, get an in-home massage, ride the Peloton or whatever is needed for the pursuit of performance, recovery and mental peace. The Estate Homes are where it gets really fun. They are designed to include a sanctuary space that will include a halo infrared sauna, hot/cold plunge pool, and steam room.
Where
Velvære is located off the Mayflower exit of Highway 40 between the Deer Valley® Gondola and the new Mayflower ski base. It is part of the Mayflower ski area.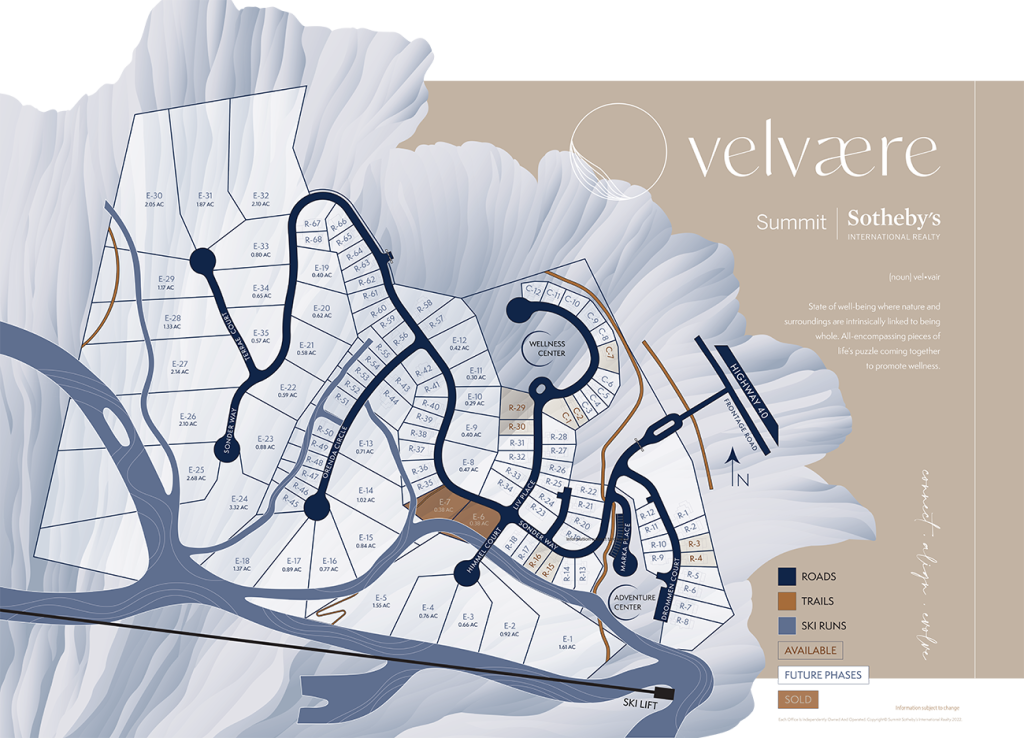 When
The first homes are slated for completion in the summer of 2024. The estimated plan of completion for the community is 5-7 years
Why
Velvære residences will be more than just homes. Each home will be a private wellness retreat located in a community that further integrates the latest technology and holistic wellness practices.
Wellness Center | Examples of offerings to be included are forest bathing, health workshops and lectures, music therapy, cooking classes, zen & herb garden.
Wellness Treatments | Examples of offerings to be included are massage therapy, energy work, skin care & beauty, nails and Watsu in flotation pools.
Integrative/Holistic Medicine | Examples of offerings to be included are Acupuncture + Cupping, nutrition, sleep, women's health and mental health.
Therapies | Examples of offerings to be included are sound healing, infrared and halotherapy, flotation pool, hyperbaric chamber/pod and cryotherapy.
Movement/Physical Activity | Examples of offerings to be included are meditation & mindfulness
breathwork, yoga, cardio + strength, functional fitness and personal training.
Meditation & Mindfulness Practices | Examples of offerings to be included are breathwork & yoga.
Performance Enhancers/Recovery | Examples of offerings to be included are physical therapy, dry needling, foot health, kinesiology, percussion guns, and compression boots.
Adventure/Family Center | Serving as the ultimate base camp, the adventure center will be the perfect jumping-off point for outdoor recreation and engaging family activities. Here, residents will access gear storage, full service restaurant, a grab-n-go-market, indoor family recreational games & activities, and family friendly outdoor pool & hot tubs.
Ski/Trail Access | Residents will access America's newest ski resort through a ski-lift located directly within the community, less than 200 feet from the Adventure Center. This access includes 4,300 acres of new ski terrain with bowls, glades, chutes, and groomers and over 50 miles of hiking and mountain biking trails.
How to Purchase
There are several Velvære properties already listed for sale in the pre-construction phase. Cabins start at $4.5 million, Residences start at $5.5 million, and Estate Homes are $12 million and up. Owners will be able to rent cabins for a 3 night minimum, Residences for a 7 night minimum and Estate homes for a 30 night minimum. Renters will have access to amenities for a fee.
Contact me for all the details and a site visit.