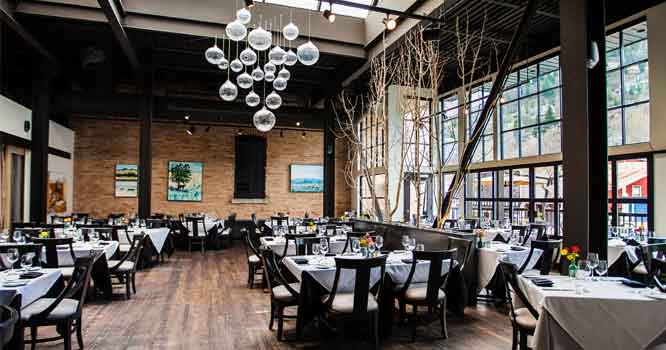 Last Tuesday I took some clients out to dinner to celebrate their recent home purchase and Jim's retirement.  I headed for a tried and true choice, Riverhorse on Main St.
When looking for a good dining experience, what are your criteria?  Food, service and atmosphere, right?  Riverhorse does not disappoint on any of these.  The restaurant was remodeled within the last 12 months and is bright and airy.  The floor to ceiling doors were open, exposing the gorgeous outdoor deck with its mountain views.
The amazing thing about the service at Riverhorse is that the wait staff is attentive without hovering or making you feel rushed.  They understand the menu.  The wine list contains selections for every palate at reasonable and not rip-off prices.
My clients ordered surf and turf and salmon.  I ordered the Utah trout.  We started with salads.  The food and presentations were outstanding.  We all cleaned our plates!
I'm not big on dessert, but even I could not resist the tempting, seasonal, fresh baked items.  Blueberry cobbler, peach pie, and some sort of chocolate cake.
If you are looking for a great dining experience in Park City, look no further than Riverhorse on Main Street.