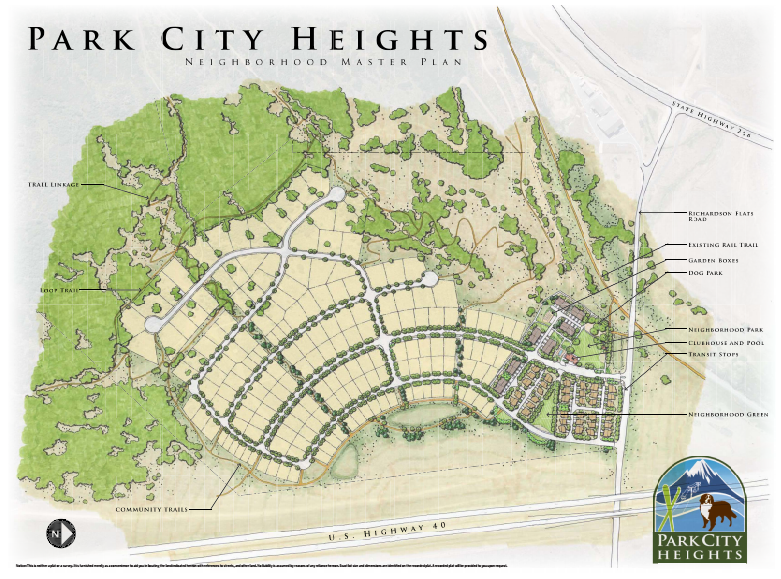 As usual, there's something new and exciting coming to Park City. But this time, we aren't referring to a U.S. Grand Prix ski race or an amazing new farmer's market. It's a brand new community with all the benefits of – as much as we hate this cliché – the Park City Lifestyle.
Park City lifestyle. That phrase we real estate agents love to overuse. But what does it mean, really? I'll let the definition come to you as I describe the features and benefits of the brand new neighborhood with build-outs planned as soon as late 2015.
Park City Heights: Coming 2015
Proximity. Located just across Kearns Boulevard from the amenities of Quinn's Junction (Hospital, National Ability Center, Ice Arena, Soccer and Baseball fields, dog park and Round Valley trailhead), PC Heights is just minutes from Highway 40 and less than 5 miles from Historic Main Street.
Trail Access. Residents will have easy access to miles of new and existing hiking and mountain bike trails. Single Track lovers can get started on Round Valley or Lost Prospector, or an easy cruise can be taken to town along the Historic Rail Trail.
Room to Roam. Did we mention trail access? In addition to easy trail access, the neighborhood will feature a 5.7 acre community park, a neighborhood green, a dedicated dog park and many other unique amenities.
Environmentally Conscious. All homes in Park City Heights will achieve the Green Certification by the National Association of Home Builders a LEED Silver Certification.
Community. The clubhouse will serve as a community meeting place for residents to enjoy the pool, hot tub, garden boxes, parks and community trails.
Park City Heights Intel
Troy Goff is the New Home Sales Consultant for Ivory Homes, and he was kind enough to answer a few questions about the impending neighborhood.
Q. What will be the composition of the neighborhood?
A. It will have 239 homes comprising of 211 single family and 28 townhomes.
Q. Are there any homes reserved for income restricted housing?
A. There will be 79 affordable/workforce housing options, but there is not an income restriction. 28 will be townhomes and 51 single-family.
Q. What are the home design and layout options?
A. That's still being finalized, but there will be Townhomes, Cottages (with 4 layout options), and Homestead, which will be custom designs.
Q. When do you anticipate the first build outs to be complete?
A. Late 2015 provided things get moving on time.
Q. When do you expect the final PC Heights plan to come to fruition?
A. Approximately 8 years, so 2022 or 2023
Q. What are the starting price ranges for the homes?
A. TBD
Q. Will the neighborhood be on the Park City Bus Route?
A. Yes. The bust stop will be right in front of the entrance to PC Heights.
Learn More
Want to learn more? Contact me for floor plans and additional information. Troy represents Ivory Homes, the developer. If you are interested in this community, I strongly suggest you secure me as your buyer representation. It costs you nothing and then you can be assured your best interests are represented.