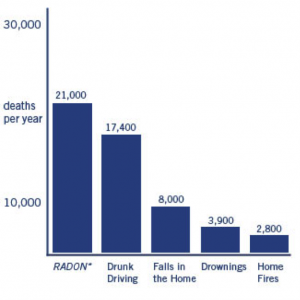 Indoor radon is the second-leading cause of lung cancer in the United States, and breathing it over prolonged periods can present a significant health risk. It's important to know that this threat is completely preventable. Radon can be detected with a simple test and fixed through well-established venting techniques.
Many experts believe radon was a factor in the recent death of former Salt Lake City Mayor Deedee Corradini. She was an extraordinary person who was instrumental in bringing the Olympics to Salt Lake City. Corradini was diagnosed with lung cancer in July, 2014. "It came as a total, total shock," she said in an interview with KSL Newsradio. "I never smoked a cigarette."
Just yesterday, I read about the death of Paul Kalanithi. He was a 37 year old who had just completed his neurosurgery residence at Stanford University. He too was a non-smoker who died of lung cancer.
As a REALTOR, I advise my buyers to test their homes for radon. It is fairly common in the Park City area and easily remediable. Most home inspectors will provide this service. But what about the people who aren't planning on moving? Should all of us consider testing our homes for radon?
What is Radon?
Radon, is a dense, radioactive, cancer-causing gas. You can't see it, smell it, or taste it, but you may be breathing it right now. Children, the elderly, and those with compromised health are particularly at risk. According to the EPA, Radon is the #1 cause of lung cancer among non-smokers and causes over 21,000 cancer deaths each year. About 2,900 of these deaths occur among people who have never smoked. The EPA estimates that as many as 1 in 15 houses have dangerously high levels of radon.  
Radon gas is very dense and much heavier than normal air. This causes radon to gather in the lowest levels of a house or building.  It typically moves up through the ground to the air above and into your home through cracks and other holes in the foundation. Your home traps radon inside, where it can build up. Any home may have a radon problem. This means homes and condos; new and old builds; well-sealed and drafty spaces; and with or without basements.
Radon Testing and Remediation
Fortunately, testing for radon is an easy and inexpensive process and remediation costs about the same as a minor home improvement. Many kinds of low-cost "do-it-yourself" radon test kits can be purchased through the mail or hardware stores. Alternatively, a qualified tester can do the testing. Find local information for your state, including list of qualified testers at the state radon office. Find a qualified service professional or test kit here.
Are you going to test your home for radon? I am going to test mine.
Sources:
ksl.com, Emilee Bench, February 6, 2015
Epa.gov, A Citizen's Guide to Radon