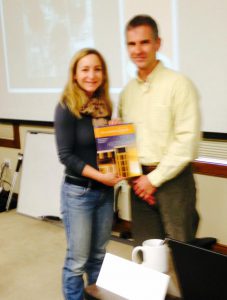 On Friday, May 1st, the Park City Board of REALTORS® invited Patrick Putt, Director of Summit County Community Development, and Peter Barnes, Summit County Planning and Zoning Administrator, to provide an update on new developments around our county.
Patrick noted that the area surrounding the Canyons ski resort is only 25% built out and we will see much growth there in the future. As far as specifics, here are his updates on what's planned for some of Summit County's larger parcels of land.
Canyon Corners
Canyon Corners is 61,000 square feet of mixed use development located across the street from Ruby Tuesday, near the Tanger Outlet Mall. It is under consideration for a consent agreement to modify use for a local grocer (Whole Foods). The existing Whole Foods Market facility is 20,000 square feet.
Vail Canyons/PCMR Interconnect
Construction to connect the resorts will commence next week, although it may be awhile before we see any semblance of a lift. Vail is working with Mountain Trails Foundation to mitigate the impact this new development will have on the mountain trails in the area.
Woodside Homes at East Creek Ranch
66 single family homes are currently under construction in Silver Creek. These homes are three to seven bedrooms ranging in size from 2,633 to 5,001 square feet and priced from $660,000-$890,000.
Hyatt House Hotel
120 rooms located at the intersection of Highway 224 and the Sun Peak neighborhood. This building is a re-entitlement of an older agreement. It is scheduled to open in time for the 2015-2016 ski season.
Armada Ski Company
Located on the Frontage Road near Jeremy Ranch, Armada Ski Company is moving their business from Costa Mesa, California to this site in Park City. A great boon for Summit County for many reasons.
Nevis at Newpark
These town homes are located at Kimball Junction at 1182 Center Drive. There are 23 residential units starting at $431,900. Floor plans are 2 bedrooms plus 2.5 baths.
Basin Recreation Field House
The new buildout of 112,000 additional square feet at the Kimball Junction based field house is scheduled to commence shortly.
Newpark Terrace
The 60 Newpark Terrace townhomes (across from Best Buy) are scheduled for completion this month.
Promontory
Over 50 homes are currently under construction in the coveted Promontory Neighborhood.
Silver Creek Village
The entitlement for Silver Creek Village was approved 3-4 years ago. The County Council is working with a developer on an agreement. This area is zoned for 1,300 residential units with 300 required units of affordable housing. There is about 54,000 square feet of zoned commercial space, as well as land set aside for open space, trails, and public use. After a development agreement is reached we will see platting.
Wyndham Hotel
This hotel opened last season at Canyons adjacent to the Frostwood Gondola. It is approximately 89 rooms.