There's something magical about the joy of swimming that transcends age. Whether you're eager to swim laps, splash and play with your family or enjoy a little relaxation, the allure of water is universal. While Park City may be renowned for its powdery slopes and winter wonderland, it's important not to overlook the incredible pool experiences this mountain paradise has to offer.
Be sure to check each of these aquatic venue websites for the latest opening dates and times.
Outdoor Pools in the Park City Area
Despite the abundant snowfall that graces the region, Park City is home to an array of outdoor pool havens that beckon visitors to dive in and indulge in nature's liquid embrace. Picture yourself basking under the warm summer sun, surrounded by stunning mountain vistas, as you take a refreshing dip in a crystal-clear pool.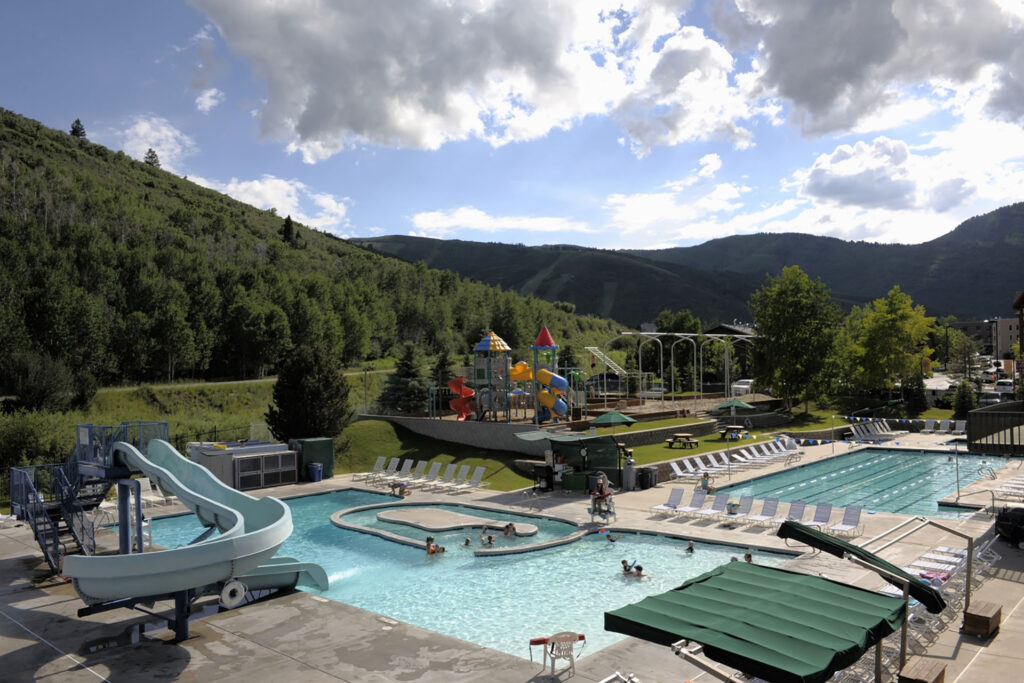 Park City Municipal Athletic & Recreation Center (PC MARC)
The Park City Municipal Athletic & Recreation Center (PC MARC) offers a delightful outdoor pool experience with amenities such as a lap pool, a leisure pool, water slides, and a lazy river. It is a popular destination for both residents and visitors, providing a refreshing and enjoyable environment to swim, relax, and have fun in the beautiful Park City surroundings.
Silver Mountain Sports Club & Spa
Dive into a year-round heated outdoor pool for comfortable swimming regardless of weather. Thrill-seekers can enjoy the 65′ water slide while those who like to take it easy will find the lazy river enjoyable. From the kids fitness castle to the 25 yeard lap pools, hot tubs, steam rooms and sauna, there is something for everyone at Silver Mountain.
Basin Recreation Lap Pool
The Basin Recreation Fieldhouse offers an exceptional aquatic experience that caters to swimmers of all ages. The lap pool features adult and youth programs and lessons, while the hot tub provides some relaxation in between laps.
Basin Recreation Splash Pad
No, it's not the same as a pool. But when the summer days get hot and you want to keep things outdoors, the splash pad is a great way for the kids to burn off some of that extra energy. And for the littles, it's a bit more relaxing than worrying about them in the pool. The splash pad is open daily from 11 a.m. to 7 p.m. May 27 through September 4 (weather permitting).
Indoor Pools in the Park City Area
For those seeking aquatic bliss year-round, Park City boasts a selection of exceptional indoor pools that promise relaxation and recreation, no matter the season.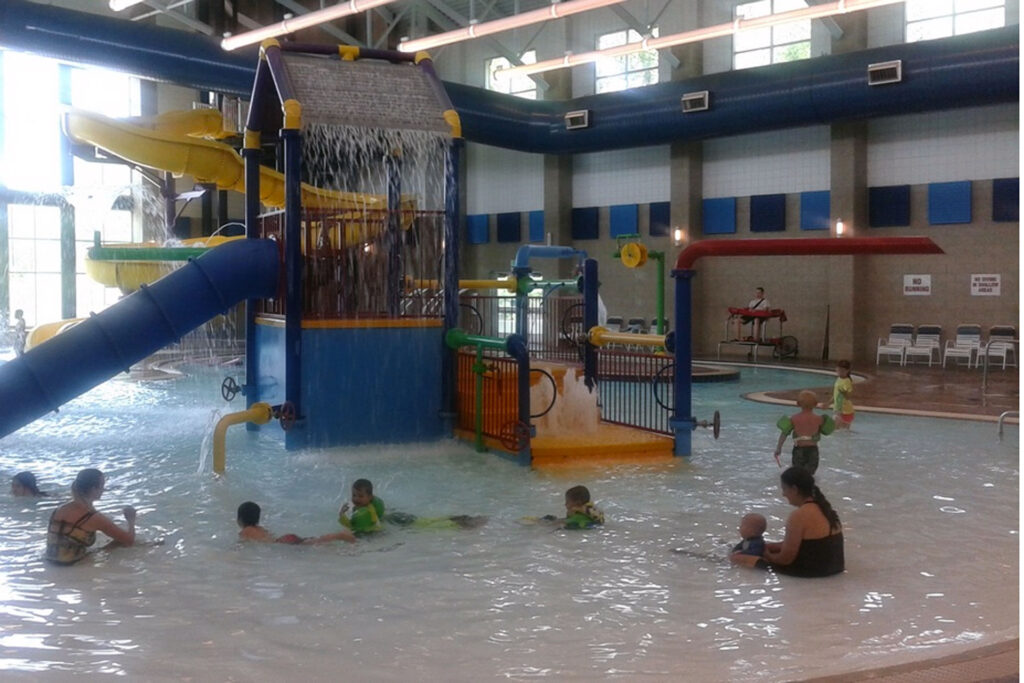 Ecker Hill Aquatic Center
A part of the Park City School District and thus has a large focus on swim lessons, swim team and youth water polo. That said, you can check their website for open swim hours, staff permitting.
South Summit Aquatic and Fitness Center
Located in Kamas, this facility brings fun for the whole family. A diving and lap pool for the swimmers is converted to a playground for all with a Wibit Sports floating water park (check the schedule for details). The leisure pool featuers a lazy river and two water slides, and the hot tub brings it all home with a relaxing dip.
Wasatch Aquatic Center
From its Olympic-sized lap pool and leisure pool to water slides and diving boards, the Wasatch Aquatic Center in Heber has something for everyone. Whether you're a serious swimmer or a family looking for a fun outing, you'll find a versatile aquatic environment right here.
Park City Area Pool Secrets
There are also some hidden gem pool secrets that only the locals know. Discover the lesser-known pool oases tucked away in the heart of Park City, where you can find solitude, serenity, and unforgettable experiences. While some pool experiences aren't outright public, they do come included when you book a treatment at a spa.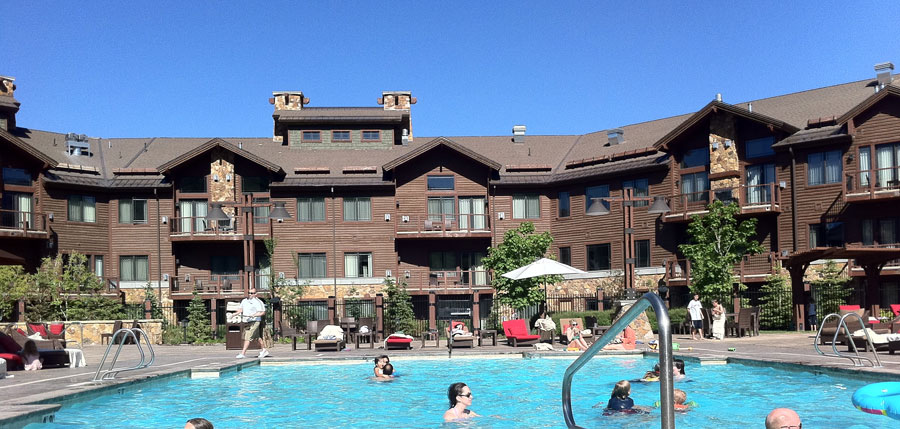 Montage Deer Valley
At the Montage Deer Valley Spa, guests can indulge in a treatment followed by a rejuvenating pool and hot tub experience. The expansive pool area offers serene mountain views, while the hot tub provides a blissful soak, creating a perfect setting to relax, unwind, and enhance the overall spa experience.
Stein Eriksen Lodge
At the Stein Eriksen Lodge Spa, you can enjoy a tranquil pool and hot tub after your treatment. The outdoor pool is heated year-round offering a serene ambiance and stunning mountain views.
YotelPAD Park City
This innovative space located at The Canyons base area of Park City Mountain offers a heated outdoor pool and hot tub in addition to a sauna, steam room and fitness center. Not staying the night? At the time of this writing, YotelPAD is offering a day pass starting at $15 for kids and $25 for adults. Check ResortPass or contact the hotel for details.
Waldorf Astoria
Located at the Canyons Base Area of Park City Mountain, the Waldorf Astoria is known for one of the best outdoor pool experiences around. Spa treatments include access to the pool facilities. What could be better than a relaxing spa treatment before you take the plunge?
Homestead Crater
Okay so this is technically not a pool, but it's too cool not to mention. If you haven't visited the Crater in Midway, it's worth the time to check "natural geothermal hot spring hidden in a beehive-shaped limestone rock formation" off your bucket list! With a temperature of approximately 90 to 96 degrees Fahrenheit, you'll enjoy this experience year-round.
Whether you're a resident looking to enhance your lifestyle or a visitor seeking the ultimate poolside escape, we've got you covered. So, sit back, relax, and immerse yourself in the best of Park City's pool experiences.