Perhaps "The Overlook" is a secret because technically, it's not in Park City. However, this amazing gem is no more than 10 minutes away from Old Town, Kimball Junction, and even Kamas!
The Overlook is located in the Black Rock Resort, where Highway 248 meets Highway 32 (Brown's Canyon.) There is a lounge on the lobby level of the hotel called "On the Rocks." With live music on the weekends, this is a lively place to meet a friend for a cocktail. The Overlook restaurant is one flight of stairs below the bar. Both the restaurant and bar feature floor-to-ceiling windows with views of Deer Valley Resort and Park City's mountains, providing a stunning setting.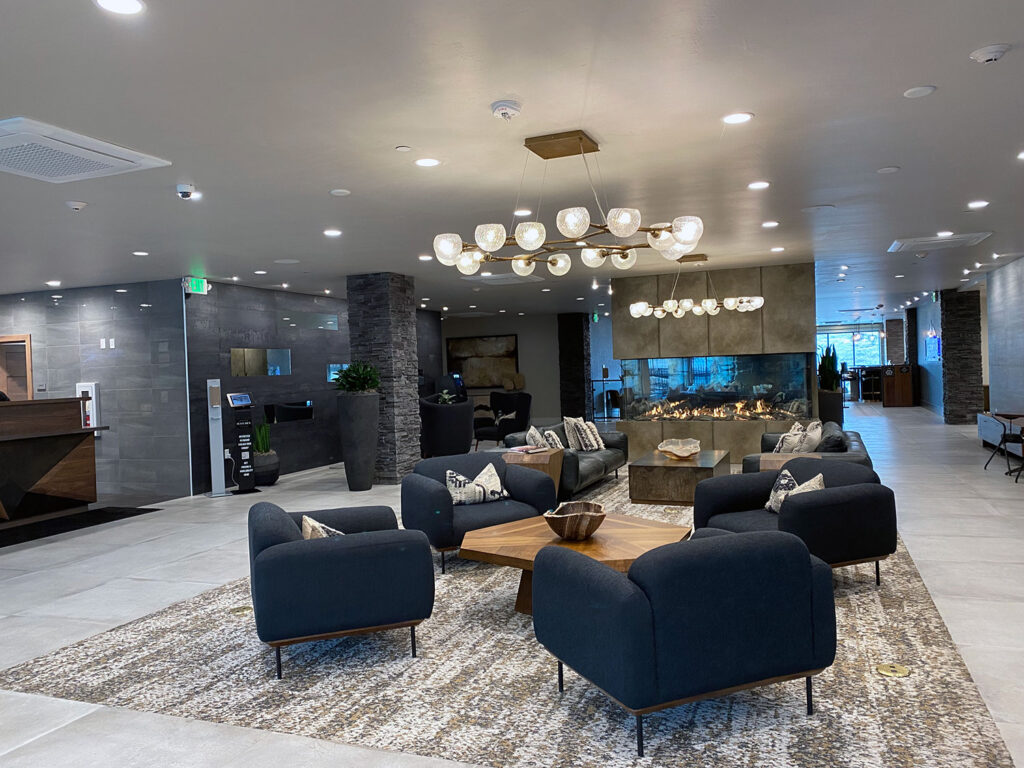 Lobby at Black Rock Resort
I have yet to have a bad meal at The Overlook, and I have been there numerous times. Unlike so many other venues, there are plenty of employees and the service is always excellent. The Executive Chef, Ernesto, has been cooking up amazing food for Parkites since 1991. I know he was the Executive Chef at Zoom and Club Lespri. Given his lengthy tenure in Park City, I'm sure there were many other excellent restaurants where he perfected his craft.
Chef Ernesto utilizes fresh ingredients and has developed partnerships with Wasatch Meats, Kessimakis Produce, Cache Valley Cheese, Green River melons, Sanpete County Turkeys, Bear Lake Raspberries, and Hugo Coffee. Their delicious fries are made in-house. Those who shun meat can find excellent vegan and vegetarian dishes.
I have introduced many friends and clients to The Overlook, and seem to run into people I know every time I'm there. Aside from the quality of the food, the prices are much more reasonable than what you will find on Park City's Main Street. And parking is free and easy.
Some of my favorites are the onion soup, Hamachi tostadas (huge!), buffalo cauliflower, chef salad, burgers, spicy chicken sandwich, and pizza (huge!). My clients tell me the pasta and steak are fabulous. Warning—the portions are large.
The Overlook is open for lunch and dinner seven days a week and breakfast on Saturday and Sunday. If you give it a try, I hope you will let me know what you think of it. Maybe I'll see you there! Next week, I'll write about the real estate opportunities located at Black Rock Resort.