The Park City Board of REALTORS recently released their third quarter, 2019 statistics.  Even though I review sales on a daily basis, it's always a great "gut check" for me to see the numbers and confirm my personal beliefs about the Park City housing market.  In this case, my belief that our market is solid and stable is confirmed by the Quarter 3 numbers.
Overall Park City Real Estate Market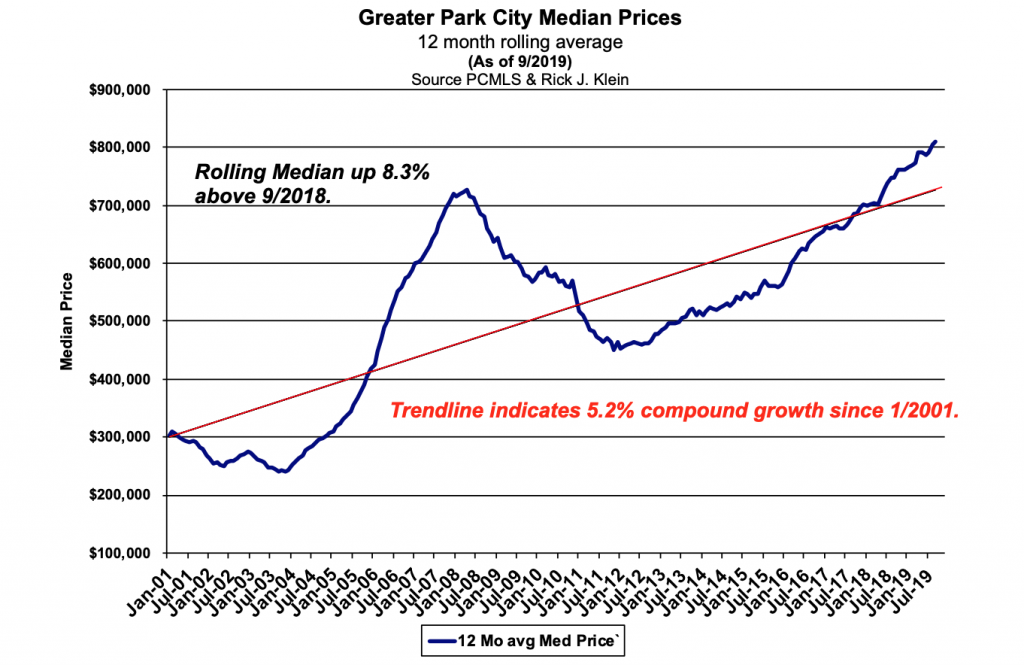 Overall, single family home sales decreased 1% and the median sale price increased by 13%. For condominiums the number of sales increased by 10% and median sales price increased by 5%.   These numbers show that the scarcity of available inventory is driving up prices.  It is also interesting to note that these numbers closely mirror those released earlier in the year for Quarter 1.
City Limits
In 84060, the number of single family home sales increased by 13%, with median sale price increasing by 7%.  In Park Meadows, single family home sales increased by a whopping 66% year over year, while Old Town sales decreased by 4%.  This shows that there are always micro markets within our overall real estate market.
Snyderville Basin (Park City Mailbox, Outside City Limits)
In 84098, sales of single family homes decreased by 3%, while median sale price increased 7%.  The neighborhoods with the largest median sale price increase were Sun Peak, Pinebrook, and Summit Park, with increases of 27%, 24% and 8%, respectively.
Promontory
Promontory sales increased by 17%, but median price decreased by 7%.  This is reflective of a large number of Nicklaus Villa closings, which are the popular new homes built by the developer.
Park City Condominiums
In terms of condominiums, sales in Old Town were up 10%, with median sales price up 8%.  This could mean that buyers priced out of single family homes in Old Town are buying condominiums instead.  In Lower Deer Valley the number of sales was up 24% and median sales price was up 19%.  This is in striking comparison to the first quarter, which showed lower sales.  Could it be the impact of the Ikon Pass?
The Bottom Line
After a slower start to 2019, the third quarter was very strong in terms of number of sales and healthy sale prices in the Park City housing market.  Pended sales were up 22% in the third quarter, which reflected a record number of pended sales in the Park City market.  The number of closed sales was similar to 2018.  Our inventory was stable year over year, but with a higher level of sales, the absorption rate decreased from 7.2 months to 6.4 months.
There is definitely a story to be told regarding price point.  Single family homes in 84060 priced over $2M have an absorption rate of 16.3 months, reflecting a buyers market.  Those priced under $2M have an absorption rate of about 6 months, reflecting a balanced market.  In 84060, the magic number seems to be $1,340,000.  Homes priced above $1,340,000 will take about 30% longer to sell.
With median sale price increases of approximately 5% annually since 2001, Park City has proven to be a stable market to own real estate.  While we have experienced some highs and lows, those buyers who are not forced to sell when the market trends down can be confident of a solid long term investment that they can also enjoy with their family.
If you would like to read the entire Park City Board of REALTORS statistics packet, please contact me and I'll be glad to email it to you. As always, if you have questions regarding specific neighborhoods or areas, I'd love to help.