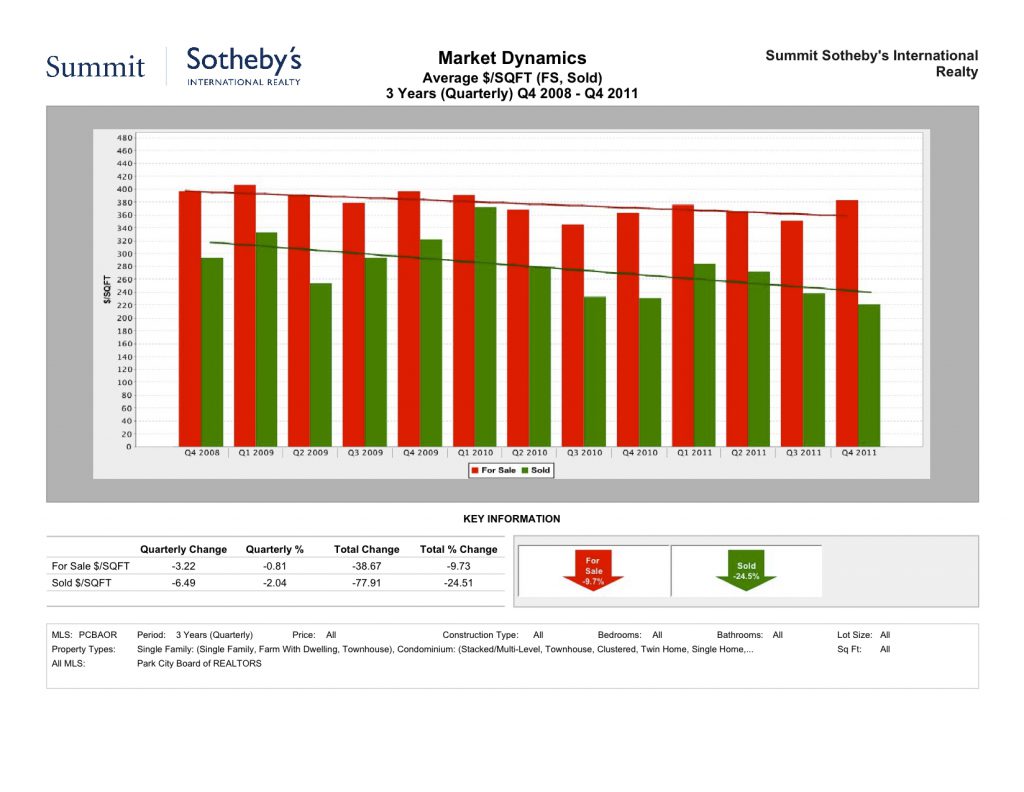 The graph above shows the average price/square foot of homes listed for sale (red) and homes sold (green) in the Park City market. Notice the gap between the listed and sold price has increased. This graph demonstrates a gap between what sellers believe their property is worth and what buyers are willing to pay.
This same statistic has been reported in real estate markets all over the United States. The good news is that sales are up nationwide and many people are successfully buying and selling property in today's real estate market. The interest rate for a 30-year fixed rate conforming loan is below 4%, providing buyers with more spending power.
If you need to sell a property in order to relocate or move up, here are some sales strategies used by successful sellers:
1. Price your property based on very recent comparable sales. Once a home is priced properly, the average list/sale price is 93% in the Park City market. There is no relationship between overpricing and overpaying. Buyers are looking at the same comparable sales as you are and are less likely to "fall in love" and overpay in today's market.
2. Stage your home to sell. Staging is not the same as decorating. Staging means decluttering and depersonalizing as well as repairing anything that gives the buyer the impression of deferred maintenance. A clutter-free, clean home will sell faster and for a higher price than a home that looks as though it has been neglected.
3. Negotiate every offer. It costs nothing, except time, to negotiate and you never know how high buyers will go unless you engage them in negotiation.
4. Look at all the terms, not just price. Cash is king. A quick closing that avoids an appraisal has a value. Perhaps you need a lease-back, extra time to move out, or some other accommodation. Evaluate each offer based on all the terms and the financial strength of the buyer, not just the price.
5. Pick a listing agent who is a full-time professional. You want to work with someone who is responsive, hard working, and has closed plenty of recent transactions. Today's market dynamics are much different than the "heyday" of fast sales and high returns. Transactions are much more complex and emotions can easily become frayed. You want the agent who is going to get you to the finish line so you can achieve your goal.
I closed 17 transactions in 2011, and represented sellers in over half of those transactions. I can help you navigate today's real estate market dynamics.