Whenever our family travels and stays in a beautiful place with lots of fun activities, my kids always ask, "Can we live here?" At the Montage Residences Deer Valley® Resort, the answer would be an enthusiastic "yes". The Montage Deer Valley® Resort is a hotel located in the most pristine section of Empire Canyon at Deer Valley® Resort Resort. Situated above the hotel rooms are two to four bedroom residences, some over 4,000 square feet. These lovely residences are truly liveable, with well equipped kitchens, dining rooms large enough to accommodate extended family for a holiday dinner, and ensuite bedrooms. You can choose views of the Park City lights, the sunny ski slopes or opt for a larger residence with views in both directions.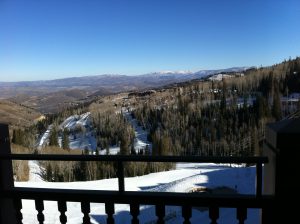 Living at the Montage Deer Valley® Resort for a ski vacation, summer retreat, or full time (as one family) is like living in your favorite resort and country club combined. The highly skilled concierge staff is available to fulfill your recreational and entertainment desires. The 7,000 square foot Compass Sports activities center is ground zero for year-round, on-mountain adventures. Staff will fit and store your ski equipment and once you are ready to go, the best of the Deer Valley® Resort slopes are literally right out the door. There is the exquisite Spa Montage and Kim Vō Salon, along with a year round outdoor heated pool and deck.
Sometimes kids and parents have different activity needs. It doesn't feel like a vacation when one parent must stay behind to "watch" the kids. Paintbox, the activities-based program for children ages 5-12, solves that issue, ensuring everyone in the family gets a "real" vacation.
There are several dining options on site. As I walked by Buzz, the gourmet café, I was overcome by the incredibly delicious smell of fresh baked croissants. I've been told they have the best hot chocolate anywhere. Daly's Pub is truly remarkable. My husband and I were able to have an adult conversation, while my kids bowled and played arcade games to their heart's content.
For adults who work 24/7 and/or travel extensively for business, time spent with their children and spouse is precious. These carefully planned chunks of time should be spent in a place of beauty, where each family member can pursue the leisure activity they enjoy most, whether that means a spa day, a ski day, reading a book by the pool or enjoying a perfectly prepared meal. Wouldn't it be great to "come home" to such a residence whenever you wanted? The Montage Residences Deer Valley® Resort offers the perfect milieu to create memories that will last forever.
If you are interested in learning more details about the Montage Deer Valley® Resort, please contact me at nancytallman@gmail.com.