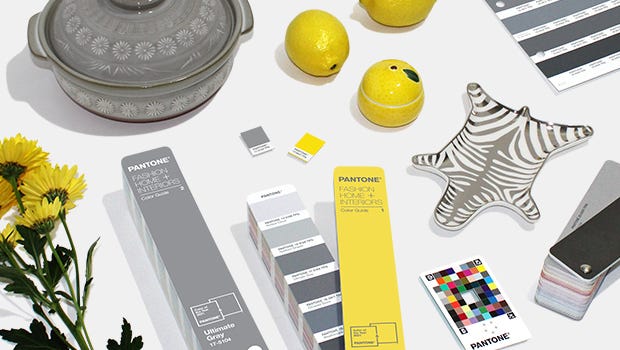 There are experts that specialize in just about anything these days. When it comes to color, Pantone is tops. Since 1963, the Pantone color system has helped ensure control over color matching standards. They assist in maintaining consistency of brand for everything from print, textiles, apparel, plastics, pigments, coatings, and more.
One of the staple services the color guru Pantone gives us is the Color of the Year. For over 20 years, ringing in the new year has coincided with the thoughtful selection of a color to represent events of the upcoming year. This year, they broke with tradition to select not one but two Colors of the Year.
This Year's Colors
2021 will be represented by the colors Ultimate Gray and Illuminating. Symbolically, these contrasting colors represent two opposing ideas. Ultimate Gray represents something "practical and rock solid but at the same time warming and optimistic", while Illuminating is "one of strength and positivity" and is "aspirational and gives us hope".
Pantone hasn't chosen a shade of gray as Color of the Year in recent history, and yellow hasn't made an appearance in over 10 years. The colors are typically more saturated, such as 2020's Classic Blue and 2019's Living Coral.
I like to think these two choices are symbolic of our current place in history. While we need a color like gray to ground us on a firm foundation, the yellow shade provides us with a bright spot of hope.
What do Pantone's 2021 Colors Mean for Real Estate?
Gray has been a popular color in interior design for quite some time now. It appears it won't be going away any time soon. However, if you plan to sell your home this year, tread carefully. What buyers want now is a very neutral palette so that they can visualize making the home their own. So, while these would be great accent colors in a pillow, blanket, area rug or wall hanging, I'd caution against painting your whole home in these shades.