I was recently interviewed for the Historic Park City hit list about my favorite things to do on Main Street.  I started wondering what other locals chose as their favorite dining spots for lunch and dinner.  While tastes vary, there were a few names that came up repeatedly.  I thought I would share those with you…..
Lunch
Café Terigo came up as a favorite of almost everyone who was interviewed over the past year (including me).  This is no surprise.  Most Park City locals crave their salmon salad, with its mustard dressing and baby onion rings.  Other favorites are the steak salad and pizza.
Karlene's Uptown Fare.  I have to admit, I don't eat here much, but after hearing the rave reviews on the Historic Park City and Yelp websites, I must check it out.  All the food is fresh and made from scratch.  The fresh roasted turkey is especially popular.
Dinner
Vinto "Affordable dining on Main Street"—Is that an oxymoron?  Apparently not at Vinto.  Vinto opened on lower Main Street last year and I have yet to eat there.  Their specialties are wood fired pizza and seasonal Italian cuisine.  Most entrees are around $10.00.
Shabu with mentors like Nobu and Charlie Trotter, Chef Valaika's menu will please serious foodies.   The menu is a sophisticated, free-style blend of Asian cuisine.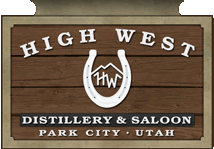 High West Distillery to be perfectly honest, High West is on MY list of favorite restaurants for both lunch and dinner.  Chef James Dumas creates mouth watering Western fare offered as entrees or small plates.  Their meat and produce is locally sourced and you can taste it.  An unexpected secret about High West is that they have special technology which allows them to offer more wines by the glass than any other restaurant in Park City.  Everyone at the table can order their favorite wine without ordering an entire bottle.   I love that!
Other notable mentions for dinner were Chimayo, and Riverhorse.
What are your favorite places for lunch and dinner on Main Street?  Please post!