Coffee and Heber City used to be an oxymoron. But not any longer.
There are some amazing homegrown coffee houses in the Heber Valley that deserve your business and support. During Memorial Day weekend, I dragged my husband on a tour of the local coffee houses. We drank a lot of coffee, ate some outstanding food, and ended the tour at Judy's Donuts in Midway, with some sweet treats.
This blog covers our adventures and my personal recommendations. Check each establishment's website for hours as most close in the afternoon, and some are closed on specific days of the week.
Heber City
Everyday Coffee House | 312 Main St.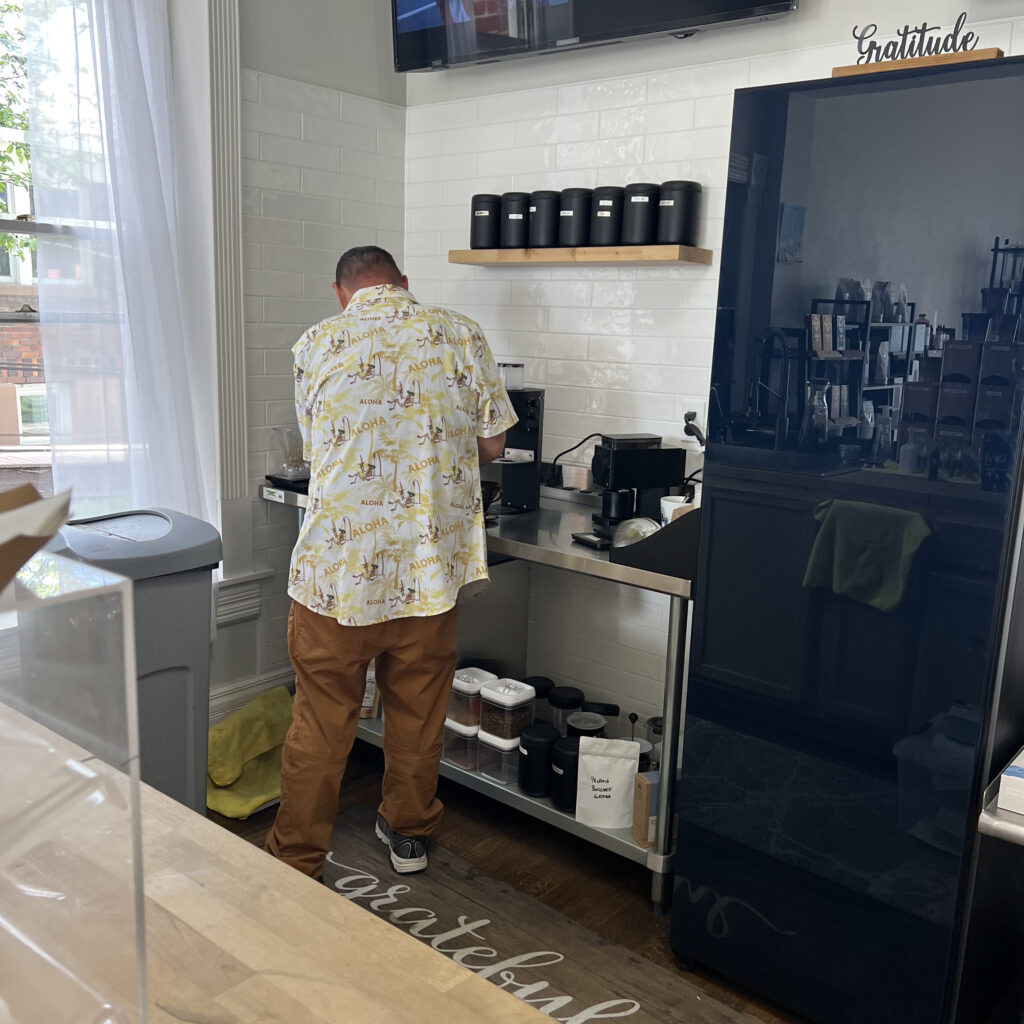 Located in a historic Victorian house, Everyday Coffee House specializes in sourcing the highest quality single-origin and organic beans and roasting them. This coffee house blew my mind. If you are a coffee snob or connoisseur, you must make a trip to Everyday Coffee House.
Owner Shawn McMullen serves pour-over coffee one cup at a time. Shawn told me he turns down 40% of the people who walk into his shop because they are looking for "coffee beverages," not coffee. There are no lattes, syrups or fancy stuff. I told Shawn I prefer French roast. My husband is more of a medium roast guy. He chose custom beans for each of us and at our request, added real cream to our coffees.
We sat outside in the sunshine savoring our beverages deciding this was how coffee is supposed to taste. This is an owner passionate about coffee and the experience he is providing to his customers, which is all too rare these days. They also have an expansive collection of Organic Fair-Trade teas and serve Dotties Kolache sweet and savory treats. This shop is a pure local pleasure. One additional note: grinding the beans and brewing one cup at a time takes longer than ordering brewed coffee from a spigot. Allow yourself enough time to savor the experience and the coffee.
Local Grind | 51 W 100 S
This is a local, gluten-free bakery and coffee shop that produces gluten-free breads (rye, white, muffins) pies and cakes. I really wanted to try it, but they are not always open during their posted business hours. If you have been here, please let us know what you think!
OG Cafe | 595 S Main St.
OG stands for Old Goat. This local treasure is a coffee shop with a drive-thru and a restaurant serving breakfast and lunch, dessert and ice cream. We decided to give OG a try for breakfast and were pleasantly surprised by their extensive menu.
I ordered the Border Keto Bowl with Spanish chorizo, eggs, cheese, jalapenos and veggies, and my husband tried the biscuits and gravy. You can tell we have VERY different palates! We both enjoyed our breakfasts, which were served promptly by very friendly staff. OG pours Park City Coffee Roasters coffee for their drip and espresso drinks. I would definitely come back here for breakfast and think it would be a great place to try for lunch. Prices are reasonable, too.
Starbucks | 705 S Main St.
I love the convenience of the drive-thru at this Starbucks. They have the nicest staff I have ever experienced at a Starbucks. When you want the tried and true Starbucks experience, this location delivers. The interior has plenty of tables and wifi if you need to settle in for work or meet up with a friend. We didn't visit Starbucks on our coffee excursion because we have both been to this one many times.
Midway
The Milk House at Homestead Resort | 700 Homestead Dr.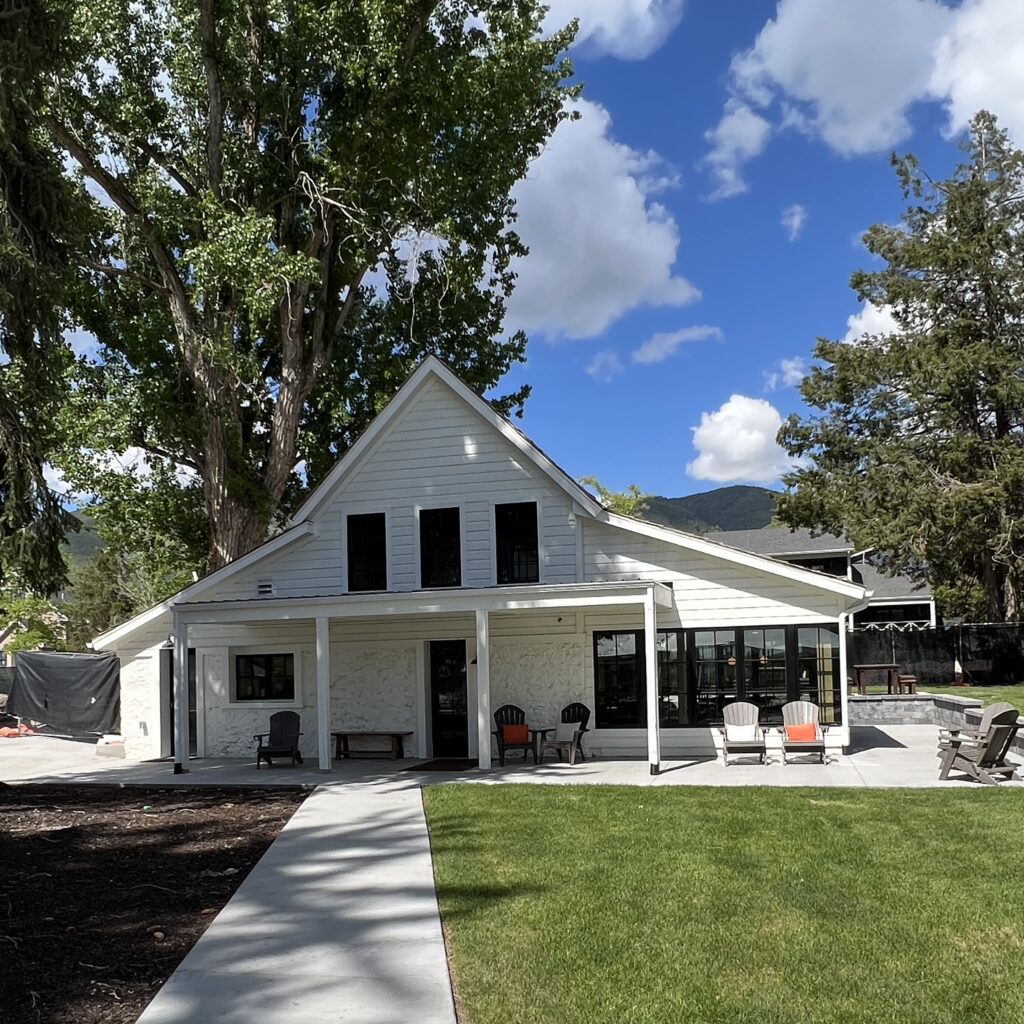 We killed a little time between our breakfast and Heber City coffee tasting so we would be ready for more coffee in Midway! We had a little bit of trouble finding The Milk House. If you are looking at The Homestead Resort, walk to the right of the main building and you will see it.
The Milk House is located in a charming building from the 1800s that was used to store dairy on the farm. It is now an ice cream parlor and coffee shop, also serving house-made fudge and pastries. They pour "Fluffy Cow" coffee, which I have never seen anywhere else. The coffee drinks were pretty standard. I tried the homemade fudge, which was truly delicious. We sat outside in the peaceful solitude of the Homestead Resort.
Fill'er Up Coffee Station | 201 E Main St.
Located in a renovated 1930s gas station, it's worth the trip to Midway just to hang out in this historic spot. With outdoor seating and a drive-thru option, I love going to Fill 'er Up when the weather is nice. In addition to coffee drinks, they sell breakfast, lunch and delicious Bee's Knees ice cream. On this particular excursion, we skipped Fill 'er Up because we have been there many times.
Judy's Donuts and Coffee | 231 E Main St.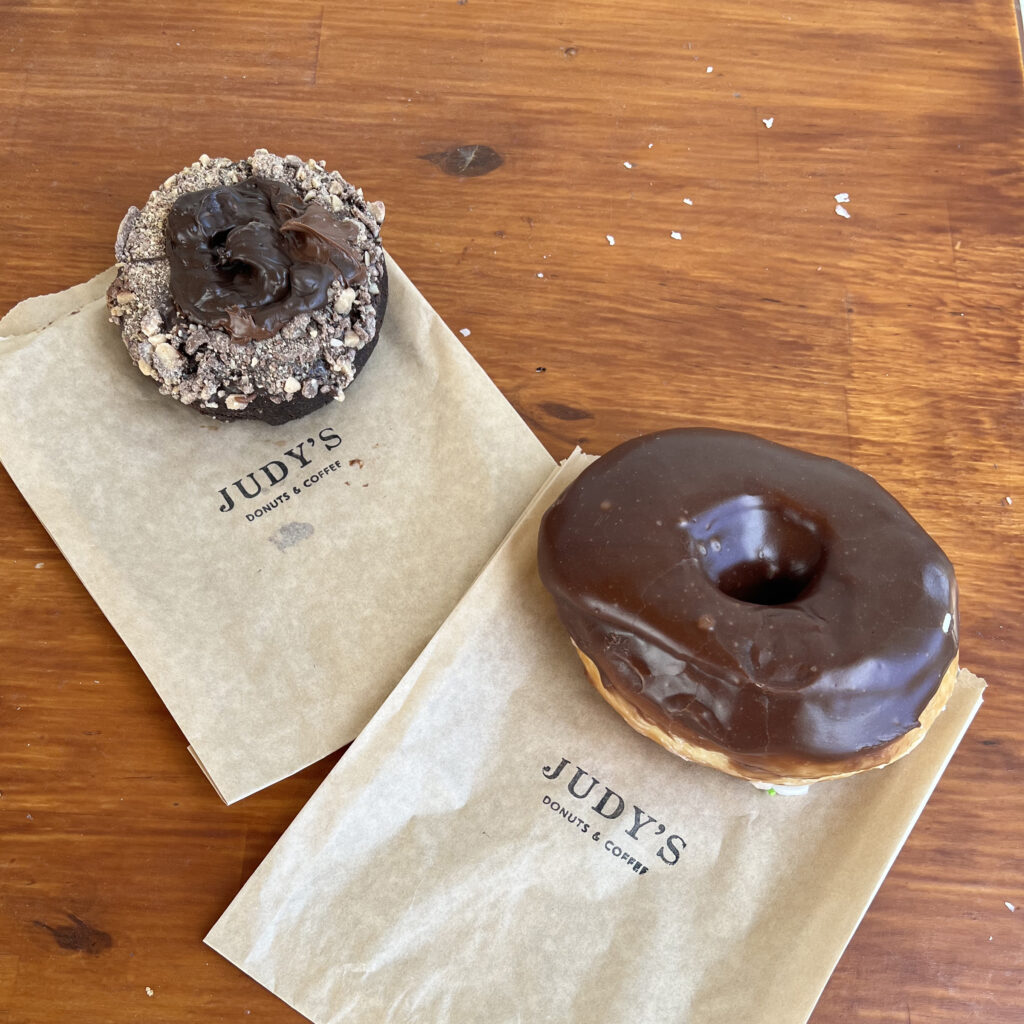 I have decided that no trip to Midway is complete without a stop at Judy's Donuts. Located in a historic 1890s home, Judy's serves donuts made from scratch every morning using a family recipe. Be forewarned, they often run out of donuts. Luckily for us, there were still several varieties to choose from when we arrived.
I tried the Chocolate-Toffee-Nutella donut and my husband went with the chocolate glazed. These donuts were large and delicious. They pour Cafe Ibis coffee to wash down your donut. Since we had already had 3 cups of coffee, we passed on the coffee, but we know Café Ibis is a great brand. There is both indoor and outdoor seating.
The Best of Heber and Midway
I want to thank my husband, Larry, for being a good sport and eating and drinking his way around the Heber Valley with me. If you haven't visited the Heber Valley recently, you are missing out. This list of coffee houses is not exhaustive. These are just some of the newer ones and my favorites. What are your favorites in the Heber Valley?