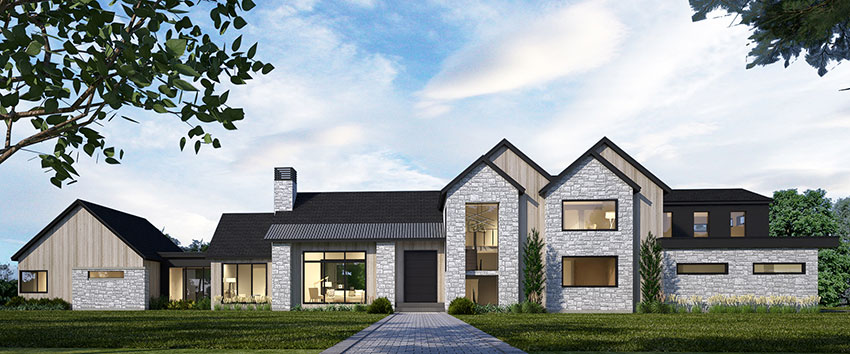 Not everyone can make a life-business relationship work. But the husband-and-wife duo behind The Lifestyle Collective, Park City's rising star interior design studio, is thriving in spectacular fashion. T.L.C. for short (pun intended), The Lifestyle Collective's calling card is a minimalistic mountain-desert-modern aesthetic with a focus on neutral, organic, earthy textures and tones — a concept they are currently bringing to a 10,221-square-foot, 7 bed/8 bath, single-family home on Old Stone Road in Heber Valley.
With Dylan Chatwin on the design-build (a.k.a. Chatwin Homes) and Delia Chatwin on the interior architecture and decor, everything is kept, well, in-house. And much like its abbreviation suggests, The Lifestyle Collective approaches each and every project with intention and a genuine passion for good design. Dubbed 'Stonewood,' the Old Stone Road home is set to be completed by the end of July, and will be spotlighted August 25 – 27 as part of the Park City Showcase of Homes. Better still, it is available for sale through Summit Sotheby's International Realty.
Interview with Delia of The Lifestyle Collective
Here, Delia shares her insights on Park City's top interior design trends, creative living, and what makes a house a holistically beautiful home.
How did you get your start as an interior designer?
We went to Bali on our honeymoon and fell in love with the native architecture and the raw materials used throughout Balinese design. When we came home, we had the opportunity to build a spec home for ourselves, and poured our newfound passion for natural materials into every inch. Fast forward three years, and we founded The Lifestyle Collective in 2020 — a materials-forward, texture-loving, concept-to-completion design studio for custom homes.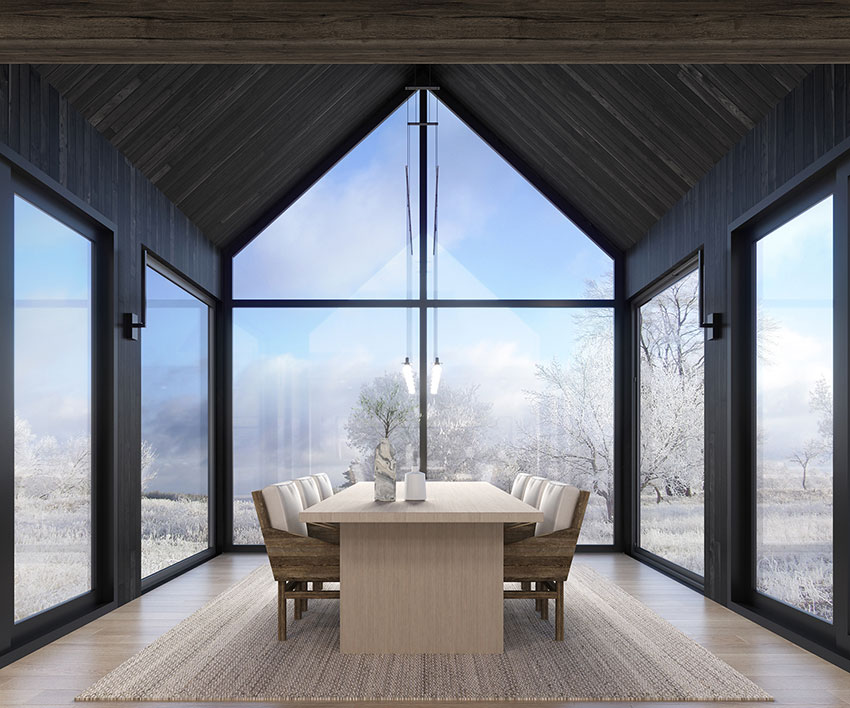 How did the Old Stone Road project come to be?
We purchased this piece of property in The Crossings at Lake Creek community as a blank canvas to get creative. It's a private, corner lot with unobstructed views of the mountains from the front and trees as far as the eye can see out back. There are no other homes in sight, which was important to us for framing the views and creating sightlines. From the first drawing to the final furniture install, this home is 100 percent a T.L.C. project.
How would you describe The Lifestyle Collective's design aesthetic?
Our signature aesthetic is organic and earthy with neutral tones that evoke peace. We pride ourselves on creating spaces with an unrefined essence which, for this project, materialized in the form of natural wood finishes and plaster walls. Each T.L.C. home feels lived-in even when it's brand new, a characteristic we achieve via varied textures. For furniture and decor, we hand-select pieces with provenance, and oftentimes handmade pieces as a way to support different artisans. That said, we never overstyle. We are always mindful of a minimal, clean aesthetic.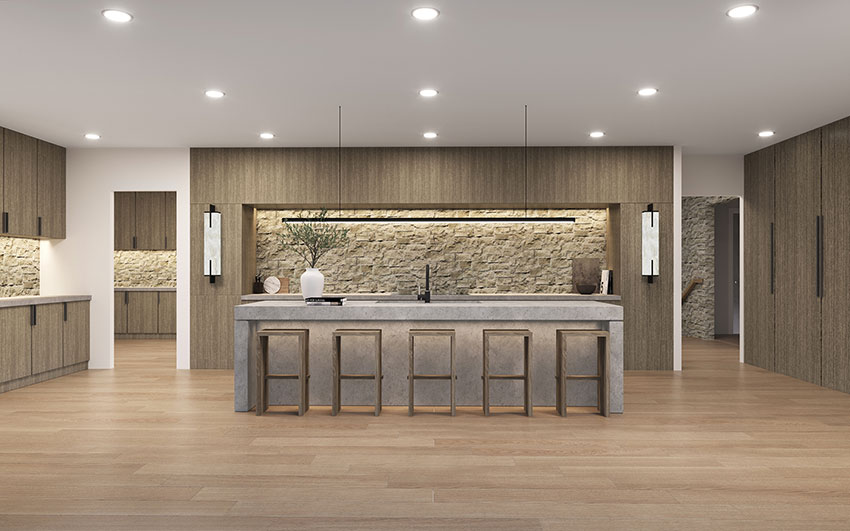 What are the big interior design trends in Park City right now?
We are seeing a lot of neutrals like browns come back in vogue, new applications for stone, variance of texture, and the mixed use of complimentary wood elements. People are evolving away from full open-concept, sterile interiors, and wanting more warmth — a comfortable, cozy intimacy from their spaces. Harnessing sightlines and infusing spaces with an abundance of natural light is huge, too, particularly here in Park City where we have the Wasatch Mountains as our backdrop. Everyone wants to invite nature's essence inside, whether that's a view or with authentic, organic materials.
How are you interpreting today's trends — or pushing them — for your Old Stone Road home?
We knew that we wanted to create something super earthy, natural, and warm, but with a modern flare. And we wanted to experiment with some refined, rustic elements, too. Dylan had this vision of a Scandinavian-modern home in his head that we drafted ourselves. From there, we really embraced a found-in-nature color palette that was led by our wood selections, including reclaimed White oak, cedar, Douglas fir, and birch. Then we layered in moments of limestone, sandstone, quartzite granite, and travertine stone, as seen on the living room's fireplace hearth, and clay plaster for elevated contrast and texture. When it comes to trends, I think the key is not taking it too far. It's all about temperance and balance.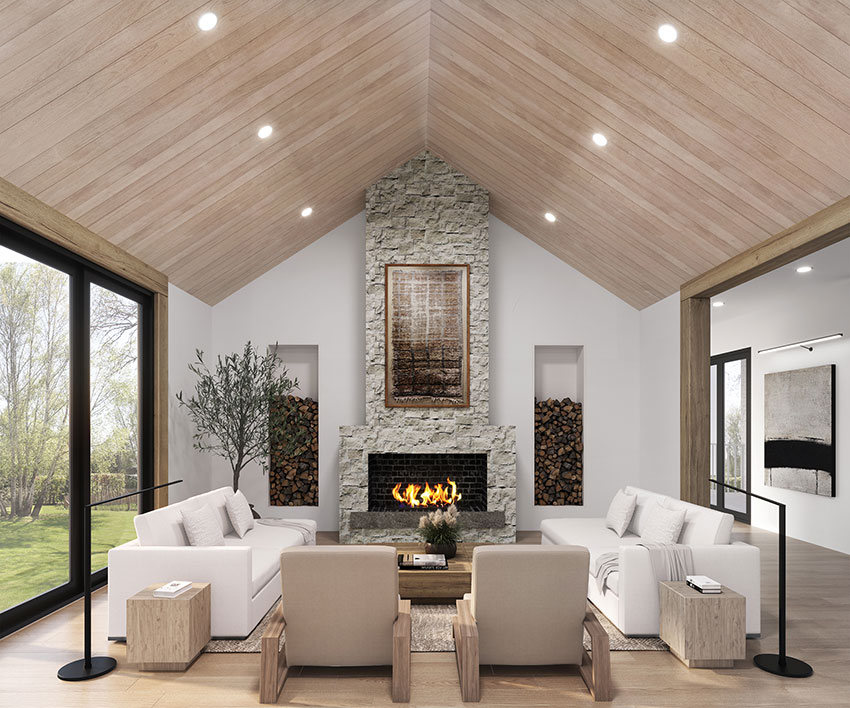 Is there a current trend you just can't get behind?
Maximalist styling. Less is more — always. That's not to say we don't incorporate focal points and impactful moments. We do. But we are thoughtful about these decisions — a curved archway, a handmade piece of art — and make them count. Overstuffing every shelf isn't our style, mostly because it can be visually overwhelming. Your home should be a sanctuary where you can think, breathe, be inspired, and feel comfortable. There's so much happening in our worlds. When it's thoughtful, design can empower us to feel organized and at peace.
What is inspiring you and your design right now?
First and foremost is nature. Some days we'll just get in our car and drive, looking out for how different natural materials are being used by other creatives and businesses. Other times it's as simple as a walk in the woods to reconnect with nature and soak up how our natural surroundings make us feel. Expanding our horizons is a constant source of inspiration, too. As designers, it's important that we immerse ourselves in other cultures and meet artisans with fresh ideas. We find a lot of inspiration in Mexico, and travel to Tulum often. The local craftspeople there are so ahead of their time, and highly resourceful with the materials at their disposal.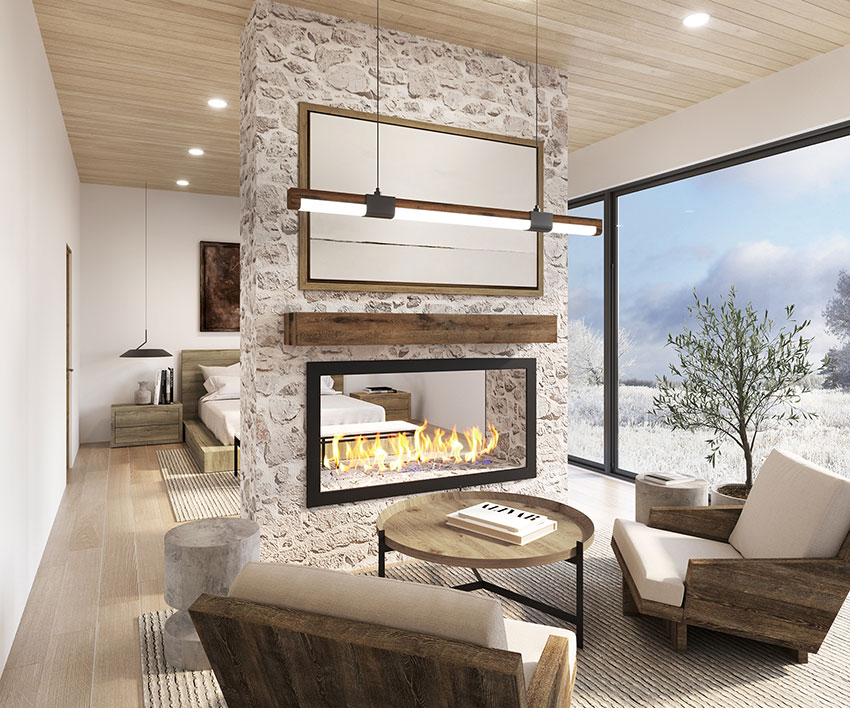 Is there a specific room at Stonewood that you are particularly excited about?
I love the primary bedroom. It features these 18-foot-wide windows that frame the trees in the backyard, a bonus living space for lounging or reading a book, a double-sided stone fireplace, a tray ceiling, and wood throughout. The wood carries through into the primary bath as well for continuity of warmth. I firmly believe that a space can feel like a warm hug, even when it's quite spacious.
When all is said and done, how do you hope the new owners will feel in this home?
I think that they will be wowed by the design and, at the same time, feel comfortable and uplifted. From the moody dining room with 180-degrees of floor-to-ceiling windows and black wood to the living room where a pair of built-in, wood storage cubbies flank the fireplace, and on to the kitchen where there's a 12-foot-long porcelain-wrapped island and a natural stone backsplash… It's an experiential home with cohesive materials and flow that promotes gathering and quiet reflection. We hope that they will feel that we gave it a soul, and that they are set up for a life well-lived.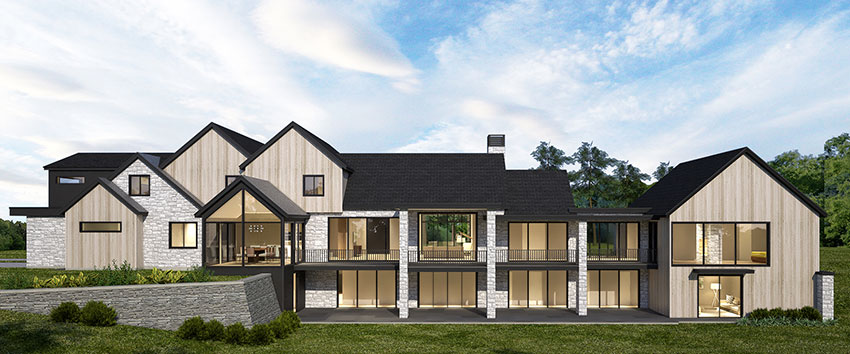 Interested in touring this home? It's listed by Nancy Tallman & Justin Altman. Contact us for a tour and watch for an open house event coming this summer!