Last week, about a dozen agents and our Summit Sotheby's International Realty broker took a road trip to visit our sister offices, LIV Sotheby's in Vail & Breckenridge Colorado. We met the top agents from each branch, and, if after reading this blog you are still interested in investing in Colorado, I can refer you to some great agents in both locations.
First Stop: Beaver Creek
My first confession is that traveling to Colorado reinforced my passion and gratitude for living in Park City.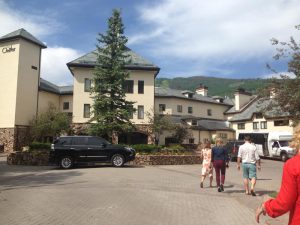 The Beaver Creek Valley was purchased by Vail Associates in 1974. Vail developed Beaver Creek Resort with the goal of creating a world class ski and golf resort which included the style, comfort and social ambiance of the great European mountain villages. The Charter at Beaver Creek, pictured to the left, served as our home base. This condo-hotel is just a few minutes walk to the Beaver Creek Village, which we spent some time exploring. We toured the Beaver Creek Club, where we learned that 12% of their members are over the age of 80! The elevation at Beaver Creek is 8,100 feet, while the base of Park City Mountain Resort is 6,900 feet. The distance to Denver International Airport (DIA) is about 3 hours across Highway 70. Beaver Creek opened in 1980, the same year as Deer Valley. The stunning Vilar Performing Arts Center, which opened in 1988, anchors the Beaver Creek Village. This 535-seat theater, owned and operated by the Vail Valley Foundation, offers entertainment strikingly similar to that offered in Park City at both the Eccles Theater, which seats 1,269, and the Egyptian Theater on Main Street, which seats 310.
Neighboring Bachelor Gulch was established in 1996. Located on Beaver Creek Mountain, 85% of the homes in Bachelor Gulch have ski in and out access. The architecture at Bachelor Gulch is reminiscent of the great lodges in the United States' National Parks. The Ritz-Carlton Bachelor Gulch was built in 2006 and remodeled in 2014. It was voted "Best Ski Hotel in the World" in 2013. Many of my colleagues felt it comparable to Park City's Montage Hotel. We looked at a 2 bedroom/2 bath condo that was 1392 sq feet and priced at $1,299,000. At $934/sq foot, this condo is a great deal. True confession: This is for people who want to spend their ski vacation in one place where everything is self contained. It's not very close to anything else.
From Bachelor Gulch, we toured Cordillera Resort Community. This 7,000 acre community, founded in 1988, is designed with 1,000 homesites and 4 golf courses. The Summit golf course, designed by Jack Nicklaus, is located at 9,000 feet elevation, making its season rather short. Cordillera Resort includes amenities such as equestrian, swimming pools, Nordic ski trails, tennis, fitness, and a kids' club. There is also fishing at several stocked ponds and Eagle River. I found myself comparing Cordillera to Promontory-The Ranch Club in Park City. We looked at two homes at Cordillera. Both were priced at $450/sq foot, which is comparable to Promontory. True confession: Cordillera is forested and green, with pine trees, meadows and ponds.  It's quite beautiful.
Next Stop: Vail Village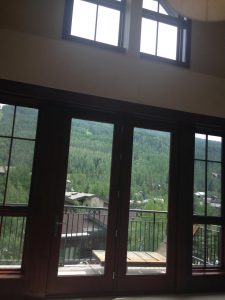 Founded in 1962, one year before Park City Mountain Resort, Vail is one of the world's largest ski resorts with 5,200 acres of the most groomed terrain in the world. At 8,150 feet elevation and 2.5 hours from DIA, Vail prides itself on providing its guests with an exceptional ski experience. Vail is accessed by 3 base areas: Lionshead, Vail Village, and Golden Peak. There are festivals, shops, spas, etc. in the village. We got to see the penthouse for sale at Solaris at Vail, a newer condominium project at Vail Village. Listed at $15,500,000, this 6 bedroom, 7 bath penthouse boasts soaring ski run views.
We traveled to a nearby twin home on the golf course that was listed at $5,950,000. When asked why prices were so high, we were told "It's Vail." True confession: "It's Vail? So?"
Next Stop: LIV Sotheby's Office at Breckenridge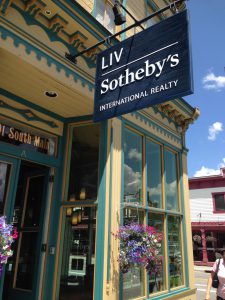 A former gold mining town, Breckenridge was founded about the same time as Park City and shares many similarities, except for its elevation. The base of Breckenridge is 9,600 feet elevation. (Remember Park City is 6,900). Breckenridge is only 80 miles from metro Denver, but it's still over a 2-hour drive from DIA.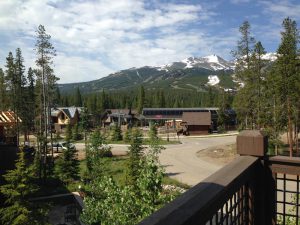 We had the pleasure of hopping on the gondola to tour ski in/out homes and some condos at the resort base. Home and condo prices in Breckenridge seemed pretty reasonable compared to Park City. Look at the view from this gorgeous home that was a short walk from the gondola.
This home, priced at under $2 million was just a few years old and featured an oxygenation system in all the bedrooms (really). The altitude at Breckenridge is no joke. Most of us on the tour began to feel light headed after an hour or so at the base, even though we were all sipping from our water bottles. The summer day we spent there was spectacular. The town is charming and I wish we could have explored a little more before we had to drive back to Park City. True Confession: If Breckenridge were closer to a major airport and about 3,000 feet lower in altitude, it could really give Park City a run for its money.
It was a highly educational road trip. We really appreciate the hospitality shown to us by the LIV Sotheby's agents who showed us their listings and oriented us to their communities. Colorado is green, lush and beautiful. The agents were all very experienced working with Vail Resorts and predicted changes ahead in Park City, now that Vail Resorts has its sights on Park City Mountain Resort.
Need a Colorado referral? Please let me know and I'll put you in touch with an agent who best meets your needs.