One of the unexpected advantages of having a Park City residence is the driving distance to Southern Utah.  Southern Utah looks a whole lot different than Park City.  The ancient geology is visible to even the most casual observer.  In my opinion, the ancient geological history combined with more recent Native American artifacts create a unique stillness that I have not experienced anywhere else, except for maybe Sedona, AZ.  The red-orange color of the rock is known to be one of the most neuro stimulating of colors. It enhances creative thinking and problem solving.  The red-rock monoliths of Southern Utah are also famed to be life-transforming and soul-nourishing.
There are several national and state parks in Southern Utah.  I had the pleasure of heading south two weekends in a row last month.  My first trip, in celebration of a birthday, was to Red Mountain Spa in Saint George.  Red Mountain Spa is adjacent to Snow Canyon State Park.  Snow Canyon boasts white sandstone cliffs of both white and red rock with black lava rock and red sandy washes.
My girlfriend and I enjoyed a peaceful and restorative weekend in St. George.  It is exactly a 4.5 hour drive from Park City, straight down Highway 15.  The excellent food and activities at the spa combined with the incredible Snow Canyon backdrop turned this easy girls' road trip into an experience equivalent to small slice of heaven. I'm definitely going back.
The weekend after I visited Red Mountain Spa, I traveled to Moab, UT with my family.  It was a business trip for me.  We stayed at the Desert Hills Bed and Breakfast, which I will be listing for sale on March 1, 2013.  February is considered off season in Southern Utah, but the snow on the red rocks created a beauty all its own.
Moab boasts two National Parks, Arches and Canyonlands as well as Dead Horse State Park.
Since we had already been to the two National Parks on prior visits, we decided to check out Dead Horse State Park, an intimate park with absolutely incredible vistas.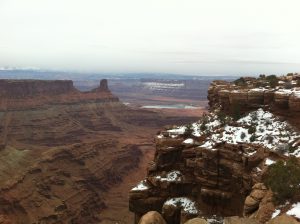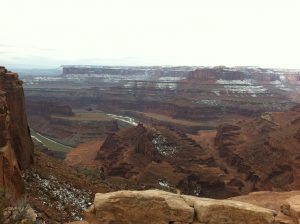 While Moab contains the same beautiful red rocks as St. George, there are many more activities for the adventure seeker in Moab.  River rafting, slick rock mountain biking, helicopter tours, climbing, canyoneering, jeep tours, golfing, and hot air ballooning are just a few available activities.
Moab is also about a 4.5 hour drive from Park City.  About an hour outside of Moab is the town of Green River.  This is river rafting central during the season.  A glance at Trip Advisor [live link] made it clear that Ray's Tavern was the place where we should stop for lunch.
We ate the best hamburgers I have ever eaten in my life!  The meat was fresh and they were char-broiled to perfection.  Perhaps it was also the surprise of going to a dive in the middle of nowhere and eating some of the best food ever that made Ray's so enjoyable.
If you leave for Southern Utah mid-day on a Friday, you can spend an enjoyable weekend in Red Rock country.  The people are super nice and the vibe is very different than Park City.   Southern Utah is a great place to escape to in April and May, when the snow begins to melt in Park City, but the weather is still a bit frigid.
I hope I inspired you to hop in your car and travel south.  I highly recommend you check out Desert Hills Bed and Breakfast if you are looking for a great place to stay in Moab.  You might fall in love with Moab and the Bed and Breakfast so much that you'll want to buy it.