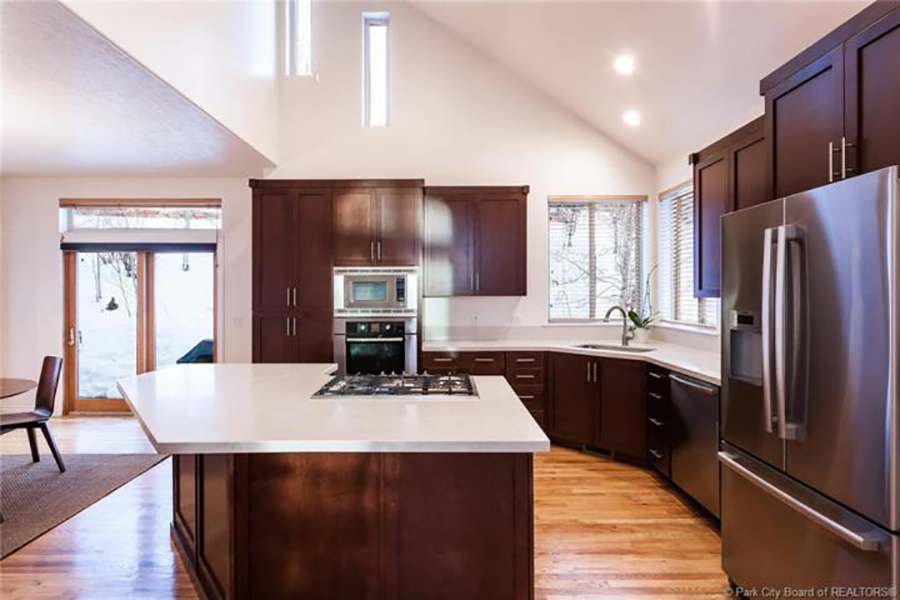 I was showing this home last winter and a twenty-something buyer told me, "I would have to rip out this kitchen and change the cabinets to white." That's when it hit me. Home interior preferences are changing faster than ever.
The above kitchen was completely gutted and remodeled in 2015. I could not believe that the design cycle was only 4 years for a fully remodeled kitchen to look dated. (By the way, I did sell this house to an appreciative buyer and I personally did not think the kitchen was that dated.)
The Fast Fashion Effect on Real Estate
You know how quickly apparel fashion changes these days? Fast fashion retailers such as H&M and Zara are able to pump out inventory based on the latest trends, which hit the streets, magazines and social media, creating more demand.
I see a similar trend around quickly changing design preferences in real estate. Whether it stems from shows on HGTV, Houzz, Pinterest or design services like Modsy, one thing is for sure. Something is changing the expectations of buyers. And it's happening faster than I've ever seen.
What it Means for Real Estate Professionals
Buyers have developed refined tastes and are looking for an aesthetic similar to what they see on TV and social media. They will pay a premium for a move-in ready home.
If you are thinking of remodeling your home now to sell it in a few years, wait. It's better to remodel within 12 months of selling so you get the design aesthetic right.
Is Virtual Staging the Answer?
Your first showing is online, and in many cases, on a mobile device. If buyers don't like how your home looks online, they will not set up a showing to view it in person. This means a skillful online presentation of the home is a requirement.
My clients benefit from a complimentary market preparation consultation and professional photography. But it goes further than that. Once I receive the professional photos of my listings, I edit them, ensuring they are in an order that captures the buyer within the first 5 photos. This last step is often skipped, even by experienced agents.
An up-and-coming solution that continues to improve is Virtual Staging. Virtual Staging can help buyers get a better sense of a vacant or outdated home with modern designs.
Virtual Staging can even take it further to remove items that make the online showing look cluttered, or omit undesirable design elements such as outdated tile.
Virtual Staging Before and After Examples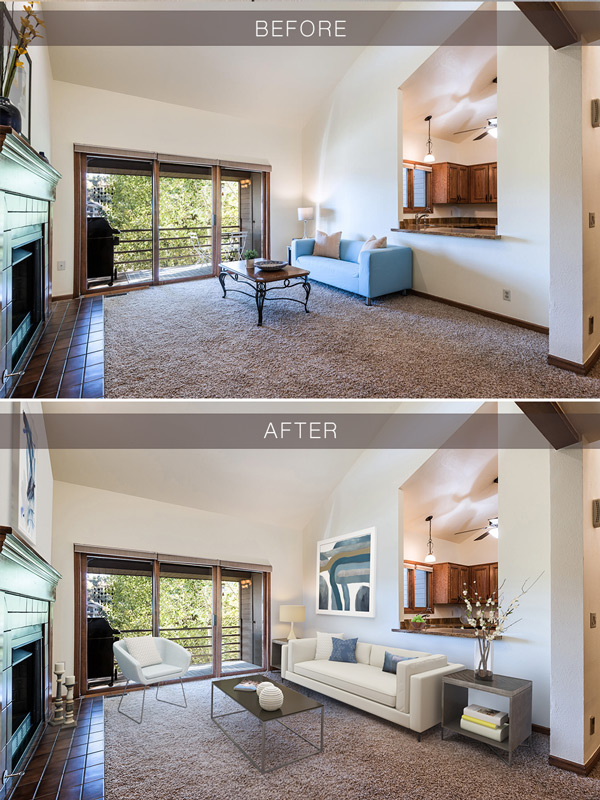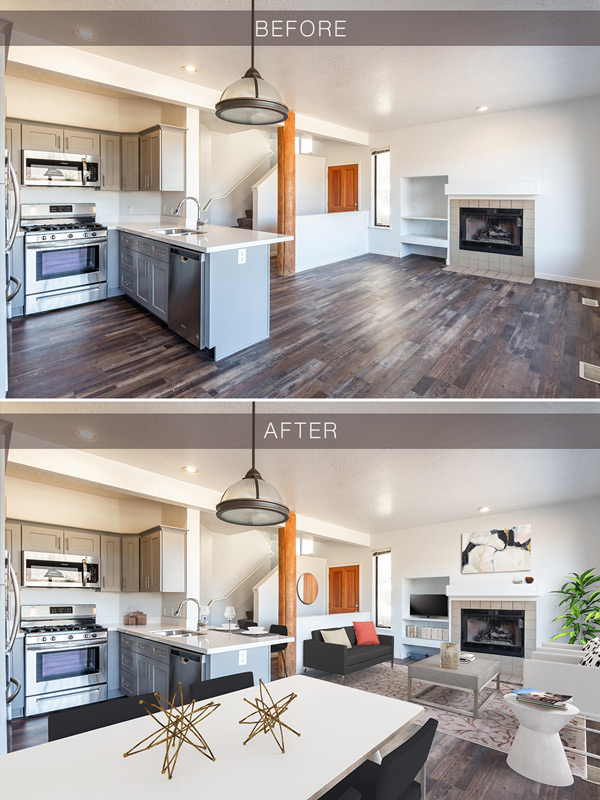 Most buyers would not be able to visualize how great this room looks with the right furniture. Virtual Staging is a great tool to help buyers get a sense of how it could look with modern furnishings and fixtures.
The process of selling real estate is constantly evolving, It's important to leverage the most currently available tools to ensure the best online presentation of your home. Virtual Staging could be right for your home if you don't want to remodel just to sell it. Get professional advice. Sellers trying to figure out the process on their own can risk leaving a lot of money on the table.