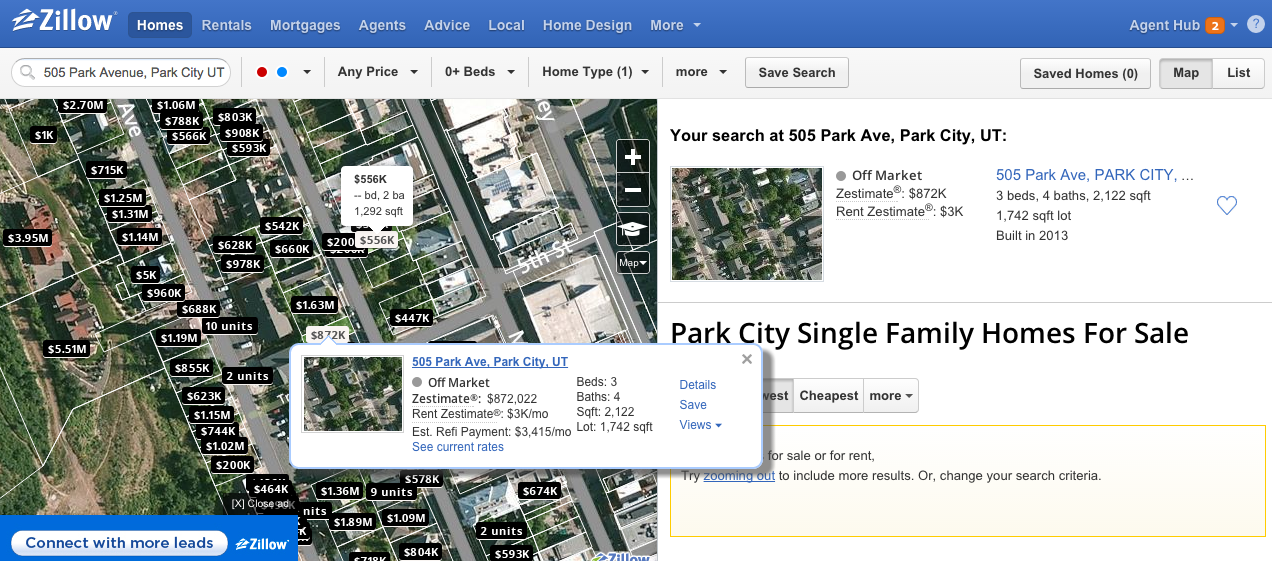 Zestimates are the estimate of a home's value on the website Zillow.com. They are sometimes used by real estate clients to discuss the list price or initial offer on a home. A couple of weeks ago, a client called and told me the Zestimate of her home was $1.2 million. Was it time to sell? My estimate of the market value was closer to $900,000. This got me thinking about Zestimates and segued nicely into this week's blog post.
How Accurate are Zestimates in the Park City Market?
To answer this question, I decided to do a small case study. I chose 6 single family homes that closed within the last 7 days. The closed price is the market value because that is what a buyer actually paid for the home. Each home I chose for my study is in a different Park City neighborhood. I compared the list price, sold price and Zestimate.
The Comparison
Old Town Neighborhood
List price: $2,195,000
Sold price: $2,110,000
Zestimate Accuracy: 41.3%

Bear Hollow Neighborhood
List price:  $565,000
Sold price:  $560,000
Zestimate Accuracy: 98.7%

Willow Creek Estates Neighborhood
List price: $3,495,000
Sold price:  $3,250,000
Zestimate Accuracy: 120%

Summit Park Neighborhood
List price:  $599,000
Sold price:  $600,000
Zestimate Accuracy: 100%

Jeremy Ranch Neighborhood
List price:  $715,000
Sold price:  $715,000
Zestimate Accuracy: 94.8%

Promontory Neighborhood
List price:  $2,695,000
Sold price:  $2,510,000
Zestimate Accuracy: 104%

Conclusion
In one case, the Zestimate was close to 100% accuracy of market value. In another case it was off by more than 40%. Even a 4% margin of error on the Promontory listing equates to a difference of over $100,000. To me, that's not acceptable.
Furthermore, since Utah is a non-disclosure state (meaning sold prices are not accessible to the public), I do not know how Zillow obtains the data to figure out its "Zestimates".
My conclusion is that property valuations are best left in the hands of real estate professionals. Park City real estate agents have access to the relevant data and the market knowledge to assess the qualities that go into a valuation, including floor plan, finishes, and condition.