Yet it is only 15 miles from Park City. Unlike other Park City golf course communities, you cannot see or hear any highway. The views are pastoral with not a hint of commercial development.
This 6500-acre golf course community was recently purchased by Sterling Bay Companies, a Chicago-based real estate investment and development firm. Located near Park City, on the Upper Provo River, Victory Ranch is home to an 18-hole Rees Jones championship golf course. This is the only golf course community where you see water AND hear the magnificent Provo River.
Although originally approved for more than 650 units, the new ownership is contemplating reducing density and strategically re-positioning the ranch within the next 12 months.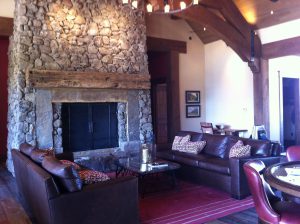 Many of the lots have views of the Wasatch and Uinta Mountains, Deer Valley® Resort ski resort, the Provo River and Jordanelle Reservoir. I have heard from a most reliable source (my husband) that the golf course is fantastic and offers some of the most beautiful views in all of Park City.
I spent time yesterday at Victory Ranch touring resale lots and viewing a home for sale. Lots are all over 1 acre and start at $225,000. The architecture of the homes and clubhouse are very rustic and reminiscent of grand lodges in Montana and Wyoming. Victory Ranch has the feel of being very far away from everything; yet it is a 10-minute drive from the Deer Valley® Resort slopes.