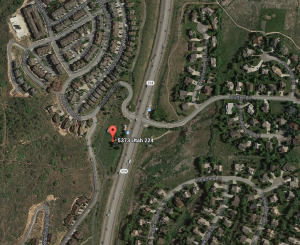 At Inside Park City Real Estate, we aren't just your local real estate strategists, we try to keep you abreast of everything going on in our favorite mountain town. You'll find all of those posts in the Park City Lifestyle section of our blog.
This week, we're curious about the little parcel of land and ranchette found at 5373 Highway 224 in Park City. Our records indicate that the land is about one acre. The structure itself was built in 1938 and is 1,468 square feet with one bathroom. The property was purchased on September 20, 2013 for $355,000 after being on the market for just about a month. The property previously sold in 2010 for $370,000.
Earlier in the winter, the trees at the property were lit up with brightly colored lights. It does appear some new trees have been planted, a fence added, and what looks to be rows for planting have been put into place.
At the time of this writing, there is a sign out front that says "Bill White Farms". Bill White Farms, LLC was registered with the state in November of 2013. As we all know, Bill White is the purveyor of delicious food here in Park City, by way of well-known restaurants like Ghidotti's, Chimayo, Wahso and Windy Ridge. White's newest venture (until the farm opens, of course) is Billy Blanco's Motor City Grill. If you haven't been there, check out our writeup.
So, Just What is Bill White Farms?
So the question now becomes, what is Bill White Farms and what does the restauranteur plan to do with it? We called the Bill White offices for comment and were told that there are no plans to open the farm to the public, and that they may be posting more info about it soon.
Until they give us more details, we can only speculate. The obvious answer is that White plans to grow his own vegetables, fruits and herbs for use at his restaurants. But with the short growing season and Rocky Mountain soil, we have to wonder if the venture is cost-effective. Either way, we can't help but love him for it. There's nothing like fresh produce, and nothing like a meal at a Bill White restaurant.
Of course other questions come to mind. Will there be any issues with water rights? Will any of the produce be for sale at local markets or farmers markets? And, as always, what's next for this culinary entrepreneur?
What do you think of the venture? We'll keep you posted as more info is known about the farm.