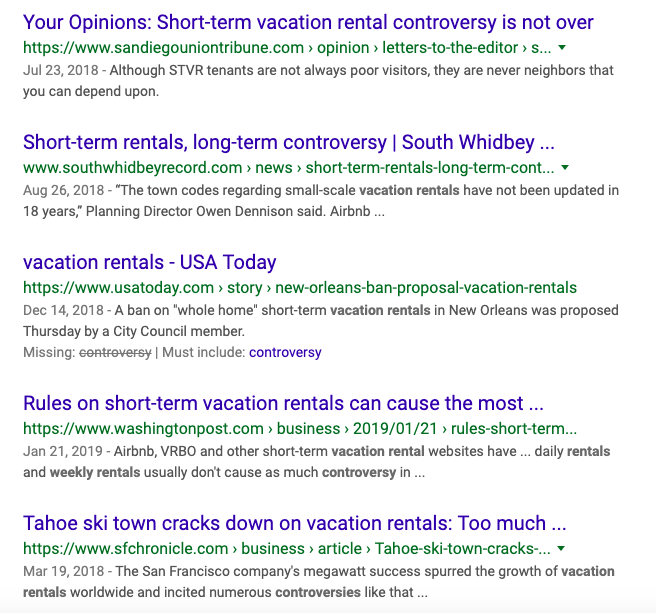 On Sunday, September 9, 2019, I attended the annual Homeowners Association (HOA) meeting of the Back Nine at Jeremy Ranch, where I have lived for over 15 years. At the annual meeting, there was a vote to amend our community's Covenant, Codes and Restrictions (CCRs) to limit rentals to 30 days or less. The vote passed with 93 residents voting yes and 5 voting no.
The backstory on the vote is interesting and in fact similar to stories I have heard in other communities, from Manhattan Beach, California (where I used to live), to Palm Springs, Santa Ana (near Disneyland), and Crested Butte, Colorado.
The Back Nine a community of about 115 single-family homes, with mostly full-time families and a few part-time retirees.  This is the community where I raised my children, from pre-school through high school.
About two years ago, a neighbor on one of our cul-de-sacs began advertising her 5-bedroom home on AirBNB as a vacation rental that sleeps 16 people and rents for $150/night. This is such an amazing deal that the house has visitors almost every night. My neighbors at the HOA meeting reported seeing over 23 cars parked in their cul-de-sac, with hot tub parties, pot smoking, noise, trash and people who were lost ringing their doorbell after midnight. Now, I'm no party pooper, but I certainly wouldn't want to be living next door to that house. To say that the drunken revelers have destroyed the tranquility of that section of our neighborhood would be an understatement.
Our HOA, like many other municipalities, will enforce our new rule with owner fines which, if unpaid, can lead to foreclosure of the property. Our neighbors overwhelmingly expressed that nightly rentals would change the fabric of our community and change residents' sense of safety. For example, one person told me he didn't let his daughter ride her bike in the cul-de-sac anymore because he had no idea who was renting the house next door.
Nightly rentals are allowed in specific areas of Park City and Summit County. Those neighborhoods are generally closer to commercial areas and the ski resorts. When I have clients looking to purchase properties that they can use part of the time and rent when they are not in Park City, I steer them to the areas where such rentals are permitted. Park City Municipal, which has been dealing with nightly rentals long before AirBNB and VRBO, has strict rules. Below is information from parkcity.org:
Nightly / Short Term Rental Licensing Process
Anyone with the intent to offer lodging for a fee for periods less than 30 days must obtain:
A Nightly Rental License from Park City (

if allowed by zoning

); and

A State Sales Tax ID number from the Utah State Tax Commission.
Additionally, you must take the following steps to comply with section 4-2-1 & 4-5-3 of Park City's Municipal Code:
Ensure your nightly rental is allowed by consulting Park City's

GIS Zoning Map

and/or

Land Management Code.

Pass a property inspection by the Building Department; and

Submit a Nightly Rental License application

with your passed inspection report

to

business@parkcity.org

or to Finance in City Hall (445 Marsac Avenue, Park City, UT 84060).

If you have questions regarding your property's zoning, please contact

planning@parkcity.org

or 435-615-5060.

To schedule an inspection, please contact the Building Department at

blinspections@parkcity.org

or 435-615-5105.

For more information regarding obtaining a

Utah State Sales Tax ID, visit www.tax.utah.gov or 801-297-2200.
If conducting business under an assumed name (D.B.A. "doing business as"), register the business name with the Utah Department of Commerce. Information on how to do this can be found in the Business Licenses section under State Requirements.
Note the city has a map of locations where vacation rentals are permitted and where they are not. A property inspection and business license are required. This protects both the owners and vacation renters. For example, you can't call a bunkroom with no windows a bedroom.
It is my opinion that there is a place for nightly rentals and they work for tourists and our community. However, they should be regulated and taxed (like hotels) and they should be restricted to those neighborhoods where they make sense. Nightly rentals do not belong in residential neighborhoods.