After a day of enjoy one of Park City's many activities, you have earned that great evening of food. Here are some of my favorite dining spots to indulge:
Glitretind Restaurant at Stein Eriksen Lodge,Upper Deer Valley® Resort. Serving breakfast, lunch, dinner, and après ski, this restaurant never disappoints. It is one of the few restaurants in Utah to receive both the AAA Four Diamond and the Forbes Four Star award. It has also been recognized by Wine Spectator and Zagat. In fact, Wine Spectator called Glitretind "arguably home to Park City's most refined food-and-wine experience". While there are newer and hipper places "to be seen", if you want to enjoy a quality evening with friends or a romantic dinner, Glitretind consistently delivers.
J&G Grill at the St. Regis is a fun place just to get to. You enter the hotel in Lower Deer Valley® Resort and ride the funicular to the restaurant. Chef Jean-Georges Vongerichten opened in the St. Regis when the hotel opened in 2009. He is the first "celebrity chef" to open a restaurant in Park City. The dining room is beautifully decorated with lovely views of the Deer Valley® Resort slopes. There is also an adjacent bar for more casual dining. Dinner could include a grilled Niman Ranch pork chop heaped with intense wild mushrooms and finished with a Pecorino sauce, or roasted halibut paired with Malaysian chile sauce and Thai basil. Service is uneven at J&G Grill. If you have an open mind and are going just for the experience, you won't be disappointed. The ginger margarita is one of my favorite drinks on the planet. Ask your bartender to explain how it's made. This is one drink you will not be making at home.
The Riverhorse and 350 Main. Both of these restaurants are located on Park City's historic Main St. The Riverhorse recently reopened after a $1M remodel. We sat at the new bar while we waited for our friends to join us and it was a bit of a "mini scene". While dining, we ran into no less than 3 other parties of people we know. Even though the Riverhorse has been around for many years, it consistently offers excellent food. A bonus is the entertainment. The last time we were there, "Mister Sister" played. "Joy and Eric" are also regulars and they too are terrific. I can't eat at 350 Main without ordering the Ahi Tower as an appetizer. It melts in the mouth. My husband orders the Steak Frite every time we eat there. He says it is so good that he can't bring himself to order anything else. 350 Main is located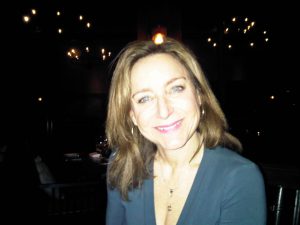 just a few doors down from The Egyptian Theater, so it's a great place to eat either before or after a show. The seats near the window allow for great people watching and the bar is home to some of Park City's best bartenders.
The Farm at Canyons Resort Village and Slopes at Waldorf Astoria Park City are two of my favorites. Each has its own personality, but they share the same executive Chef, John Murcko, of Canyons & Talisker. The Farm specializes in locally sourced food prepared to enhance the natural flavors. To access The Farm, either ski in from Canyons resort village or valet park at The Grand Summit Hotel. Slopes is easier to get to. Just valet at the Waldorf Astoria Park City. The dining room at Slopes can be described as "Mountain|Minimalist|Modern". The menu changes frequently and is always interesting.
Maxwell's. If you just want to eat someplace casual or go to a high energy bar to watch a basketball game, look no further than Maxwell's. Home to "Fat Boy" pizza, this is the thin crusted, cheesy pizza I ate growing up. While lighter fare and salads are also offered, you go to Maxwell's to eat the pizza.
What are some of your favorite Park City restaurants after dark? Please write in the comments.