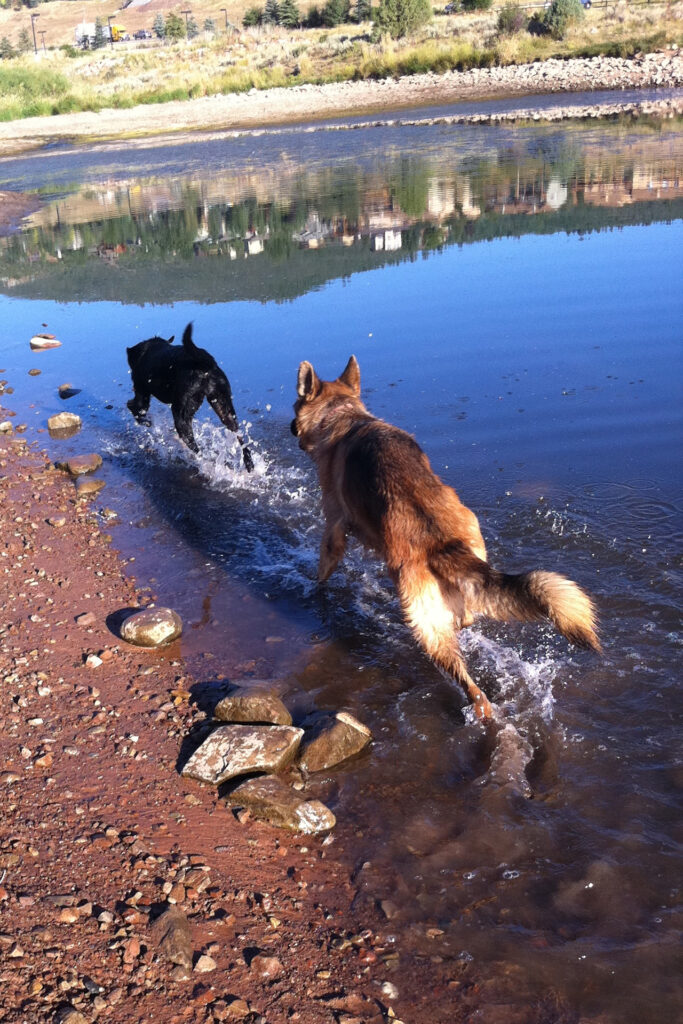 I always tell my clients relocating to Park City that if they don't currently own a dog, they will.
We Parkites love our furry family members. It's such a joy to hike with them but it's also important to make sure they are receiving proper socialization. Luckily for us, our government planners have supported us by creating special dog parks. Dogs who play in these parks learn proper social skills with other dogs and get great exercise.
Dog Park Etiquette
For all of these special parks, keep your dog on a leash until you are inside the fully fenced-in area. Once inside the park, take your dog off the leash. Why? Because a leash can be a stressor for your dog, making your dog feel trapped and defensive if the other dogs are running free.
If your dog is aggressive, take precautions so that he or she is not a threat to other dogs in the park. Signs that indicate a scared or uncomfortable dog include a low or tucked tail, raised hair, hunched back, crouching close to the ground, or ears pinned back. Fearful dogs might also pull back their lips and show teeth or snarl.
My dog, Kit, had tendencies toward aggression when she was younger. Walking her on a leash in our neighborhood and letting her meet other dogs on a "one on one" basis helped her become more friendly and confident with other dogs, and she was eventually able to socialize with more than one at a time.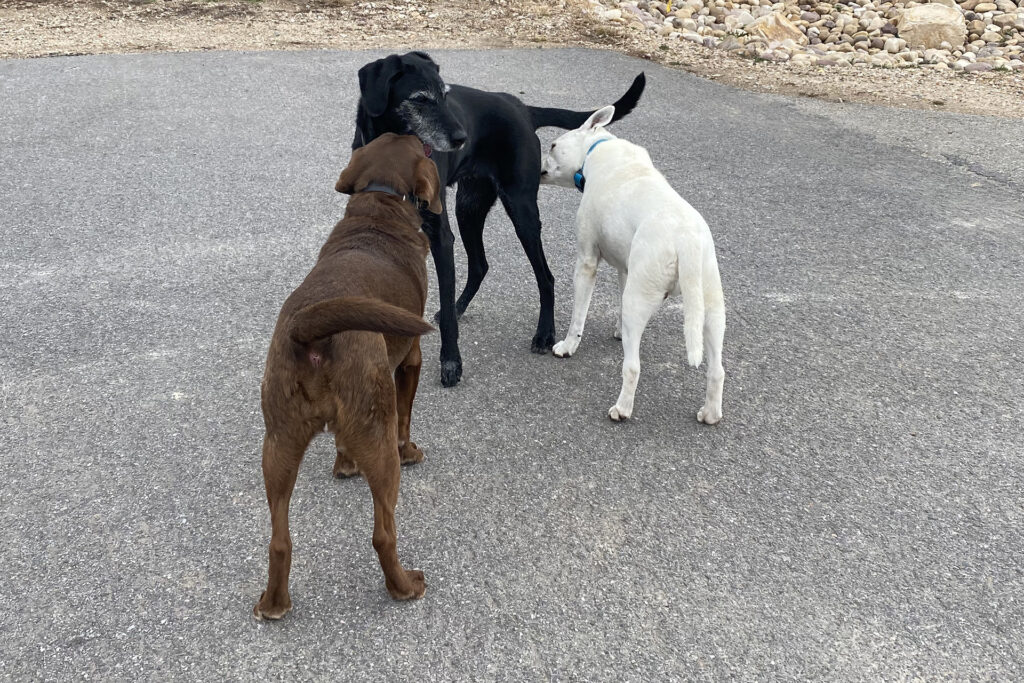 In consideration of others, make sure your dog is not currently sick and is up to date on vaccinations. Pack water and a bowl, so your fur baby has access to clean water. Bring poop bags (in case there aren't any at the dog park) to clean up after your dog.
Dog parks aren't for every dog. I have friends who spend many joyful hours at dog parks watching their dogs play and socialize. My dogs were never into dog parks. Sheriff, the German Shepherd, was more interested in humans than other dogs. Kit liked to steal other dogs' toys and run away with them, an embarrassing (to me) form of aggression. Know your dog.
Now that you know the puppy protocol, let's review dog parks in our local areas.
Dog Parks in Park City
Run-A-Muk Dog Park
2387 Olympic Parkway in Park City — Run-a-Muk is definitely a local's favorite. It includes approximately 2 miles of trail to wander with your dog and 43 acres for off-leash playtime. The trail has great views of the surrounding hills and ski jumps at the Utah Olympic Park.
Willow Creek Park
4460 Split Rail Lane in Park City — Willow Creek Park includes a 1-acre swimming pond with a dock and a grassy enclosed park with shaded benches for you to hang out while your dog plays. If your dog is particularly motivated, you and your dog can check out the agility equipment.
Park City Dog Park
600 Gillmor Way in Park City — This dog park is fully fenced with both a large and a small dog area and wood chip ground cover. Bring your own water if you are going to be there for any length of time during the summer.
Dog Parks in Midway
Valais Dog Park
1070 Interlaken Drive in Midway — Valais Dog Park is a large fenced park with rough grass, wood chips, and some bare dirt. Bring your own water.
Dog Parks in Heber City
Heber City Dog Park
l254 W 650 N in Heber City — This dog park is grassy, fully fenced, has a small bench with shade, and provides clean-up bags and a trash can. It does not feature separate areas for small and large dogs.
Dog Parks in Coalville and the Kamas Valley
As of this writing, there are no dog parks in Coalville or the Kamas Valley.