Many Parkites were shocked when Deer Valley gave its venerable Seafood Buffet the ax and created in its place, "Cast and Cut." For me, the Seafood Buffet was a "one and done." Sure, I love seafood as much as the next person, but how much seafood can I eat at one time? If you love a seafood buffet, you can still get your fix every weekend at the Stein Ericksen buffet brunch, where seafood choices abound.
I was excited to try this new restaurant at Deer Valley's Snow Park Lodge and report back to my readers. Unfortunately, I had to cancel my original reservation due to a massive winter snowstorm. This post is a little late as Cast & Cut is now closed for the season. But hopefully, this post will inspire you to make an early reservation when it re-opens next ski season.
I wondered how Deer Valley would transform its Snow Park Lodge dining room, which is a skier's buffet open for breakfast and lunch, into a more formal dining establishment. I think they did a great job, as you can see in this photo of my husband, Larry, and I seated at our white tablecloth-covered, candle-lit table, in front of the fireplace.  The views of Deer Valley's ski runs made for a nice dining atmosphere, especially during the longer days of spring, when we could still see outside.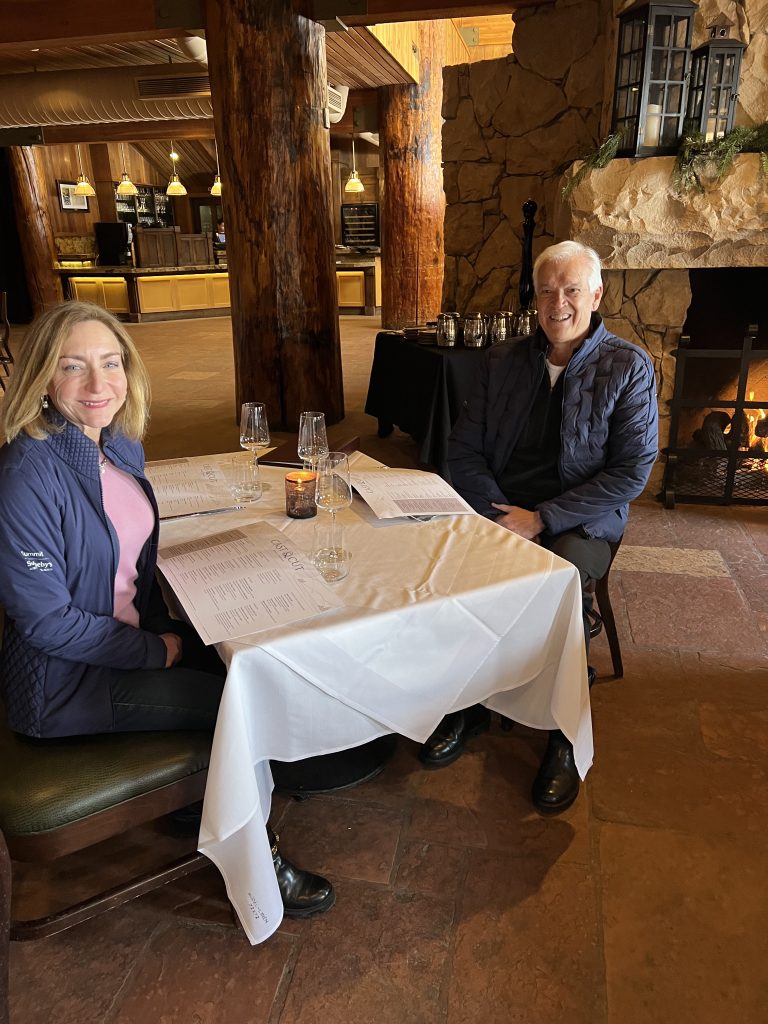 We were joined by my daughter, Whitney. Whitney and I each ordered a craft cocktail prior to dinner, and they were delicious. My drink was a "Wasatch (whiskey) Sour" and Whitney had the "Bubbles and Bitters". Whitney was pleasantly surprised by the generous size of her cocktail.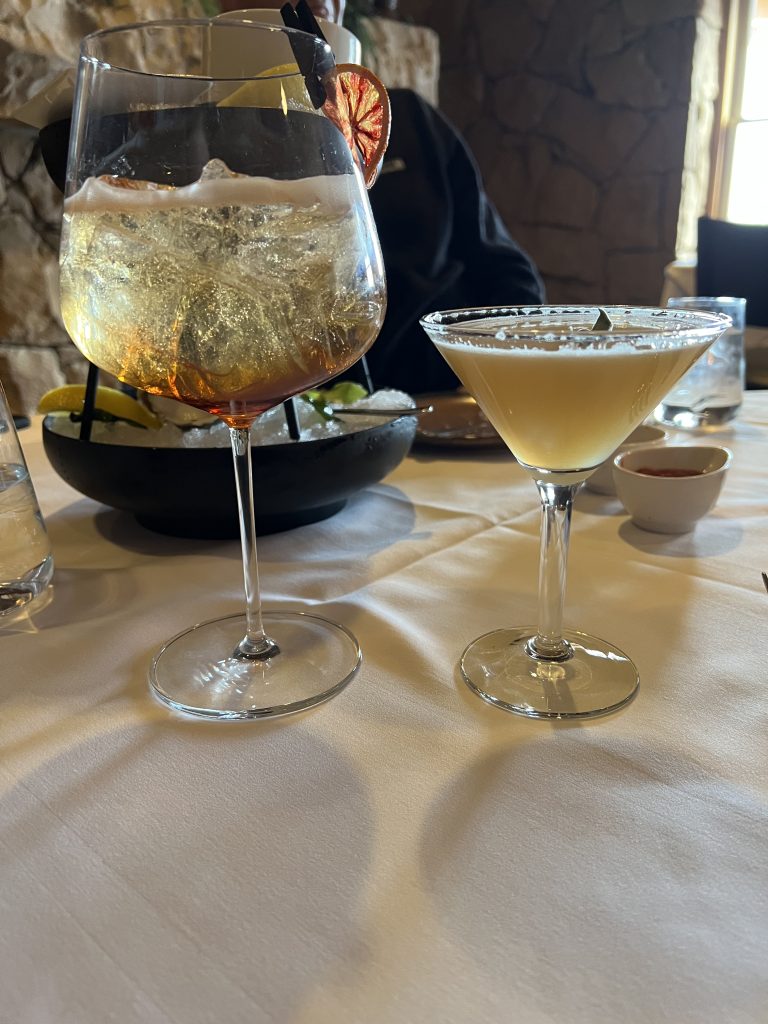 For our first course, we wanted to try one of the Seafood Towers, (an homage to the Seafood Buffet). The menu stated the towers were $35.00 per person, but we asked to split one tower. It was just the right size for the three of us. We chose the "Classic," with tuna tartare, jumbo shrimp, and oysters. Other towers offered sashimi, lobster and crab. The seafood on our tower tasted fresh and delicious.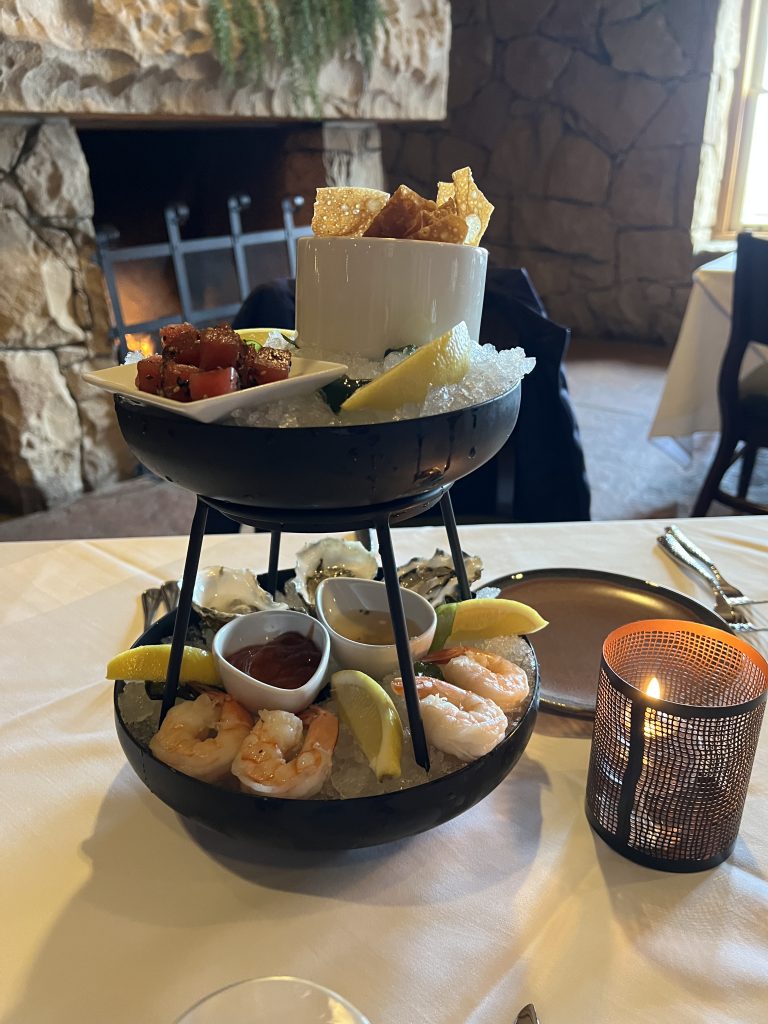 For our main course, Larry ordered the Steak Frites, as he is a meat and potatoes kind of guy. The steak was perfectly prepared. It was served with a red chimichurri sauce and shishito peppers in addition to the fries. Whitney and I decided to share two small plates, the Blackened Bison Tips and the Seared Scallops, and the Lemon Risotto entree. Since we started with the seafood tower, the amount of protein in the scallops and bison tips was enough to fill us up. Even sharing the risotto with Larry, we still finished only half of it. Everything we ate was perfectly prepared and delicious.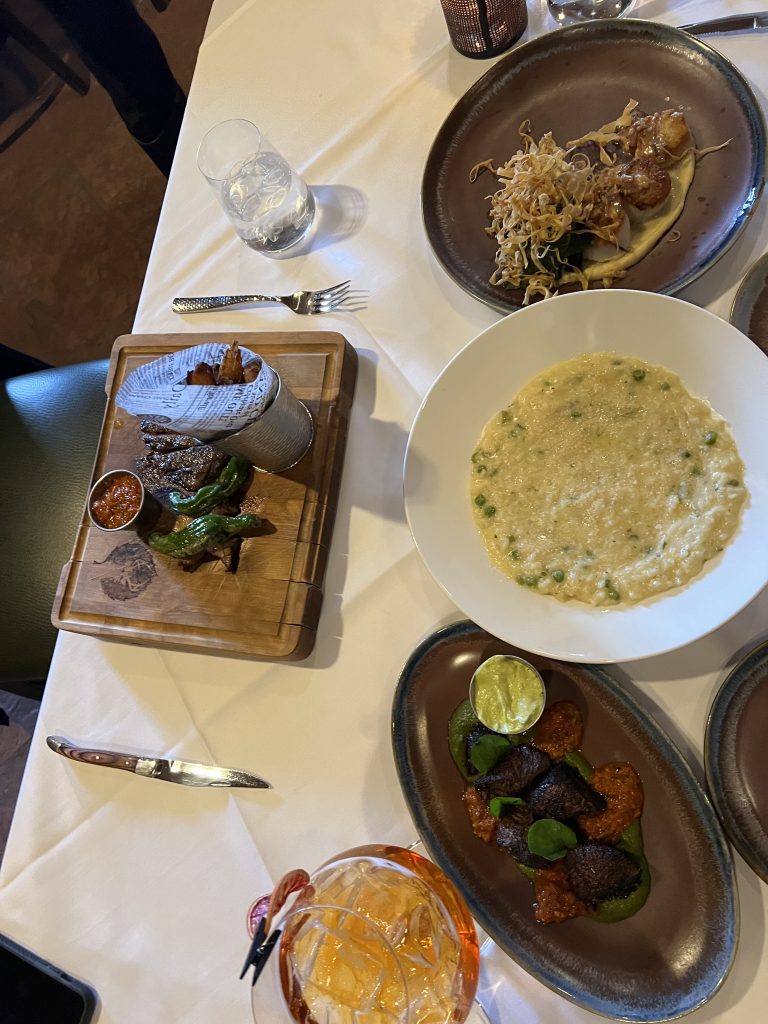 We weren't really hungry for dessert, but my research of this restaurant would not be complete without ordering Cast & Cut's signature dessert, the S'Mores Fondue. Let's just say that this plate included several of my personal trigger foods, and even my daughter told me she had never seen me consume so many sweets at one time. This really was a crazy amalgamation of chocolate fondue and s'mores. 
We were served a fondue dish full of melted chocolate. Alongside were house made marshmallows, fresh berries, marshmallow fluff, candies, milk chocolate, cookies and graham crackers. But these weren't just any cookies and graham crackers. They were smaller versions of Deer Valley's infamous chocolate chip and snickerdoodle cookies, along with homemade graham crackers. Even with three of us sharing one desert, and me eating enough for at least 2 people, we left about half of it on the tray.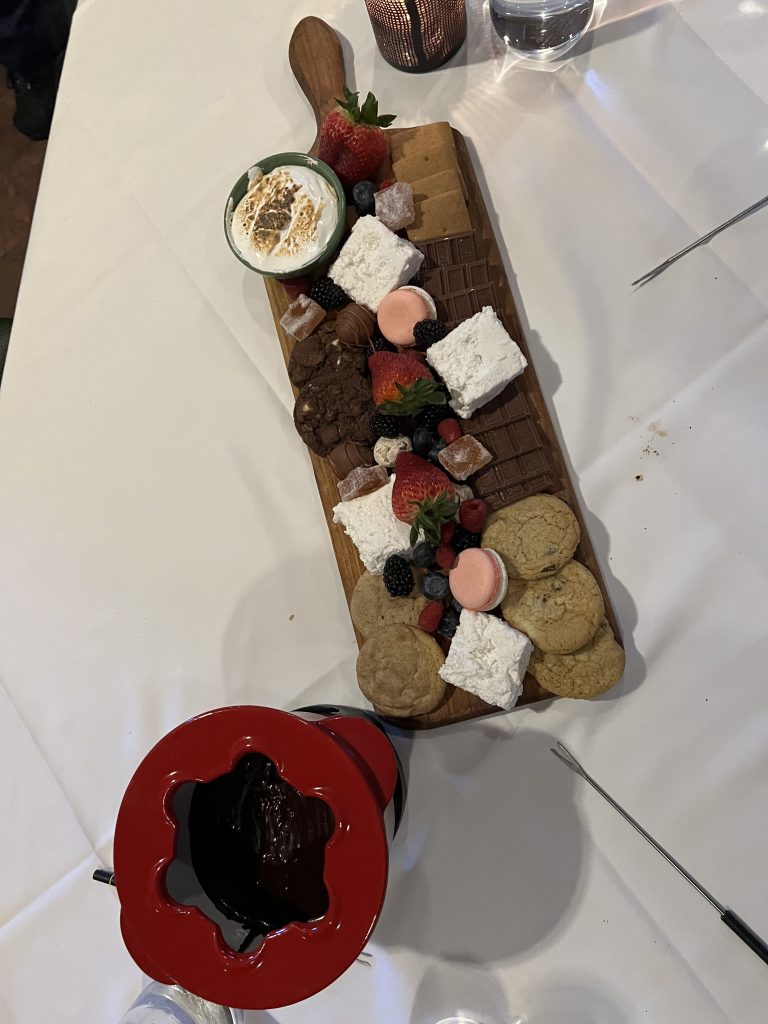 Our waiter, Alejandro, was very attentive, even when the restaurant filled up. There were enough servers present to do an excellent job. I would say the prices were comparable to the lower end of fine dining on Park City's Main Street, but the service and quality of the food were superior. Plus, you don't have to worry about parking! We dined early, and there were several people there with small children to take advantage of Cast & Cut's children's menu. 
Alejandro told us that Deer Valley has received complaints about ending the Seafood Buffet and they may make some changes to Cast & Cut next year. In my opinion, Deer Valley lived up to its reputation of providing quality and value. I will definitely return to Cast & Cut, even if Deer Valley decides to make a few changes to it. I recommend you give it a try as well.