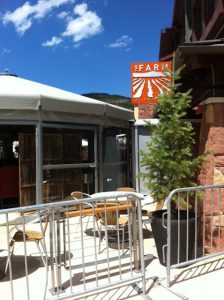 Yesterday afternoon I attended the Park City Womens Business Network meeting at The Farm.  This restaurant is the latest creation by Canyons Executive Chef, John Murcko, recently named Best Chef in Utah by Salt Lake Magazine's 2011 Dining Awards.  Open this summer for lunch, apres hike and dinner, The Farm features "New American" cuisine. I will interpret that for you based on what I ate for lunch yesterday: the most delicious fresh vegetable soup I have ever had, pastrami that had not one tiny piece of fat on it, freshly-sourced salad greens, etc. The menu features familiar and locally-sourced items like mac and cheese, Morgan Valley lamb and Idaho trout. The setting is convenient and fun. Since I live and work on the North side of Park City, it is closer for me to dine at Kimball Junction than driving to Main Street. Well, even though there are some fun dining options at The Junction, I have eaten at all of them repeatedly over the years. The Farm is located at Canyons' Ski Beach.  Use the free parking near Sundial Lodge and it is a short walk to the ski village. The entire restaurant feels like a glass enclosed yurt with walls that slide open and there are heat lamps to take off the chill. You have a feeling of dining outside even though
it is partially enclosed.  If it is a nice day, you can dine at one of the many outdoor tables.  The view of the gondola and grass covered ski runs is peaceful and beautiful. I am really looking forward to returning to The Farm.
If you try it, let me know what you think of it.
According to Canyons website (www.thecanyons.com), The Farm is currently open 11am-9pm
every day, except Saturday, when it is open until 10pm.