I've been getting a fair amount of calls, from out of state buyers who want to be "just outside of Park City, where prices are set to appreciate".  Well, the Heber Valley has already taken off and value buyers are too late.
But there is another place.  Coalville.
I know what you are thinking…what kind of name is that for a city?  Sounds like a mining town. Well what do you think Park City, Telluride and Breckenridge were before they became hip ski towns?  Coalville is no longer a mining town. It's closer and easier to reach Park City from Coalville than from the Heber Valley. It's just 24 miles on a straight shot along I-80.  And the real estate developers and hipsters are barely sniffing around Coalville. However there are signs this sleepy small town is about to change.
I could not have written this blog without the insider's perspective from my friend and colleague, Sharon Garfield, as well as my title officer, Dani Loehr.  Sharon has lived in Coalville for over 20 years and Dani moved from the Heber Valley to Hoystville, a few years ago. Herewith are Sharon and Dani's tips, tricks and stories.  
When you turn onto Coalville's Main Street, you will see a statue on the south side of the street.  This is the "leaf" lady and people dress her up. She was wearing a construction vest when we drove by.  
Places to eat:
Polar King – A local gathering place with simple burgers, shakes, Mexican food and breakfast.  
Collies BBQ-Fall – off the bone, mouth watering BBQ ribs
Neena's Market – A Mexican grocery store with a little restaurant in the back!  My son and I ate delicious taco plates for $7.99 each. Make sure you shop the store for its fresh made guacamole, salsa, and tortilla chips.  Candelaria, an owner, personally showed us around.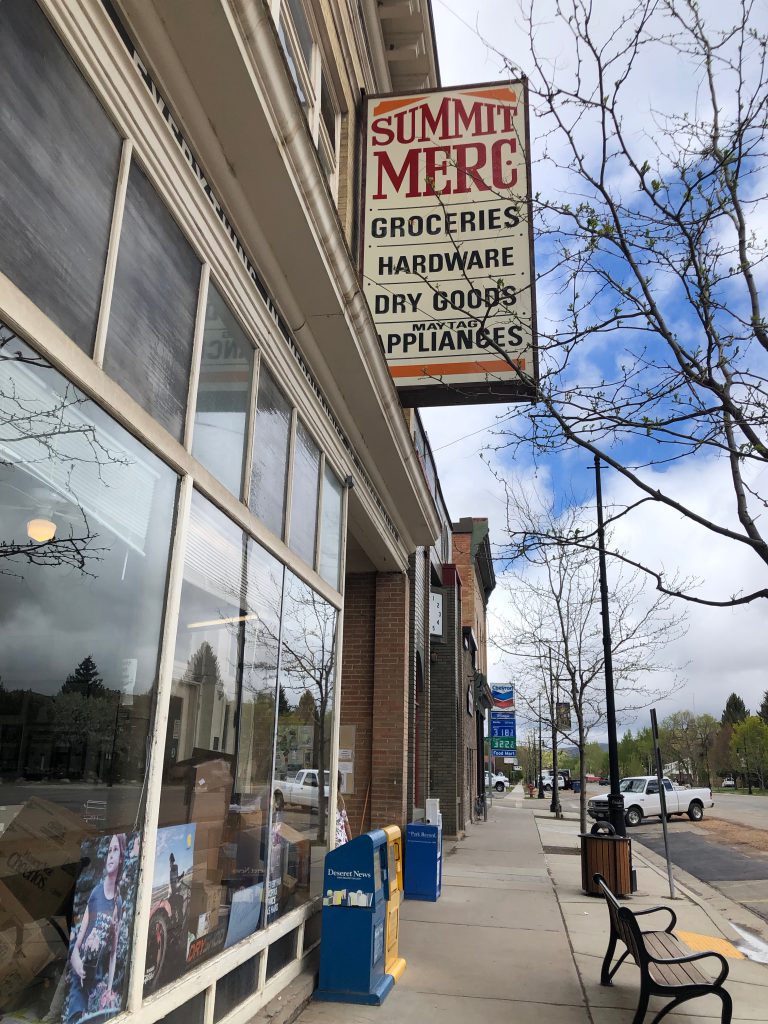 The Summit Mercantile  – Established in 1908, they have been doing business in the same location for over 100 years. Owned and operated by Spug and Jim Blonquist.  This is the type of general store that you would have found in the town of Mayberry. But the best kept secret is the butcher shop. We ordered both T-bone and ribeye steaks.  The butcher will cut them to your desired thickness. Look at these steaks! All the beef is fresh and from Utah. Sharon told me she would not buy ground beef anywhere else. You can also find an enormous collection of Carhartt clothing.  But get there early, as they close at 6pm.
Coalville Traditions:
Annual Christmas Light Parade
Summit County Fail
Demolition Derby and PRCA Rodeo
Annual Car Show
Annual Fishing at Echo Resort.
Sharon told me the biggest reason she loves Coalville is because when her daughter was only about 3 years old, the child disappeared from the house. She had managed to walk to Foodtown, a little grocery store on Main Street. A neighbor saw her and brought her home. The neighbor knew the little girl and the house where her family lived.  Sharon said "It's so nice to know you can trust people and they all know your name."
Supposedly, the North Summit High School is built on an Indian burial ground.  Perhaps it's not a coincidence their mascot is the "North Summit Braves".
So, if you are the type of person looking for small town living that is close to world class skiing, Coalville could be the place for you!  Here is a small sample of real estate available in Coalville right now:
$395,000 for brand new 2 bedroom, 2 bath home.  3012 sf total, with 1506 finished square fee. This home is located in the Chalk Creek subdivision with mountain views, open floor plan, custom cabinets, granite countertops and laminate (wood look) flooring.
$800,000.  Built 2001.  5 bedroom, 3 bath, 5,387 sf home on 8.5 acres.Custom home at the top of a hill overlooking the Weber River Valley.  High end kitchen appliances.
$549,000.  Built 2018.  5 bedrooms, 3 baths, 3,700 sf home on 1/3 acre.  Solid wood floors, quartz countertops, hardwood flooring, custom cabinets, 3-car garage.  
If you have further questions about Coalville, please contact me and it would be my pleasure to show you around.  I will definitely be back at the Merc to buy their bacon, which I hear is legendary.