This thorough roundup and analysis of Q2 2022 stats was prepared by our resident MLS guru, and my partner, Justin Altman. He can be reached at justin.altman@sothebysrealty.com.
We are already halfway through 2022 if you can believe it, and another fiscal quarter has cleared. An important concept to remember is that real estate moves in cycles and is constantly fluid, trending up or down. Q2 saw the close of our most recent real estate cycle and a new beginning. This new cycle is starting to resemble the one we experienced from 2010-2020, a breathing market that ebbed and flowed up and down but was consistent. Time will tell what this new cycle looks like, but it is important to note that we are in something new!
First, Some Notes on Real Estate Investment
Before we get into the data from Q2, I want to cover a few different concepts.
First, whether you are buying or selling, you will participate in the same marketplace. The idea that you can time the market, sell high and buy low is misconceived – if you are in a market where you sell high, you will also be buying high; similarly, if you are selling low, you will be buying low. Generally speaking, the nexus will be the same, but the ability to trade up in a down market becomes much more accessible.
Second, the velocity of the real estate market over the last two years has likely skewed our perception of real estate as an investment vehicle. There were tremendous gains quickly, and some folks truly capitalized on this once-in-a-lifetime market. That said, you cannot day trade real estate.
The horizon for real estate as an investment is not two years – the median duration of homeownership in the U.S. is 13 years! Purchasing real estate should be a deliberate and well-thought-out investment. When you broaden the horizon of an asset, the ability to weather any bumps in the road dramatically increases. As you read about the housing market in the media, keep in mind that – like equities – a paper loss is not the same as an actual loss.
The Market Has Shifted
Now some good news – if you are a buyer, the market has finally moved in your favor. The ability to negotiate price and terms has returned, and the selection of inventory has increased. This dynamic allows buyers to be much more selective than they were previously.
Prices remain above the regression line (see below) but we are likely to see a regression to the mean over time. Since the economics of today do not resemble 2008, and sellers are not over-leveraged on properties, we do not expect foreclosures or a dumping of inventory. This means the regression to the mean could take a number of years as prices flatten.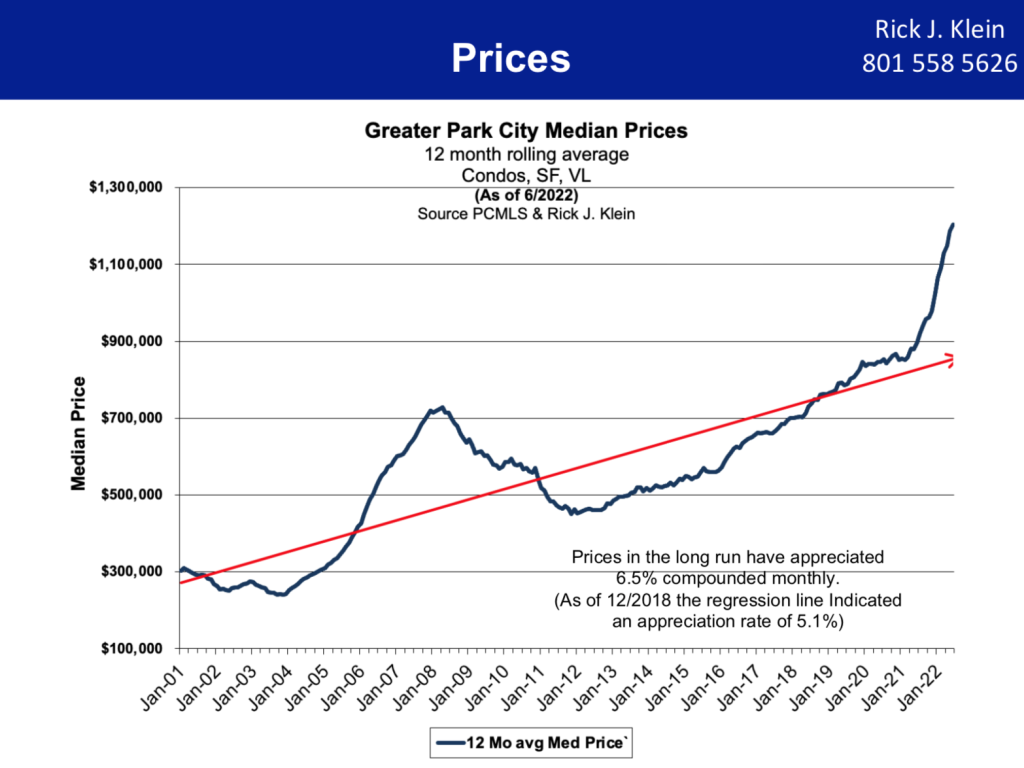 Q2 across the board showed a continued trend of regressing to mean. Closed sales and new contracts dropped, while new listings exceeded their ability to be absorbed, creating a massive increase in available properties for sale. In January of 2022, our inventory was down to 576 total properties listed, the lowest recorded total historically, and by July of 2022, we were up to 1421 total properties listed.
Inventory Trends
Our latest trendline on inventory hovers around 2000 total properties. So although inventory tripled over the past few months, we are still about 25% below our average standing inventory from 2010-2019.
There were 797 closed sales, about 75 units above the trendline, but we must keep in mind that quite a few closed sales went under contract during the end of Q1. I would expect to see the lag in closed sales in Q3. This is primarily due to the drop in new contracts we saw in Q2. Sold dollar volume also remains robust with $1.329 billion in closed sales, bolstered by solid pricing across the board, with median pricing up 13% year over year!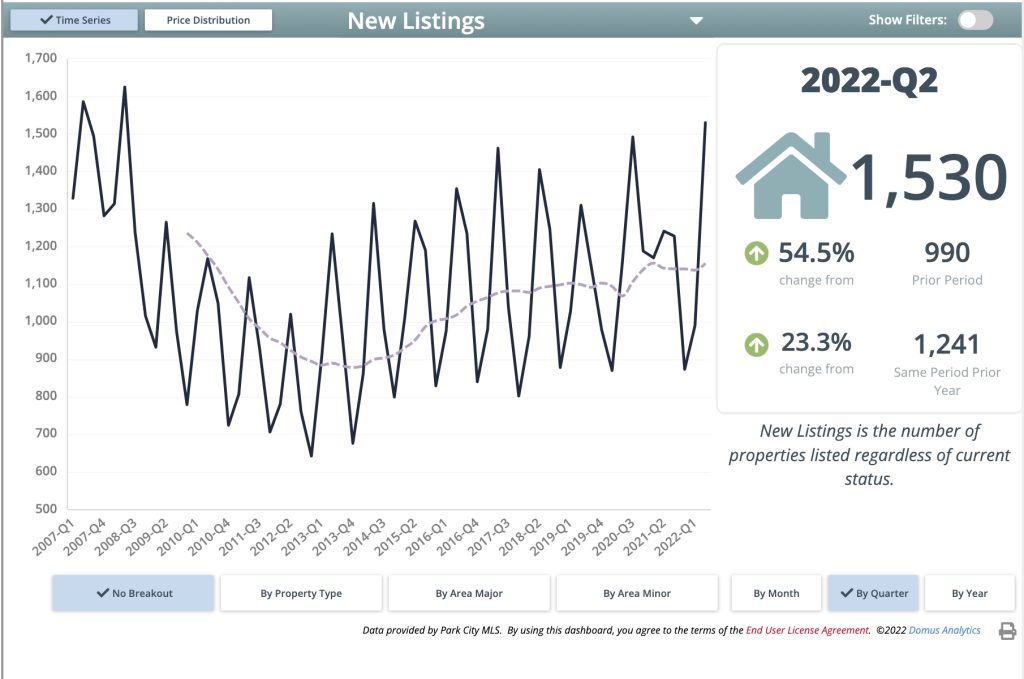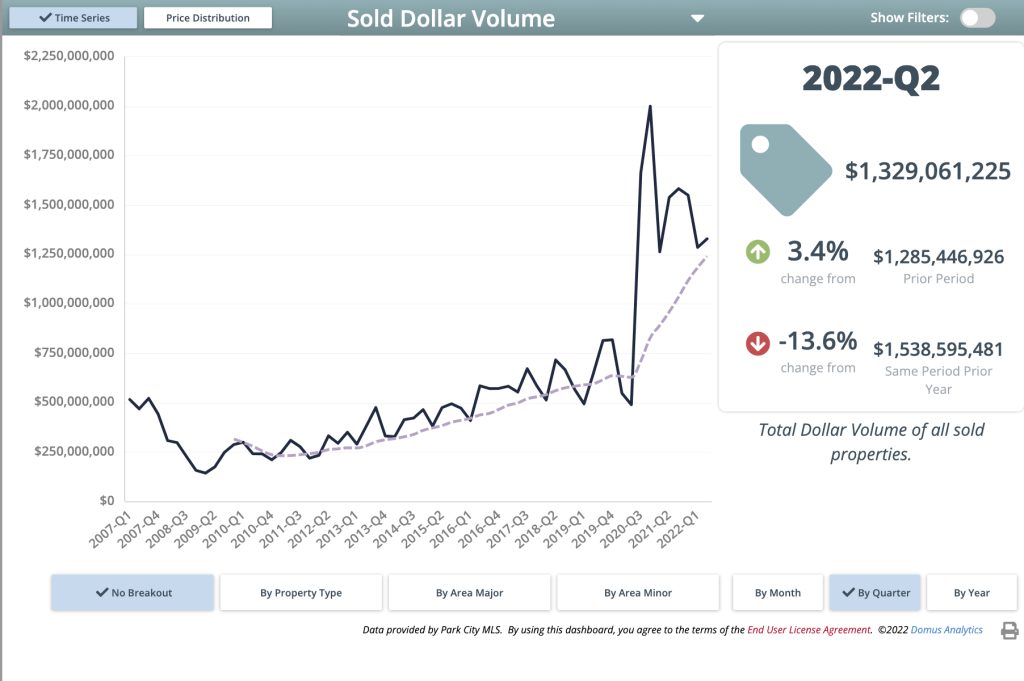 The Pace of New Contracts
The Pace of New ContractsNew contracts were not terribly off the pace, but they dropped below the trendline for the first time in several years. There are many contributing factors to why new contracts fell; most notably, interest rates increased substantially. The Fed aimed to slow the housing market and succeeded. Keeping historical context in mind, this drop in new contracts is not alarming and fits within the parameters of the trendline before Covid.
I think now is an excellent time to remind everyone (myself included!) that the last two years of market activity conditioned us to an unsustainable tempo. We need to look back on the historical data and remind ourselves that a slower pace than what we experienced over the past 2 years is entirely normal and expected.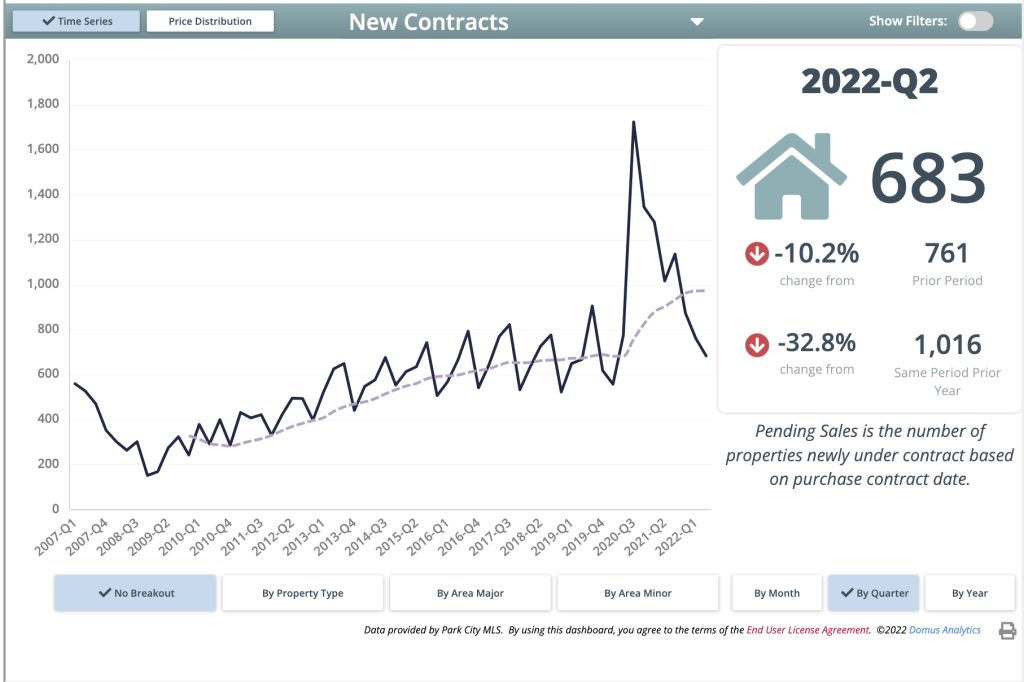 Conclusion
Overall, the market in Park City remains exceptionally stable and robust. There are still properties generating multiple offers and selling over list price, though that is now the exception as opposed to the rule.
For sellers, market preparation, a deliberate and high-quality listing launch process, and proper pricing supported by recent (Q2) sales will be required to sell for the highest price and stand out from the competition.
Buyers have more selection and can be more patient, waiting for the right home at the right price. Nevertheless, if that right home materializes, quick action will be required to secure it. Please contact us for more detailed information on specific neighborhoods or areas.