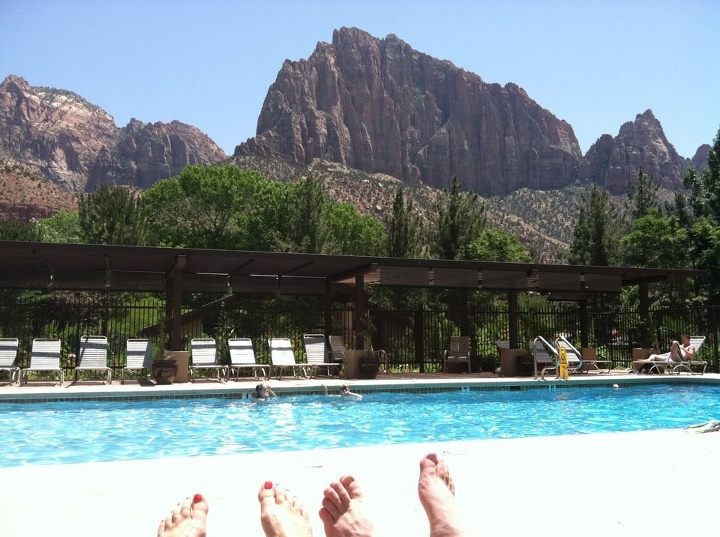 One of the benefits of having a primary or vacation home in Park City is our proximity to all of the excellent recreational opportunities found in Utah's National Parks. Whether you are looking for the challenge of extreme outdoor sports or a peaceful hike in Southern Utah's red rock mountains, there is something to please everyone.

This past weekend, my daughter, Whitney, and I headed to the charming town of Springdale, Utah, home of Zion National Park. Our family has visited all of the Southern Utah parks and Zion is our favorite. During the month of May, when Park City is typically "between-seasons" (aka mud season), Springdale is sunny and warm. We left a rainstorm in Park City and were welcomed to sunshine and mid-80's temperatures.
I love the freedom and ease of hopping on the free bus from any hotel in Springdale to get to the entrance of Zion National Park. Inside the park, there are trails for every ability; from a flat, paved, 3-mile hike to the challenge of Angels Landing (which I have still not attempted), to "The Narrows", a slot canyon prone to flash flooding. We hiked in the morning and spent the afternoon lazing by the pool. No matter which adventure you choose, you are guaranteed to be bathed by the natural beauty of the ancient, red rock canyon and you are never far from the sound of the Virgin River. I consider time spent in Springdale/Zion as "magical". I always come home refreshed.
Springdale is a quick 4.5 hour drive from Park City south on I-15 to the Exit 27 turnoff.
Here are some favorite hotels. Where are your favorite Utah getaways?
Cliffrose: 435.772.3234
www.cliffroselodge.com
Canyon Ranch: 435.772.3357
www.canyonranchmotel.com
Majestic View: 435.772.0665
www.majesticviewlodge.com
Desert Pearl Inn: 435.772.8888
www.desertpearl.com
Zion National Park: (435) 772-3256
www.nps.gov/zion.com