Park City is a family-friendly town with activities to keep kids entertained in any season. But when it comes to dining, our kids just have different tastes than us. It's always surprising to dine with kids and find out there is no children's menu. Not only are they less likely to enjoy that fare, it costs more and you end up wasting food.
Luckily, many of our restaurants have kids' menus and welcome little ones. Having raised two kids in Park City, I am pleased that some of my kids' favorites are still around. Here are 16 family-friendly restaurants, sorted by location.
Old Town
Bridge Café. Located at the base of Town Lift, this cafe serves up breakfast, lunch and dinner and includes a kid's menu. It's perfect as you're heading on or off the lift in the winter or for a summertime hike.
Java Cow. When my kids were little, we would park on Lower Main Street and take the free trolley up to Java Cow for their artisan ice cream. There is also a fabulous bakery, with breakfast and lunch options.  Kids will enjoy watching the TVs which play footage from the 2002 Salt Lake City Winter Olympics and shopping for knickknacks. 
Big Dipper. This place is new and is brought to you by the same folks who run Star Bar, 350 Main and The Spur. These longtime business owners know a thing or two about Park City, and based on the reviews I'm thinking this is a great little sandwich shop at the top of Main that addresses a need. They have a great little "Tot's Menu" and their soft serve ice cream with toppings is sure to please.
Park City Limits
Grub Steak. Open only for dinner, Grub Steak has an amazing kid's menu that includes salmon, steak, and baby back ribs.
Squatters Roadhouse Grill. Squatters is great for breakfast, lunch or dinner.  Their kid's menu even has photos, so your little one can make choices even if they are not yet able to read.  Expect the usual kid favorites, like chicken fingers, macaroni and cheese, pizza, burgers, and pasta. 
Silver Star Café. While Silver Star does not have a kid's menu, the outdoor patio allows your little ones to wander around safely while waiting for food. Pizza is always a popular choice for kids.
Windy Ridge Café. Windy Ridge has a great outdoor patio in the summer and a great kid's menu with options like macaroni and cheese, pizza, pasta and grilled cheese. 
Fuego Bistro. We wrote about Fuego in our list of Park City's best pizza spots, and it's no surprise it tops the list of family restaurants, too. What kid doesn't love cheesy, doughy pizza or pasta after a hard day of playing on the mountain?
Deer Valley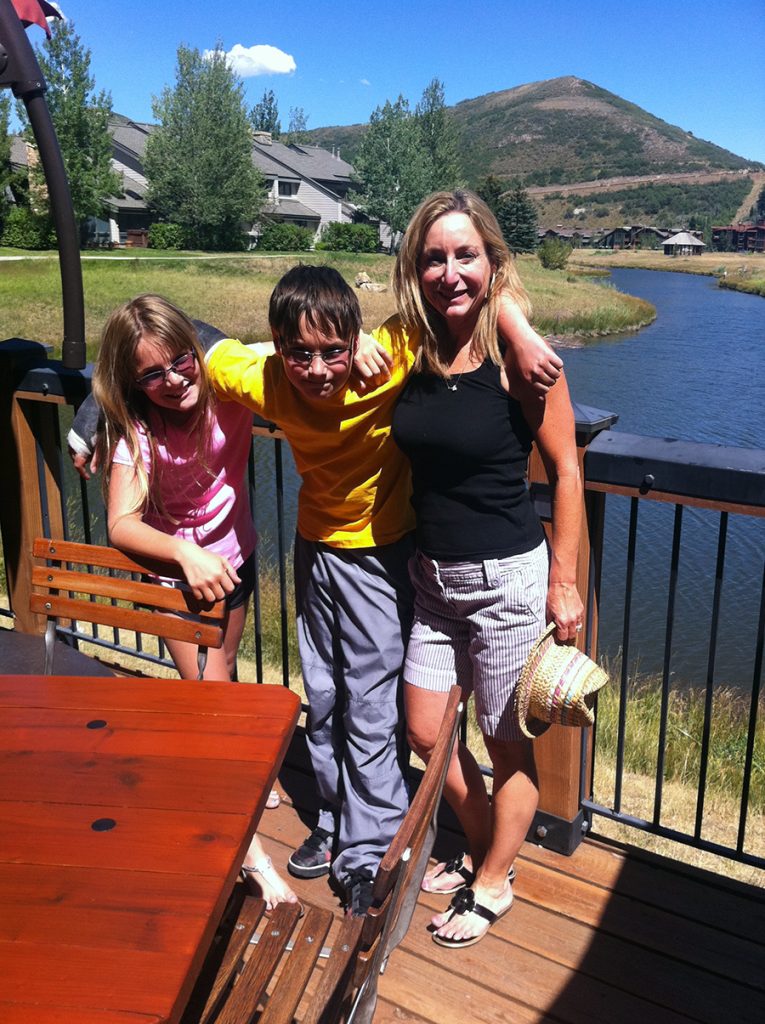 Deer Valley Grocery Café.  There is no kids menu here, but plenty of options for breakfast and lunch, plus the infamous Deer Valley chocolate chip cookies.  Grab some of Deer Valley's finest frozen food for an additional low prep option.  In the summer, the kids can wander over to the Deer Valley ponds to feed the ducks or wade and watch the stand-up paddle boarders. 
Kimball Junction
Café Zupas. Zupas is a "fast fresh" restaurant where you order at the counter and bring your food to a table.  Their kid's combo includes grilled cheese, macaroni and cheese, or pasta plus veggies. 
Café Rio. Another fast fresh option, Café Rio's kid's menu consists of quesadillas, either in a "meal" or a la carte.  There are two sizes so that even the tiniest eaters will order just the right amount.  You can't beat their homemade flour tortillas.
Billy Blanco's. No kid's menu here, but you can order appetizers like wings and ribs for kids.  Any kid will enjoy the interior of this restaurant with its vintage automobiles hanging from the ceiling and the booths that resemble car seats.  In the summer, there is an outdoor patio. 
Vessel Kitchen. With a seasonally rotating menu and plenty of healthy options, Vessel caters to little and big eaters alike. Their menu for kiddos includes a choice of protein and three sides, or there's always the classic mac + cheese option.
Park City Outer Limits
Dairy Keen. Of any of the restaurants on this list, this is probably the one your kids will like the most. Why? Trains, of course! Oh, and ice cream, too. The "home of the train" in Heber has been in business 75 years and features classic diner burgers, fries and shakes.
Back 40 Ranch House Grill. Open for lunch and dinner every day of the week, with brunch on Sundays, you can always count on a great meal at Back 40. And it's easy to get to from Park City as it's one of the first businesses you get to heading south on 189 into Heber. They have an extensive kids menu and source ingredients locally whenever possible.
Mirror Lake Diner. A perfect stop on your way up to the Uinta Mountains, Mirror Lake Diner is open every day from 7 to 4. They stay open for dinner Thursday through Saturday. You'll love their menu for little buckaroos and adults alike.
These are some of my favorite family-friendly restaurants in and around Park City. Did I miss one of your favorites? If so, please add to the comments.