Do you wish you had a way to leave your skis & equipment at Park City Mountain without the hassle of arriving at the crack of dawn to park or shlepping them on the bus? What if you could just forget about your skis and try a different pair each time you were on the mountain?
Jackson Knoll, the owner of Jackson's Basecamp, a ski store at the base of Park City Mountain, knew there had to be a better way. What he has done is create an exclusive mountain experience for the 98% of skiers & boarders who don't belong to a high-end country club. It's called Jackson's Hideaway.
Knoll opened Jackson's Basecamp 8 years ago. Four years later, he started Jackson's Hideaway. It was Park City's first ski club open to general enrollment. He began with 15 members and sold out last year with 51 memberships. Seeing a huge opportunity, he leased additional space so Jackson's Hideaway could grow to 75 members. If you do the math, that means there are 24 memberships available right now.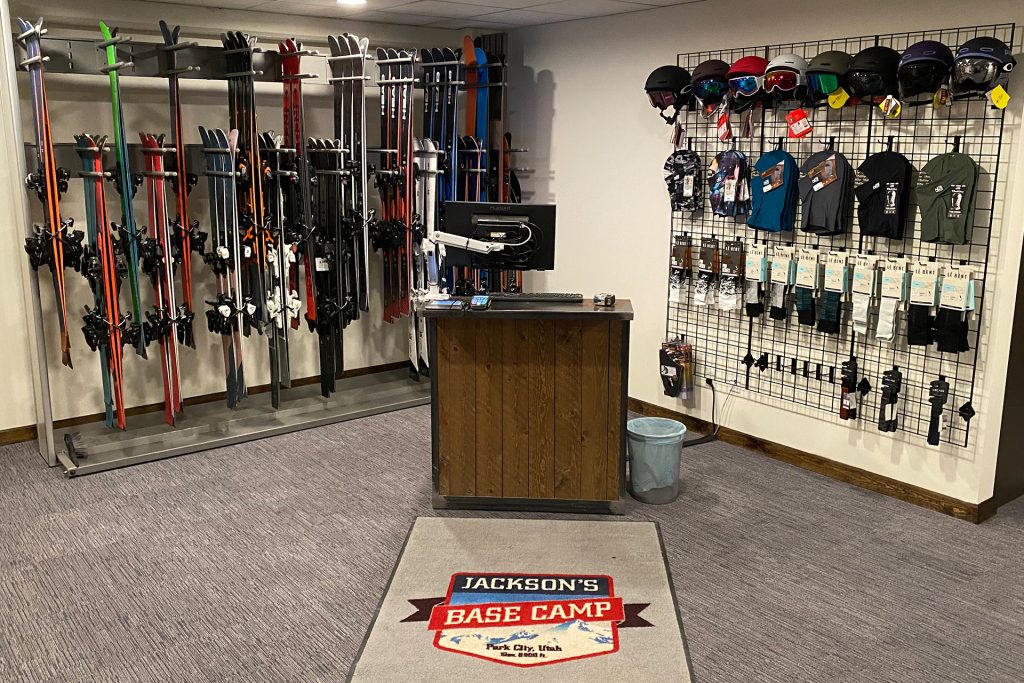 I interviewed Brendan Wall, a former coach with the Park City Ski Team, who's been working with Jackson for the last 4 years. He's obviously passionate about skiing and the opportunity provided by Jackson's Hideaway for skiers to improve their experience on the mountain. He says the purpose of the ski club is to provide its members with "fun and convenience." Jackson's Hideaway is located near the Park City Mountain ice arena in the same building as Jackson's Basecamp store.
Membership for two people includes 10 free guest passes, coffee, free snacks, unlimited free rentals & demos, free tuning, and a 30% discount on purchases at Jackson's Basecamp. Catered breakfast, lunch & après are available for purchase. There is also pool and hot tub access. This gives members a private location to hang out before and after skiing, as well as a way to skip the food lines on the mountain.
During the non-ski months, there is a social calendar, including a mini golf league, dinner parties, etc. so members have an opportunity to mingle and share their passion for skiing throughout the year. Cost: $10,000 a year, due on 7/31. The cost for additional family members is $1k/person. Singles are $6k/year.
Knoll is starting a second ski club on Lower Main Street called The Hideaway on Main Street. It is near his second Jackson's Hideaway store and the Town Lift. Since Knoll is a co-owner of Banchan restaurant, it only made sense to leverage the banquet area of the restaurant and his second ski shop to create a second ski club.
This club will function differently than the original Hideaway. The Hideaway on Main Street will offer its members one parking pass and 4 fully transferable memberships. This makes great sense for corporate owners and vacation rental owners. Members receive access to the private lounge, ski valet, concierge service, continental breakfast, coffee & snacks, unlimited free rentals & demos, and a 30% discount on purchases at Jackson's Basecamp.
There is also private access to Banchan and a 15% discount on food. There will only be about 30 of these memberships available. Cost: $5,000 per person/year. However, there is an incentive going on right now where the membership is only $4,000/person.
Wall told me that Knoll's ski clubs bring "ski industry perks to anyone who wants to join." Knoll sells all of his demos at the end of each season, so members can essentially ski/board on brand new equipment every season.
If you are looking to elevate your ski experience on the mountain, contact them at (435) 200-8832 or jacksonshideaway6900@gmail.com. Let them know you found out about their club through my real estate blog. And if you join, let me know what you think!