The following is a guest post by Amber Uhl, interior designer for Havenly in Denver, Colorado.
Interior design is an art. For Airbnb hosts, it can attract users to your listing and encourage more bookings.
Airbnb listings that pay attention to interior design do much better year round than those that don't. Humans are visual creatures, so it only makes sense that the listings with great photos would do better than others that leave these as an afterthought.
With this in mind, here are 6 interior design tips specifically for Airbnb hosts.
Tip #1: Implement Cohesion
The first step in creating a click worthy Airbnb listing is to identify a cohesive sense of style that will weave its way throughout the home. Though each room in your home can still have a unique feel, it should be your goal to have a style that flows nicely from room to room and portrays a common feel throughout. 
Step one, identify your style
Think about the story you want your Airbnb to tell. The goal is for your space to feel as though it has a sense of personality! 

Try using the Havenly style quiz to identify your sense of style.

Set up a Pinterest account and begin pinning spaces that inspire you. Look for common threads and similarities in the pins you've collected. 

Look for inspiration in your city! Pulling inspiration from the local culture is a great way to make your guests feel truly immersed in the city. 

Explore Airbnb Plus listings for examples of well styled, cohesive spaces. 
Step two, pick a color pallete. 
Select a color pallete of 3-4 complementary colors that you would like to use in your Airbnb. Make sure these align nicely with the style you have selected above. This color palette will set the stage and direction for your space. If you want the space to feel tranquil, stick to lighter cooled toned colors. If you want the space to feel bold try implementing 1-2 complementary primary colors. If you want the space to feel modern and chic try using a high contrast color pallet with a pop of metallics. Or perhaps you want to go with a rustic feel? Let the colors and textures of nature guide you! 
Let your style and color palette guide you when shopping for new decor & furniture!
Tip #2: Increase Clickability
It's easy to get swallowed in the sea competition when you don't have something that makes you stand out from the crowd. Add something to your Airbnb that will create a wow factor moment that will stop a scroller dead in their tracks, encouraging them to click on your listing over others.
Here are a few easy to implement wow factor moments: 
Accent Walls: A fun accent wall can be a simple and affordable element to install in your Airbnb but is sure to draw attention to your space. Use wallpaper, wood or paint to create an eye catching moment.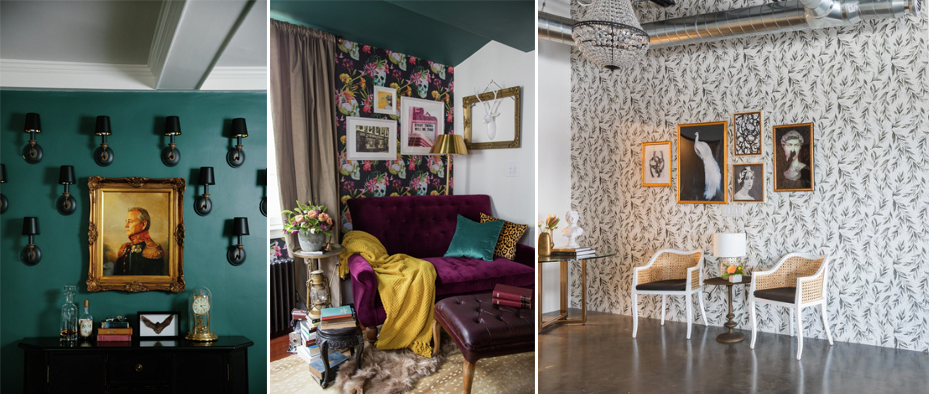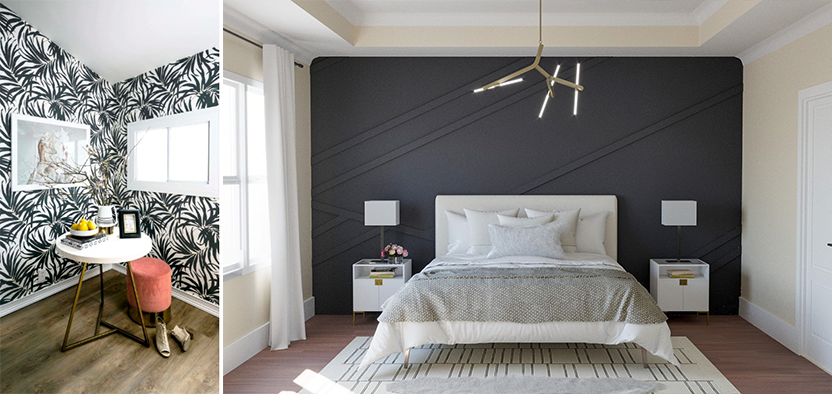 Use large scale, out of the box art: Try a 3D or object based art, gallery walls, neon signs or large sculptural objects. Consider using a pre-styled gallery wall from Artfully walls.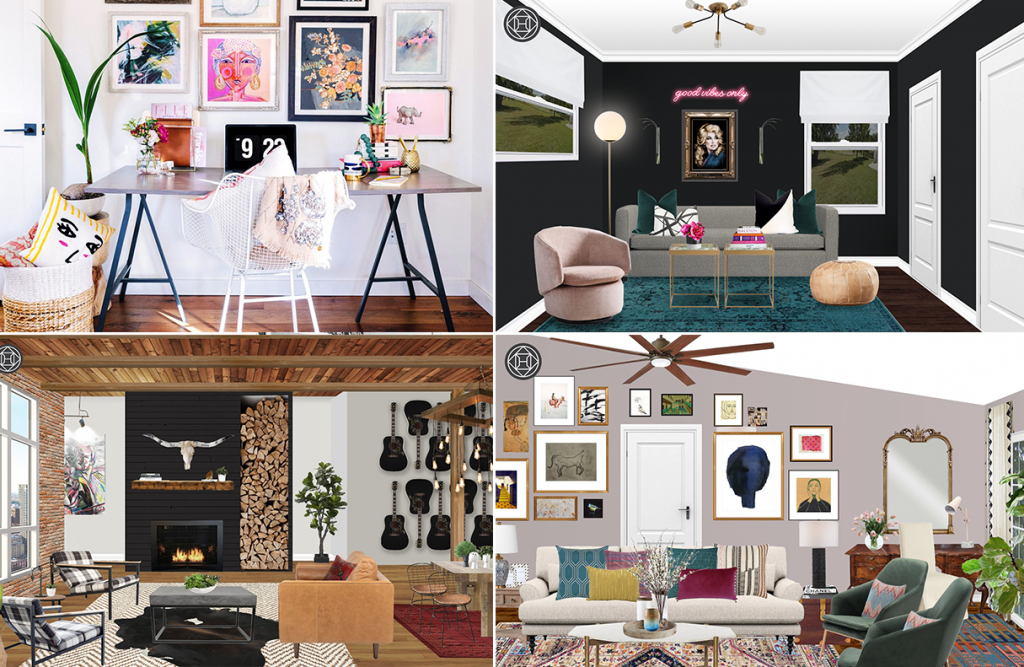 Bold Sofas: Try implementing a bold colored sofa. Some of my favorite bold sofas colors are emerald green, sapphire blue & earthy yellow.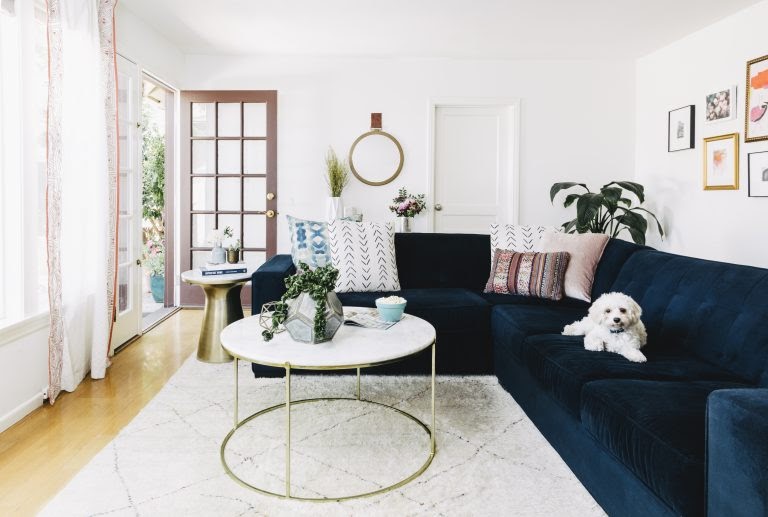 Tip #3: Add Cozy
Though we want your Airbnb to feel just as fun and interesting as an art gallery, we still want your guest to feel that at-home sense of cozy. These comforts come from the small details. Here are a few tips for bringing a sense of cozy to your space: 
Add Textured Fabrics
Add a few soft textured pillows to the sofa. I'm loving these:
Throw blankets – these are often overlooked. Add a large floor basket or a blanket ladder and fill it was 3-5 large, ultra sofa and cozy blankets for your guest to snuggle up in.

Don't forget a cozy rug! I recommend wool for a rug that is soft on the toes, durable and easy to clean.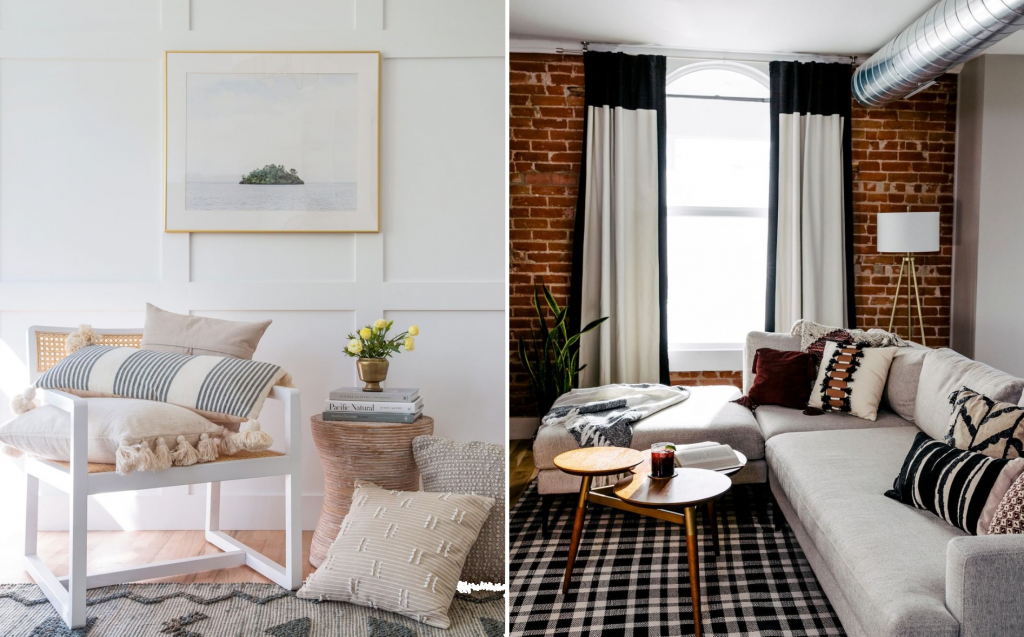 Styled the Surfaces 
Nothing makes a home feel more cozy and lived in than styled surfaces. A bare table may look clean, but lacks the special touch!
Start with your coffee table. First add 2-3 interesting coffee table books. Next, stack the books and add a small decorative object, a candle & matches in a decorative jar on top of the books. After that, add a decorative tray or bowl for remote controls Last but not least, add some faux greenery or a floral arrangement to complete the vignette!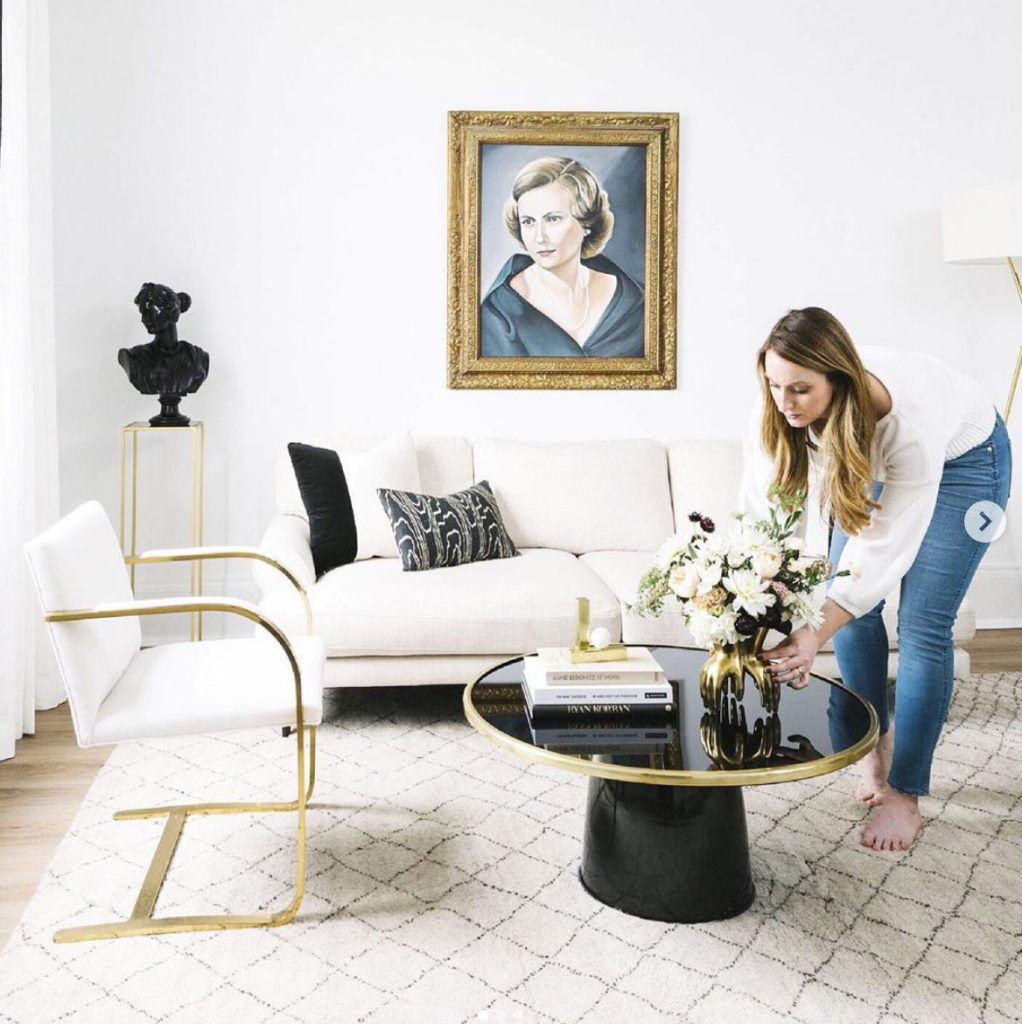 Next, style end tables and night stands. First add a set of matching decorative lamps Next, add 2-3 of the following items to complete the surface: coasters, candles, decorative objects, decorative boxes, faux plants, a picture frame with the wifi password inside.
You can also fill surfaces with stylish yet functional pieces like a record player, a Marshall speaker, or a sleek essential oil diffuser. 
Board Games
Add chic and stylish games such as Scrabble, Backgammon or Monopoly that will draw people away from their phones and together with their friends.
Greenery 
Plants can truly bring life to a space! Live plants are always going to be the best option, but if you are away from your Airbnb often you may want to opt for low maintenance live plants such as these.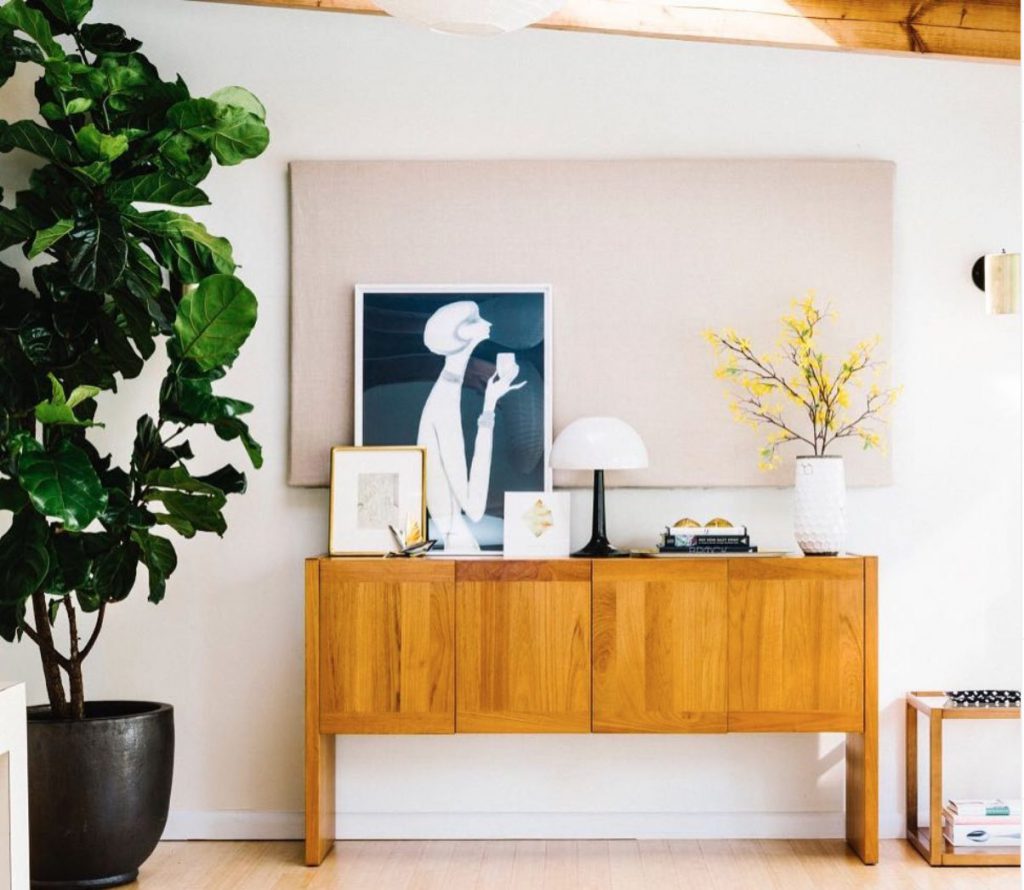 Tip #4: Consider Layout
Your furniture should be inspiring but also functional. Make sure your sofa is comfortable and isn't too big or small for the space. Consider adding a few accent chairs or poufs for additional seating. In your bedrooms consider adding an accent chair, bench or a few stools at the food of your bed.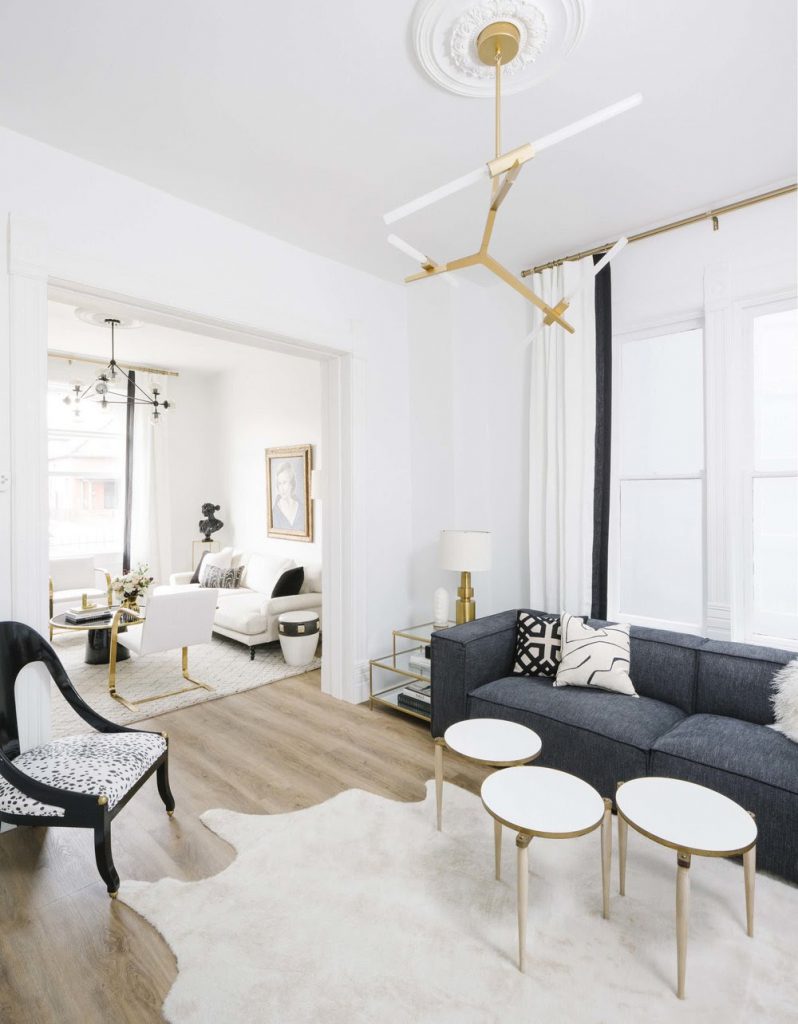 Tip #5: Replace the Basics
Lighting
Remove outdated or builder grade light fixtures and replace them with a new showstopper fixture. Wayfair, Shades of Light & Lamps Plus have a TON of beautiful and affordable light fixtures that will take your room from drab to fab.  
Bathroom Mirrors
Replace basic frameless bathroom mirrors with something more interesting.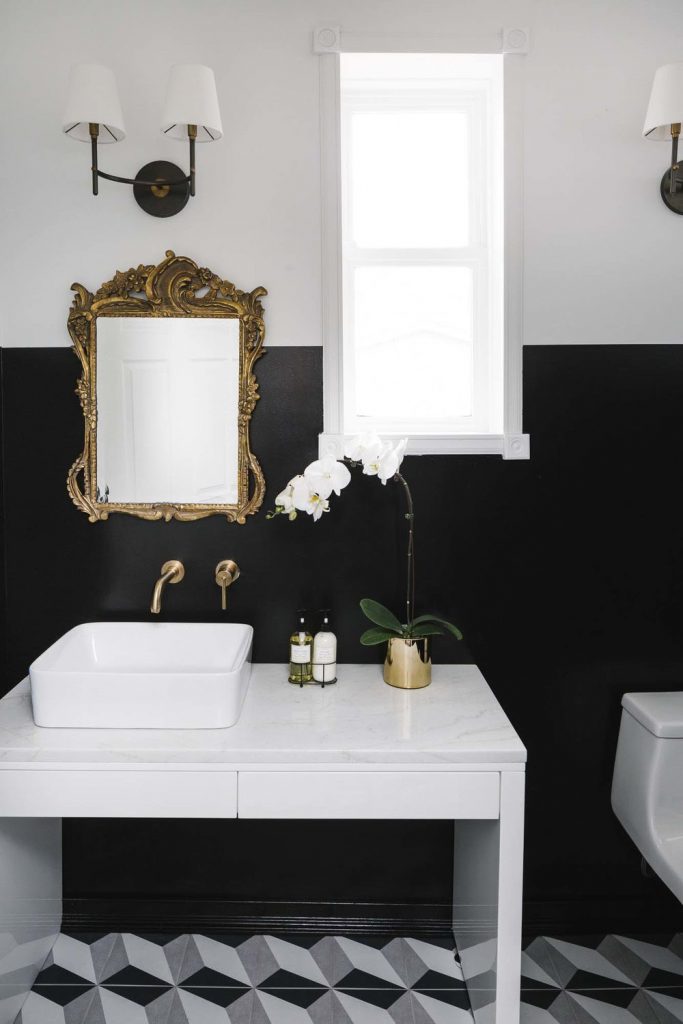 Hardware
Say goodbye to boring and outdated hardware and instead install new sleek and interesting handles and pulls.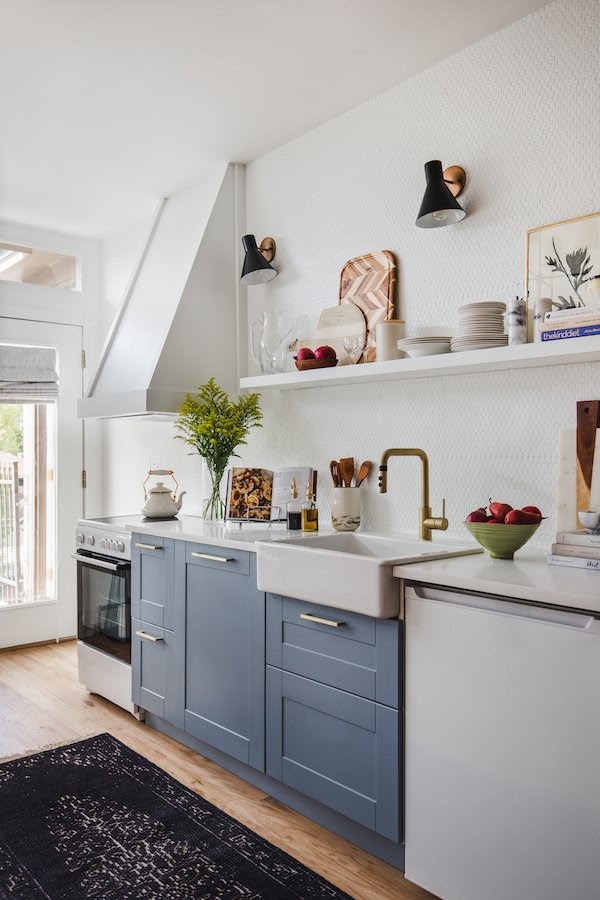 Tip #6: Added Storage
Add fun/stylish hooks in empty spaces for added organization. Place luggage racks inside the closets or under the beds so guests have a place to store their suitcase. Add a storage bench in your entryway or at the foot of a bed. Use bins and baskets under benches, below console tables or in bookcases to create unexpected hideaways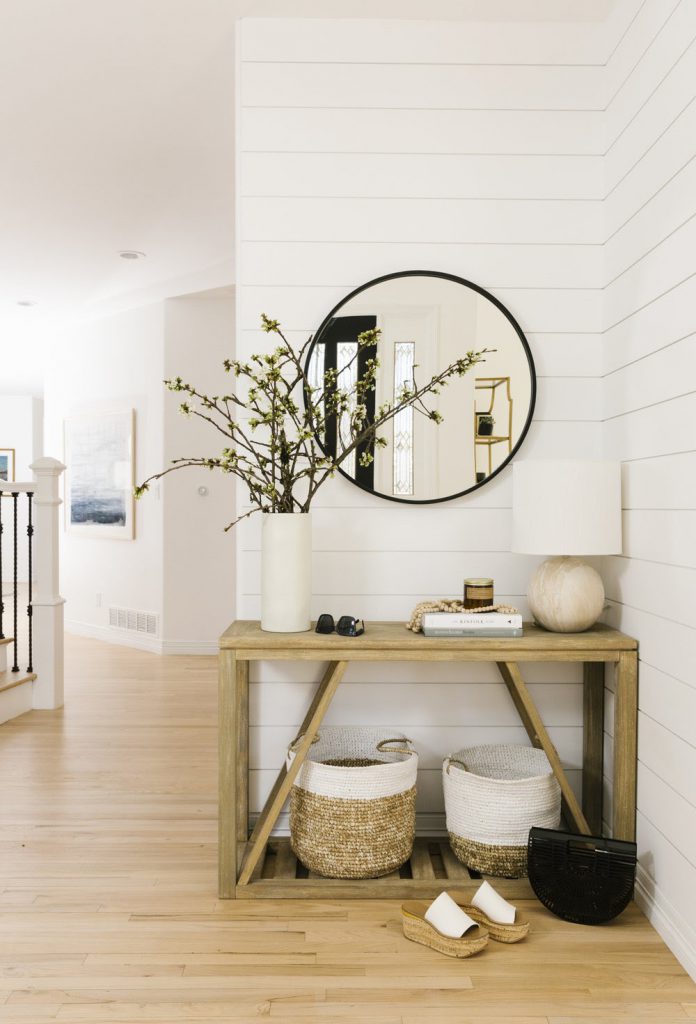 Author / Designer Bio
Amber Uhl is an interior designer housed out of the Havenly Headquarters in Denver, CO. This designer was born & raised as a farm girl who eventually moved to the big city to pursue her degree in Marketing. After college, Amber spent several years in real estate working on many flips, vacation rentals, renovations and resales where her passion for design began to emerge. Over the years, Amber has been inside many homes and knows what sells! Today you will often find Amber blending many design styles including modern elements inspired by the city, rustic elements inspired by Colorado's mountains & a few farmhouse elements inspired by the farm she was raised on.