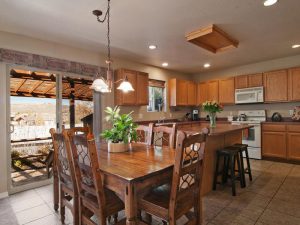 Your home must win the price war AND the beauty contest if you want to sell it for top dollar. Time and money invested before your home goes on the market will save you time and money once your home is listed.
Your home has to look good from the outside as well as the inside. With so many homes on the market, buyers will tell their real estate agent to "keep driving" if they drive up to your home and it looks run down on the outside.
1. Fresh paint. If there are odd ball colors or the paint is scuffed or in poor condition, paint. Study after study shows that fresh paint provides the highest return on investment.
2. Landscaping. Trim bushes, especially those that obstruct windows and make the interior of the home appear darker. Pull weeds, mow the lawn and in the winter, keep the snow off of all walkways and the driveway.
3. Clean, de-clutter and depersonalize. You are going to be packing your stuff anyway when you move, so start now and clean out those closets, counter-tops and perhaps remove some furniture items that may make a room seem small. Your home should also be clean. That includes inside your oven and refrigerator because for some reason, buyers will open both if they are interested in your home. I had a buyer take a home off of her list because she found the inside of the refrigerator "disgusting" and it made her question how the owners took care of the rest of the house. The kitchen pictured above is inside a home I just listed and is an example of perfect staging.
4. Repairs. Fix anything that is obviously broken or in need of repair. That drywall hanging from your ceiling from last winter's ice dam needs to be fixed. Buyers will make you fix it anyway, so you might as well take care of it now. If your carpet is worn out or your wood floors are scuffed, it is better to repair/replace them rather than giving the buyer a credit.
If you want to sell your home for top dollar, it needs to look like it has been well maintained and cared for. This is easily accomplished with the advice of an experienced professional. I provide a complimentary staging consultation to all of my clients.