Below is a blog by Allison Ratkovich about her recent experience in Park City.  She is a friend of my dear friends, Brian and Deborah Smith.  I have to claim just two degrees of separation from Allison.  In 2004, a year after Larry (my husband) and I moved to Park City, we invited Deborah and Brian to visit us.  Brian and Larry played in the Promontory Member Guest golf tournament and after a few days in Park City, Deborah and Brian were hooked.  I helped them buy a home in Park Meadows in 2009 and the rest is history.  As you read Allison's description of her Park City experience, those of us who live here or have second homes know that her account is REAL.  This is really how we live in Park City.  If you don't own a piece of Park City, what are you waiting for?  Contact me!
World Travels – "A Love Of Life"—By Allison Ratkovich
February 8, 2011 in Attitude, Bon Appétit Magazine, Friendship, Joy, Life, Loving Life, Making new friends, Montage Resort Deer Valley® Resort, Old Friends, Park City, Skiing, St. Regis Resort Deer Valley® Resort, Stein Erickson, Sundance Film Festival, Travel, Traveling Solo, Utah | Tags: friends, fun, life, my life, People, relationships, skiing, travel
Park City, UT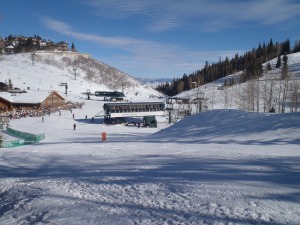 Park City's Deer Valley® Resort, from the deck of Stein Erickson's
Like the TV Series "Sex In The City" there is a Mr. Big. Like the dinner parties in the magazine "Bon Appétit" they are real there. Like the old TV show "Cheers," Norm is there every day. Tall, friendly and fun Stu welcomes you like an old friend with a warm hug, a smile and the most interesting stories of his life as a bachelor in Park City. There is Kenneth who proudly wears his Canadian heritage on his ski sweaters every day and Suzy, while small and fit and formidable and 5 foot nothing rocks both the mountain and this community in age-defying style. Park City, UT – a short jaunt from Salt Lake City after a very quick and cheap flight from Denver – has become a new favorite of mine. I met amazing people, people full of life and love and pure JOY…people who ski and lunch and ski and après ski and who laugh and take joy in the place they call home and each other.
Four days in Park City – a skiing Mecca – left me with this one impression…the people who call this place home (either full-time or part-time) live BIG, live LOUD, live LARGE. The bottom line is they LIVE and they LOVE life, like nothing I've seen before.
With my friends, Brian and Deborah (Bri, stop talking and smile!)
OK, my one and only disclaimer…I lived in the land of privilege for four days. I visited my very old and dear friends Brian and Deborah, who moved to Park City permanently a year ago. They lived there for two years prior while their son finished high school and then felt drawn back to the good life that this picturesque mountain hamlet offers. I was honored to stay in their lovely home, overlooking a snow-covered 17th hole of a country club. I visited Park City three years ago for my cousin's wedding – at the Canyons Resort. It was lovely and I had a great time, but on this visit I lived it large – I confess I was spoiled and enjoyed every minute of it…it is not often the Universe allows you an opportunity to live like this and I am grateful for the chance to see what it looks like when a community of people choose to love the life they live with such enthusiasm and gratitude.
Our daily stop was the Stein Erickson Lodge in Deer Valley® Resort. In a word…breathtaking. But I can't stop there…the food, the service, the ambiance, the views, the QUALITY are unparalleled. And Stein Erickson, a former alpine ski racer and Olympic Gold Medalist from Oslo, Norway, is there every day, greeting guests, welcoming regulars. My first outing of this trip was lunch with Brian and his posse at "Steins" as they call it. They are a fabulous group of men who ski together and, as their motto says "It's All About Lunch," meet at Steins every day for lunch after a morning on the mountain. My friend, my guide, Brian then gave me the Deer Valley® Resort tour – starting with the Montage Deer Valley® Resort Resort. Ummmm, can I just say my jaw dropped and I never recovered. This is my kind of place! One million square feet when complete (yes, that is correct – 1M) of understated, off-the-charts opulence and luxury. Travertine, wrought iron, calm colors, leather sofas, huge fireplaces, a spa and an indoor sports retreat complete with bowling lanes awaits. Because the weather in Park City that day was particularly warm and beautiful we made our way to one of the outside decks overlooking the lifts and the mountain for a drink by the giant fire pit. As I sat there, looking at the splendor of the Universe before me, the sun shining on the snow as I looked down a breathtaking valley I felt transported to a different world, a different reality. This, I thought, is what our World Travels should look like. Wherever you go, either spoiled like I was on this trip or otherwise, we should transport ourselves to a new and different world where we can bask in the beauty and wonder of new places and people.
And there were beautiful people! Everywhere! The annual Sundance Film Festival was just wrapping up and let's face it, Park City brings in the beautiful. I met people from all over the country, most in for the Festival, but many just in for a ski vacation. Note to skiers out there….Sundance is a great week to visit and ski, as most people are watching movies leaving the slopes wide open! When I talk about beauty, I don't only mean physical beauty, but a beauty of spirit as well. People are relaxed, happy, welcoming…this is a place tucked away in this world of ours that seems to bring out the best, and the beautiful, in people.
Dinner at the new St. Regis Resort was simply spectacular. We simplified and Brian, Deb and I sat in the bar for dinner. Like the Montage, the St. Regis is relatively new to Deer Valley® Resort and in true St. Regis fashion, is exquisite. Let me note here, that my friends Brian and Deb know everyone in Park City. Everyone. This is in large part due to the outgoing personality and uninhibited nature of my friend Brain Smith. You can't help but become friends with this witty, bigger-than-life man. He is endearing. 21+ years ago, he engrained himself in my life and heart by driving me to the airport for my father's funeral, then drove me home when I returned. We have been friends through thick and thin ever since, and his wife Deborah is a breath of fresh air every time I see her. He works hard, skis fast and lives large, she sings like an angel and prefers a bit more quiet. And let it be known that Brian and I can swing dance together better than anyone!! Together Brian and Deborah work and have carved out a special life in Park City, complete with friends who laugh and love openly, including their friend Regis, who manages the St. Regis. After our amazing dinner at the bar (the service was impeccable – thanks to the lovely Diem! Best ever!) we were given a tour of the kitchens and met the executive chef and his staff. I was impressed and inspired too by the communal table in the center of the restaurant…I am envisioning a certain milestone birthday party there with my closest family and friends in the near future! Don't even think about saying that number to me at this point…I'm not there yet!
Yep, I really skied again after 10 years!
The next morning brought me full circle, and after 10 years I did get my lazy ass back up on skis. I signed up for a group lesson, and followed Brian's advice and ended up in a beginner/intermediate class. Well, after evaluating all of us it turns out yours truly was the absolutely worst in the bunch! Soooo, I ended up with my own instructor…a $750 value for the price of a group lesson! OK, this was not the strategy but hindsight being 20/20 I may use it again! Stephen (love the name!) was patient and kind and understanding and brilliant in painting a picture for this visual learner on how to pick up the sport again. Four fun hours on the slopes, a very near miss with a tree, three falls and some very sore muscles left me starving and tired and smiling. And, yes, hurting too! Brian met me and we skied over to Steins where I fell in love with anything on the menu as long as I could have the Orzo salad with Pesto and Pistachios. I skied again the next day, and Brian had the patience of Job with me. Most of my morning was spent skiing in pain as the combination of my boots and socks and Under Armor were causing severe ankle and calf pain. I learned a great life lesson from my friend Brian…."If it hurts, don't do it." Amen! A change of boots and a realigning of the bottom of my long underwear was a quick cure for more (pain-free!) runs down the easiest green run in Deer Valley® Resort. Needless to say, I am a very, very, very slow skier. Not a lot of confidence in a sport I don't do often enough. And trust me, Brian will never let me forget just how slow I am!! Suffice it to say, I spent the afternoon at Steins with Brian, Mr. Big and several glasses of wine. Ahhh, the good life!
I am a big fan of Bon Appétit magazine. The food, the wine, the people, the places all look picture perfect…so much I have always thought the photos were staged and surreal…a set up. But the party at Suzy's new, phenomenal home in the Park Meadows area of Park City was like walking into that magazine. It was a birthday party for one of her friends and the spread on the table was right out of the magazine! But more than that, the atmosphere amongst these friends was kinetic. Laughter, fun conversations, jokes, shared stories filled Suzy's new home. Coupled with amazing wines and food that were out of this world – all contributed to a bit of a euphoric feeling. Was I in a dream? Will I pick up Bon Appétit and see my happy face in the next edition? I doubt it, but after a couple of days of feeling like one of the cool people, I returned to Denver – my beautiful part of the world – relaxed, happy, enlightened – a little sore – and with a new take on what joy and loving life looks like.
Park City = JOY. I found joy in seeing old and dear friends, and in making new ones. I found joy in learning about the people who have worked hard and chosen this place in all the world to call home and are part of a community of friends who laugh openly, love genuinely and live passionately. Pure joy was found in the food and wine – not one bite of bad food or one sip of bad spirits passed my lips on this trip! Joy in laughter – for it is everywhere, a part of a genuine ongoing conversation among friends and neighbors. Joy in skiing – yes, joy – I said it…once I got over the pain and even though I was the slowest person ever to ski Deer Valley® Resort, I confess it was fun to strap on those boards and point myself down a snow-packed, slippery hill. It really is a crazy sport…let's face it…but FUN. I hope I get better before I go back…I have a reputation to fix!
Life Lesson – don't let yourself get stuck in a box. Find your place in the world, a place where you find joy in the every day. And love the life you live….