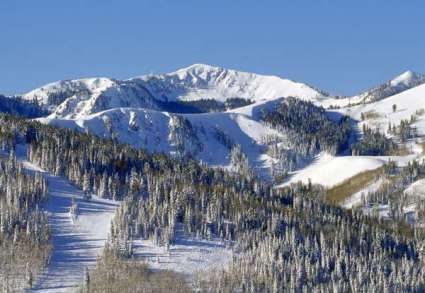 The real estate in Upper Deer Valley® Resort typically consists of ski in / ski out homes and condos in the Silver Lake area, a quick jaunt from old town (via Marsac Avenue) or from the resort base (via Royal Street). Upper Deer Valley® Resort real estate features views of canyons, ski slopes and the old town Park City valley.
If you're considering an investment in the Upper Deer Valley® Resort neighborhood, it's wise to have an understanding of the area. Note that most of the homes here are second homes. Many are in the nightly rental pool, and many others simply sit vacant until the owners wish to have a mountain vacation.
Upper Deer Valley® Resort Neighborhoods & Info
The neighborhoods in Upper Deer Valley® Resort are all clustered around Deer Valley® Resort's Silver Lake Lodge. Stein Erikson Lodge, The Goldener Hirsch, and the Chateaux at Silver Lake are a few popular hotel-condominiums with excellent ski access and walking distance to Silver Lake Village.
This neighborhood features views of the heavily forested canyons, ski runs, and valleys and fine dining options, including the Mariposa, Goldener Hirsch and Royal Street Cafe. Notable lifts are the Silver Lake Express and Sterling Express, while Wasatch and Quincy are also easily accessible.
The area does have several bus stops for Park City Municipal Transit, and it's a short drive to town. The Salt Lake International Airport is just over 45 minutes away, depending on traffic, making it one of the closest airports to luxury ski resort destinations in the country. An investment in Upper Deer Valley® Resort real estate is a luxury that few can afford, but anyone would want. Don't hesitate to contact us with questions or inquiries about this fine neighborhood.
[search_map id='2991′]
[static_listings context='pls_static_listings__4′ width='250′ height='250′ sort_by_options='cur_data.baths,cur_data.beds,location.locality,cur_data.price,cur_data.sqft,location.postal' sort_by='cur_data.price' sort_type='desc' query_limit='10'] [pl_filter group='metadata' filter='subdivision' value='American Flag||Aspen Hollow||Bald Eagle Club||Bellearbor||Black Bear Lodge||Cache At Silver Lake||Chateaux At Silver Lake||Deer Valley Club||Enclave||Evergreen||Knoll Estates/Deer Valley Club Estates||Knollheim||Little Belle||Lookout At Deer Valley||Mont Cervin||Ontario Lodge||Ridge||Ridgepoint||Stag Lodge||Stein Eriksen Lodge||Stein Eriksen Residences||The Cottages||The Residences At the Chateaux||Twin Pines At Silver Lake||Upper Deer Valley Area||Woods At Deer Valley'] [/static_listings]