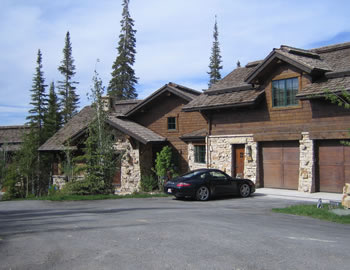 This is the newest neighborhood in Deer Valley® Resort is clustered around the Empire Lodge. Empire Canyon real estate is entirely ski in / ski out. Many of the properties boast views of Daley Chutes, Empire Canyon, and The High Uintas Wilderness in the distance.
If you're considering an investment in Empire Canyon real estate, we encourage you to do your homework on the area. We are happy to help educate you on the ins and outs of this Deer Valley® Resort spot, and can answer any questions you may have.
Empire Canyon is a short but steep and windy drive to Old Town. The roads are extremely well plowed and salted in the winter, partly due to the traffic the Montage Hotel has brought. If you're trying to get to the Salt Lake International Airport you're looking at about a 55 minute drive.
One bonus is that in the summertime, Guardsman's Pass Road is open and you have "backroad" ways to get to Salt Lake (via Big Cottonwood Canyon) and Midway. These scenic drives will take your breath away and you will be in awe that such beauty is right in your backyard. This road is not accessible in the wintertime except for foot traffic, snowmobile traffic, and some cars from Talisker or the Brighton Estates neighborhood.
The Montage Deer Valley® Resort has brought some dining options to the area, with Apex and Burgers & Bourbon notable. You'll also enjoy Empire Lodge's Fireside Dining, but be sure to check the website for open dates.
Empire Canyon Real Estate Opportunities
Custom single family homes are located in Red Cloud and Bannerwood. The Village at Empire Pass area is home to the Grand Lodge, Arrowleaf, Silver Strike, Ironwood and Shooting Star condominiums and the Larkspur and Paintbrush townhomes. Empire Pass is also a center for the Talisker Club and home to the Montage Hotel, a newly built luxury hotel-condominium property. Contact us for more information about investing in Empire Canyon real estate.
[search_map id='2991′]
[static_listings context='pls_static_listings__4′ width='250′ height='250′ sort_by_options='cur_data.baths,cur_data.beds,location.locality,cur_data.price,cur_data.sqft,location.postal' sort_by='cur_data.price' sort_type='desc' query_limit='10'] [pl_filter group='metadata' filter='subdivision' value='Arrowleaf||Bannerwood||Flagstaff||Grand Lodge||Ironwood||Larkspur||Montage Deer Valley||Nakoma||Paintbrush||Red Cloud||Shooting Star||Silver Strike Lodge Condominium||The Belles at Empire Pass'] [/static_listings]